Chuck and Wendy Black of Warren, Vt., could have taken advantage of their backyard views of the Green Mountains by building a deck, like most people. But the Blacks didn't like the way deck lines would have obscured the breathtaking sunset views from some of their windows. When they asked architect Alexander "Sandy" Lawton if there was another way, they didn't know what to think of his response.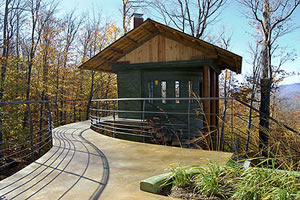 "I said he was nuts," Chuck Black chuckles as he recalls his conversation with Lawton, president of Arro Design.
That was after the architect and Nashville, Tenn., transplant suggested that the Blacks let him and Ben Allred, his design partner for the project, bedeck their sloping backyard with a treehouse. More specifically, a fabric-formed concrete "treehouse."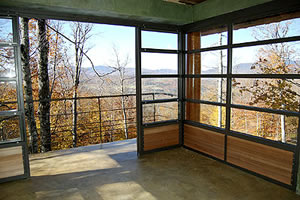 Today, you exit the Blacks' dining room onto a sweeping 60-foot walkway that flows into an elevated two-story glass, steel, timber — and mostly concrete — structure with a fireplace and banks of windows overlooking the mountains.
No, the Black treehouse isn't actually nestled in a tree. This thing's nothing like your granddaddy's treehouse. Or your granddaddy's concrete.
"When she first heard about the plan, Wendy referred to it as The Bunker or Chuck's Folly," says Black with a laugh. "She was worried about the aesthetics and the safety — it was all a concern to her."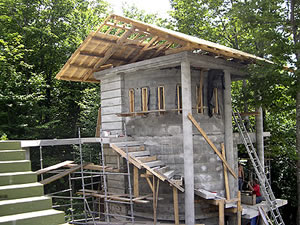 Lawton partially credits the couple's eventual go-ahead to the fact that, if worse came to worst, at least they wouldn't have to actually live in Chuck's Folly. "People tend to be a lot more flexible if you're not doing their house," he says.
He admitted to having had a few privately held misgivings of his own. "Vermont is absolutely the worst place to do this."
It gets cold, and it gets wet. And it stays that way for a while. That's why it took better than a year to complete the structure.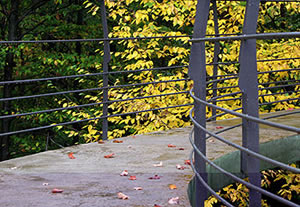 Then there were those nearly 30-foot columns, each of which Lawton was determined to pour in a single form, a challenge that even he calls "a little dicey."
In retrospect, he offers this admission: "Most contractors won't pour over eight-foot heights. The bottom might blow out or bend in the middle. My supervisor, Frank Finnerty, wasn't real happy over it."
Even so, Lawton has no problem explaining his Fast-Tube and fabric-formed structure from a design standpoint. "It's like you hold together a silo," he says. "Small sections joined together and then banded."
With fabric-formed concrete, flexible textile membranes take the place of rigid formwork panels. This more-permeable framework lets excess moisture drain, creating a richer cement at the surface of the form, not to mention an absence of air bubbles. The result is a fine-grained, beautiful finish with interesting, sculpted contours that you just don't get with concrete poured the conventional way. And there's no need for sand-blasting or acid etching to improve the visual appeal.
Fabric forms are up to 300 times lighter than conventional forms, making for all kinds of cost and time savings in storage, transportation and setup. Lawton ended up using the material for the columns, walls, suspended slabs and lintels.
It's a process that evolved over time from Lawton's early days working with a house-mover, Winfield Manning, who used silo-type cables for transporting barns. The architect got serious about concrete for residential application in the early 1980s, when he helped design a solar underground home.
Why concrete for this project? "It feels like a more durable structure," says Lawton. "You don't feel like you're so suspended."
That's an important consideration when working on a slope. Another advantage of concrete was that he could support the entire span of the 60-foot walkway with a single crossbeam.
Then there was the aesthetic value of concrete. "Sandy got unbelievable lines and colors out of it," says Black. "The project redefined the concept of concrete for us."
Music to the ears of Lawton, whose ongoing challenge is getting clients to see that the rugged construction material is good for a lot more than driveways, parking lots and bunkers.
A true believer in fabric-formed concrete, Lawton has co-taught a course on the subject in the Dominican Republic on behalf of the Yestermorrow Design/Build School in Warren, Vt., and his group has built a fabric-formed gathering place for locals and eco-tourists in El Rincon. Lawton has also been invited by Mark West, who has been innovating with the concrete technique for 15 years, to address an international audience when 7Ω the Fabric Formwork Conference is held at the University of Manitoba in May.
For the Blacks' part, they're staying exactly where they are, watching Green Mountain sunsets from one of the most striking concrete structures in Vermont. And it's not Chuck's Folly. Not even close.
Got more questions about your project?