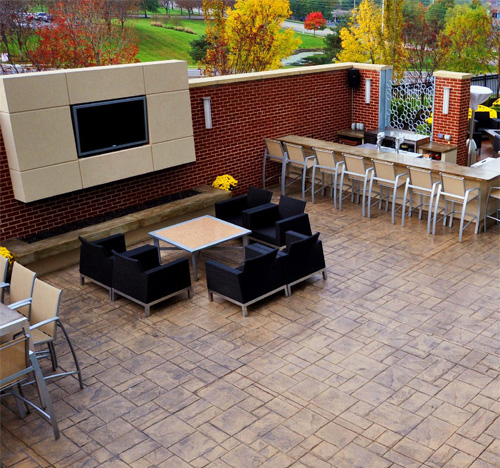 The first decade of the 21st century has been pretty huge for integral color. For one thing, decorative concrete as a whole has taken huge strides in terms of market share, and more decorative concrete means more integral color. Another key factor in the rise of integral-colored concrete is the fact that the quality of regular concrete has gone up significantly. Terry Fenelon, owner and president of Prism Pigments, says this has been a real boon for integral-colored concrete. When you're working with higher-quality concrete, says Fenelon, "the end product is more consistent and more likely to be specified."
But perhaps the biggest game-changer for integral colors in the last 10 years has been what Fenelon describes as "a strategic alliance" between color manufacturers and ready-mix companies around the country. As a result of that alliance, automated color mixing systems have become a common fixture at ready-mix plants. These systems consist of large tanks (usually four) of base colors that use a weight-batching system to automatically dispense the correct doses of pigment right into the truck. "The color is on-demand," says Fenelon. "It's just like going to the paint store where they mix the paint for you while you wait."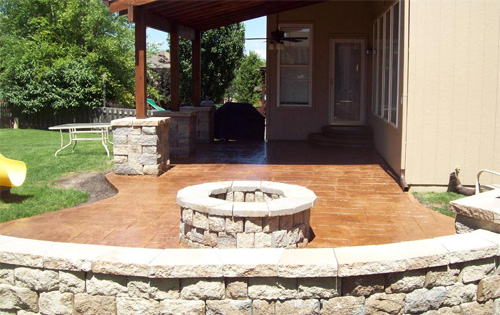 These on-demand systems have become more and more common over the last 10 years, though that's truer for some regions than others, says Nick Paris, vice president of marketing for Davis Colors. The western United States, Paris says, is pretty saturated with automatic color-dispensing systems, with the Southeast as runner-up and the Northeast not far behind. People in the rest of the country still do most of their color-mixing manually, he says.
Integrally colored concrete is by no means recession-proof. The product has taken a hit in this down economy, but a lot of color manufacturers and suppliers see reasons to be hopeful. For example, Paris says that Davis Colors has seen sales start to climb in the last year.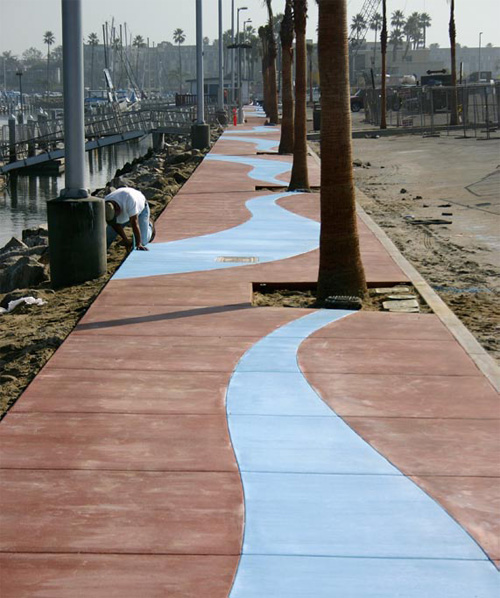 And Mike Murray, owner of Murray Decorative Concrete Supply in Shawnee, Kan., says that in their region, colored concrete is also ahead of the curve, mentioning an effort to pitch integral-colored concrete to public-works project specifiers as a more sustainable and creative alternative to pavers and other alternatives.
Fenelon says that while it's "difficult to identify any trends in this down economy, certainly the use of integral-colored concrete is on the upswing."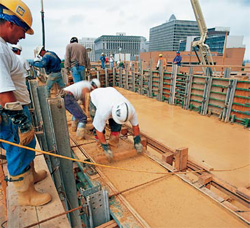 What colors are popular?
Not only did the economic downturn have an effect on color sales, but it's also had an impact on color choices. "People are going with lighter colors with smaller dosage rates, so they don't have to put as much color in," says Dave Frasca, a salesman and trainer for Arizona-based Cohills Building Specialties Inc. Out east, Bart Sacco, owner of Concrete Texturing Tool and Supply, in Throop, Pa., says they're seeing the same trend. "For the past season, mainly of the lighter shades of grays and light tans have been dominant," Sacco says. "With the way the economy has been the last two years, generally the less-expensive dose rates are being used.
"Still, the popularity of lighter shades isn't solely due to their affordability. Dale Keller, marketing director for Solomon Colors, says that their best-selling colors are always the buffs and tans, because they look good with the widest variety of exterior paints and finishes. "That's why we have 16 different shades of buff or light tan in our colors," Keller says.
Frasca says the buff and tan colors are also among their most popular, especially in the Southwest. In fact, many local communities will specify a particular color of concrete for all of their driveways and sidewalks to create a uniform look for the neighborhood. Some neighborhoods in Paradise Valley and Carefree, two desert communities in Arizona, require sidewalks and driveways to be Cohills' sand-colored Oatmeal Buff, while Desert Mountain, a community farther up into the mountains, specifies a darker custom shade called Cochise Brown. This demonstrates very clearly another factor in color trends — terrain.
When it comes to color trends, says Paris, "almost always it correlates to the general terrain of the region." In Sunbelt states, for example, he says that brick reds and desert buffs are very prevalent, while in the east, darker browns and clay-like colors are more in vogue to match the soils of the region. Another great example of this is in coastal locations, such as beach communities in Florida and California, where creams, pastels and "beach-type" colors are more common, Paris says.
Finally, Fenelon notes that he's seen brick red pigments recently become more popular near Prism Pigments' home base of St. Paul, Minn., because they can be used in a lot of public works and stimulus projects, such as on crosswalks and the insides of roundabouts.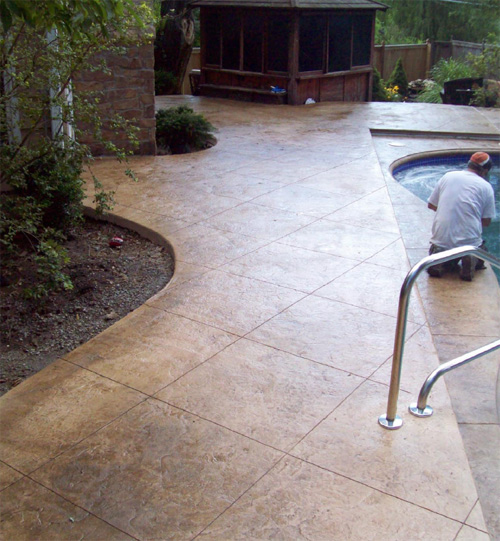 The color of green
All that said, the integral industry's biggest trend has more to do with preserving the environment than dressing to match it. Frasca says that as a result of the architectural community's increasing focus on LEED certification, pigment manufacturers are consistently being asked which of their pigments qualify for LEED credits. In order to answer that question, the manufacturers must ascertain the Solar Reflectance Index (SRI) of each of their pigments. An SRI number will tell you how much of the heat from the sun's rays the pigment will reflect. This is of interest to architects because a surface with a high SRI can earn a project LEED credits for reducing the heat island effect.
What this means for color trends is that lighter colors, which naturally have a higher SRI, are more in demand than darker colors. But be aware that just choosing a reflective pigment for your concrete doesn't necessarily mean you're saving the planet. Paris says to keep in mind that the important measurement is not just the SRI of the pigment alone, but the SRI of the finished surface — so make sure the concrete mix to which you're adding the pigment has a high SRI on its own. (Paris advises contractors to watch out in particular for concrete mixes with fly ash — often added to boost the recycled content of the concrete for additional LEED points — because it's usually darker in color than the cement and can drag down the SRI of the concrete surface.)
With as many exciting developments as the integral color industry has seen in the last few years, you can be sure its future will be a bright one indeed.
For more information about integral color manufacturers:
www.cohills.com
www.daviscolors.com
www.prismpigments.com
www.solomoncolors.com
Got more questions about your project?