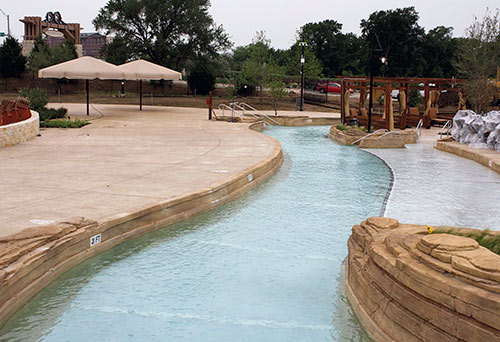 It's hard to picture a slow day at Lonestar Concrete Systems — the decorative concrete installation company completes an average of 2,500 projects per year, has anywhere from 70 to 100 projects going at all times and works regularly for big-name clients, including Walmart, McDonald's and Family Dollar, explains owner Brad Walker.
But Walker isn't one to brag about it. He describes the Watauga, Texas, company as a collaborative, driven environment, a place where contractors roll up their sleeves and get to work.
"We're kind of those blue-collar contractors," Walker says. "Our culture isn't one that's run by one owner, one dictator. It's like a family."
When he decided to make a move to a new field, he considered various niche business concepts.
"A friend from my hometown told me about stained concrete, so I did some research online, did my due diligence in learning about what stained concrete was, and started doing some back-patio staining," Walker says.
He began taking on small jobs around his community, and within six months, landed his first commercial gig.
Working as his own boss appealed to Walker, but as an artistic individual, he also felt a particular draw to concrete staining. "I had some training in the arts, so the stained part of the business was interesting because it lets you use your creativity," he says. "I had a lot of that in my repertoire. I could draw and paint, and I understood colors."
After a year in business, Walker hired his first full-time employee and expanded from offering just stained concrete services to doing concrete countertop installation. Several years later, he added stamped concrete to his list of services, which led to more hires.
"Because the stamped field is so technical, I had to bring people on board who had been trained," Walker says. "A lot of my success has been dependent on the people I've brought in."
Concrete polishing came next, and Walker says Lonestar has done a substantial amount of it throughout Texas.
Today, Lonestar employs 35 people, including three outside sales reps. Walker says he is primarily a manager now and rarely an installer, although he does put in the occasional concrete countertop.
Lonestar began as a company that served the residential market. "At one point we were doing stained concrete in about 500 homes a year, and that was the catalyst that helped us grow," Walker says. "As our staff and level of expertise grew, we started getting bigger jobs in the commercial market, and in the past couple of years we have become commercially driven."
The company travels outside of the Lone Star State for projects. Wherever it goes, it often lands multiple jobs in one area thanks to word of mouth. Once, a job in a Texas town led to about 100 more in that town the same year, Walker says.
In an industry where many color products are billed as creating the look of a traditional acid stain without the harsh chemicals, Walker stands by tried-and-true acid, praising it as an industry staple that produces permanent results.
"The industry as a whole has gotten more advanced in its product lines, and that's made our job easier," he says. "We're seeing decorative coatings that weren't available 10 years ago, and it's helped us put out a better product."
When he approaches a new project, Walker takes the client's vision as well as the design and colors of the existing space into account. He's heavily involved in the design and color selection process of Lonestar's jobs, but he notes that sometimes, clients already know exactly what they want or enlist the help of another designer.
A recent, significant Lonestar project took place at the Gaylord Texan resort's Paradise Springs water park in Grapevine, Texas, and comprised 65,000 square feet of integrally colored, textured outdoor concrete, plus an epoxy floor coating and two shuffleboard courts that were integrally colored, polished and stained. Other noteworthy projects include 55,000 square feet of stained concrete at the Fort Worth Zoo in Fort Worth, Texas, 75,000 square feet of diamond-polished concrete at Lewisville High School in Lewisville, Texas, and 40,000 square feet of stamped, colored concrete at the Hillcrest Baptist Medical Center in Waco, Texas.
Naming diversity of service offerings and a high-quality staff as two keys to his success, Walker says he looks forward to a future of continued growth and hopes to open a second facility in Austin or Houston.
"Your service is a byproduct of your people, and I'm really proud of the people involved," he says. "You also have to keep up with the ups and downs of the industry, which is why we don't just offer one thing."
www.lonestarconcretesystems.com
Got more questions about your project?