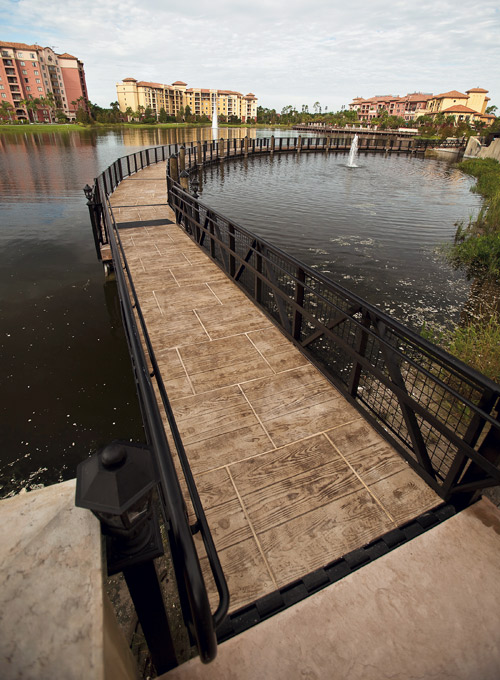 The decorative concrete business often can follow a roller-coaster trajectory, with ups and downs that can challenge the stomach — and nerves — of the most confident and proficient practitioners.
Fortunately for David Edwards and his 30-year-old company Edwards Concrete, a long and profitable relationship with Florida's bustling amusement and theme parks has played a key part in smoothing out the roller-coaster ride.
David Edwards got his start in the construction business in 1972, with Buena Vista Construction Co., Disney Co.'s in-house unit, at Walt Disney World in Florida. The park had been open just a year when he went to work there as a teenager.
"I ended up on a concrete crew right off the bat," he says of his start at square one. Edwards held a series of jobs with Buena Vista during his nearly 10-year stint there, eventually moving up to foreman.
"It always revolved around concrete," he says of his work for Disney, which embraced decorative treatments early on. "Disney poured a lot of colored concrete." Other techniques included the use of exposed aggregate for color and texture and employing rock salt to produce a concrete surface with holes and pits.
New decorative concepts, materials and methods were emerging, pioneered by companies such as Bomanite, which "was making things look like bricks and stone," he says, "with stamps."
With nearly 10 years of concrete experience under his belt with Disney, Edwards decided to strike out on his own in 1981, at age 25. Now looking back at age 57, he recalls, "I was just one of those young guys working concrete for someone else, and I just always wanted to have my own business." He also saw it as the best route to achieving his career aspirations.
Evolution and adaptation
Early on, Edwards Concrete offered a variety of conventional concrete services, with some residential installations but more commercial work — "big floors," as he calls them, in the thousands of square feet at a time.
But alas, the returns were shrinking.
"The floors were getting bigger and the prices were getting smaller, basically," he says, putting the time frame in the mid-1980s. "And they were labor intensive." Decorative concrete required a smaller work force than high-volume gray concrete contracting.
Besides, decorative concrete offered another advantage: it was much more entertaining, Edwards says, for the installer-creators as much as for the customer.
Edwards began steering the ship toward a decorative focus. Then in 1989, Bomanite made contact with Edwards Concrete, and informed Edwards a license for Central Florida was available.
"We were imprinting concrete in the mid-1980s," Edwards notes, but the deal with Bomanite opened up broad new horizons.
"When we got on board with Bomanite, we had a tool source and resources we'd never had in the past. We had a brand at that point. Prior to that we were just a little company trying to peddle decorative concrete with not a great deal to show.
"Back in the '80s when I started doing it, it was very basic. We had to learn from the seat of our pants. It was trial and error, with a lot of scrapped jobs.
"Nowadays, if you and I didn't know something, we would be overwhelmed with information. Back then very few knew about it, and they weren't going to share it.
"With Bomanite, they were there to provide technical support and endless resources. And they are always coming up with new lines of products. Now I'm one of the old guys at Bomanite, but they have been very good for me."
The deal with Bomanite carried with it in an array of materials and systems, ranging from exposed aggregates of various types to all manner of stamping tools, to overlays, to polishing and precast systems, in addition to programs and marketing know-how.
Edwards concedes that marketing has never been his company's strong suit, with word of mouth proving to be his biggest help in that department.
"That might be our weak point," he continues. "We've not spent a great deal there. But we've been very fortunate to be located where we're at, in this part of the world."
You dream it, they do it
Asked about other keys to the company's longtime success, Edwards replies, "If you dream it up we can find a way to put it in concrete." A recent example: Edwards Concrete's work at the new town center of Brownwood, part of the sprawling residential development of The Villages, in Central Florida.
Michael Pape of Michael Pape & Associates, who has played a major design role with The Villages, gives the work of Edwards Concrete a hearty two-thumbs-up review.
"In today's construction industry, where the concept of craftsmanship is disappearing, I have found Edwards Concrete to be a valuable resource," Pape says. "They still understand true artisanship in concrete effects and finishes, and they share a wealth of knowledge and experience by partnering with the design team to make special projects come to life."
Pape cites Brownwood Town Center at The Villages as "a perfect example. They embraced the challenge of creating a setting that felt like it had been there for 100 years. The resulting creative effects are more than just 'pavement,' really making the end users feel like they're in another time and place."
Edwards Concrete's portfolio is diverse, and includes a wide range of imprinted concrete designs, often custom-crafted: exposed aggregates, stained and dyed concrete, overlays and polished concrete. Making it all happen is a veteran team led by superintendents George Hultin, Alex "Roho" Waters, Jesus Rivera, polishing division head Shawn Ciccarello and operations manager Ronald Hart. The company's current workforce totals 25.
"One time NASA called us, 15 to 17 years ago, and asked, could we make concrete look like the surface of the moon? Our office found a photo taken from a spaceship that landed there, one of our guys went to the store and used Tupperware to make craters, and we showed them a 3-by-3 sample," Edwards says. "And from that point on we placed and finished a lot of concrete for NASA."
To create the moonscape at the NASA visitors center at Cape Canaveral, Edwards Concrete used gray concrete colored with a couple of different shades of dry-shake hardener, a darker gray release powder, an imprinting tool that produced the effect of the moon surface's rocky and dusty terrain, rock salt for additional pits and irregularities, and the Tupperware containers to add craters. Boot prints were added, using a mold made from an actual moon-suit boot provided by NASA.
"It was a couple of guys hitting a home run," Edwards says of the resourcefulness and imagination of his artisans. "And it turned into a million-plus dollars of work, just at NASA." A long-term customer relationship was launched with that initial success.
Turning to more recent history, Edwards says the company has added polished concrete to its portfolio as that specialty has emerged to reshape the decorative concrete landscape.
The company's versatility is showcased in another triumph Edwards is particularly proud of — the exterior of a church in Key West fashioned with tilt-up decorative concrete panels cast on-site. The project required painstaking attention to detail in getting the color and brick-stamp patterns to integrate precisely, he says.
Also a favorite, he says, is work at SeaWorld Orlando, where Edwards Concrete produced a river rock design for the thrilling Manta roller-coaster attraction, while interior concrete was given the look of slate with integral color and decorative highlights added with mosaic-tile inlays.
The creative process often begins with a discussion with the prospect or client.
"They kind of give me something to go on, and they're looking for that 'wow' factor. Like at Brownwood (The Villages) — they give us the setting and the concept, in that case a Florida cracker town, and tell us they want the concrete to look like a dirt paddock. That's kind of how those things evolve, with meetings. Often I will come up with the ideas, and they (Edwards Concrete's professionals) have the artistic abilities to put it into reality."
Taking on the tough challenges
Asked where the company's growth is concentrated, Edwards identifies, simply, things nobody else wants to do. "If it's something easy that anyone can do, it's not an Edwards concrete job."
Theme parks continue to be a primary revenue stream, accounting for some 75 percent of Edwards Concrete's work.
Edwards Concrete's expertise also is catching the public eye along the Florida Turnpike, thanks to a long-term renovation program involving interchange service areas along the route. The company is replacing sidewalks at turnpike service areas with decorative treatments that include exposed aggregate and imprints. Earth-tone colors that reflect the natural environment are a central theme.
Asked to speculate on the future direction of decorative concrete, Edwards says he envisions continued growth and innovation in areas such as polished concrete, where the "chemical companies are going to come up with easier materials to work with." Elsewhere, he says the industry tends to see design phases come and go. Currently, he senses a renaissance for imprinted concrete, driven in part by the inherent durability and long service life of the technology as much as its visual appeal.
www.edwardsbomanite.com
Got more questions about your project?