Paul M. Wolff Co., a company that specializes in concrete floors and products, was the grand prize winner in the fifth annual Decorative Concrete Awards, announced recently by sponsor L. M. Scofield Co.
The Lindon, Utah-based company was lauded for its work at a new dining hall that opened last fall at William Jessup University, in Rocklin, Calif.
"This university dining area in Sacramento is sure to dazzle the students, faculty and staff as much as it did me," says Jim Peterson, president of The Concrete Network and this year's grand prize judge, in a Scofield press release. "This stand-out job exhibits all that attracts people to decorative concrete — colors, curves and excitement. It complements the other architectural features in the space extremely well."
In addition to the grand prize winner, who received an engraved cut-crystal trophy, eight finalists were selected for their outstanding work. Each of the following was presented a black glass commemorative plaque engraved with their name:
Alternative Floors, St. Augustine, Fla.
Architectural Concrete Inc., Louisville, Ken.
Capitol Decorative Concrete, Piedmont, S.C.
The Concrete Artist, Marlton, N.J.
Greystone Masonry, Stafford, Va.
Kern Enterprize Inc., Highland, Mich.
Maverick Specialty Contracting, Seattle, Wash.
Premier Concrete Construction, Wilton, N.H.
Scofield posted pictures from the nine finalists on the company's website and Facebook page and viewers could vote for their favorite project. The 2012 People's Choice selectees were Alternative Floors and Kern Enterprize.
The competition is open to contractors, architects or designers who use or specify Scofield systems. Projects are judged on skill of installation, creativity, artistic expression and how the project integrates with the overall design.
Although Scofield sponsors the contest, six people who work in some capacity in the decorative concrete industry serve as preliminary judges and select their favorite nine projects from the entries received. These selections were compiled and the top nine choices were presented to Peterson, who chose the ultimate winner.
This year's preliminary judges were architects Jeffrey Grob of Stantec and John Williams of MKW + Associates LLC, Durability + Design Magazine editor-in-chief Jen Kramer, Concrete Decor magazine editor John Strieder, Mark Chew of Logan Contractors Supply Inc. and Mike Harrington of Chas. E. Phipps Co.
Concrete Decor took a closer look at this year's grand prize winner and three of the finalists. Here's what we uncovered …
Scofield Awards Grand Prize Winner:
William Jessup University Expansion, Rocklin, Calif.
When William Jessup University, the only residential four-year private university in the Sacramento area, unveiled its $17 million campus expansion last summer, John Evans was there. "I was at the ribbon-cutting ceremony," says the senior project manager for Paul M. Wolff Co., who was responsible for acid-staining and sealing decorative concrete in the dining and athletic facilities.
Government, business and civic leaders were on hand for the dedication ceremonies, along with about 1,000 community members. "It was a pretty cool experience," Evans says. "It was the most high-profile job I've ever done."
Evans' crew acid-stained about 2,500 square feet of the athletic facilities and 8,000 square feet of the 19,400-square-foot dining hall, using a greenish-gold color around the salad bar and three of Scofield's warmest colors for the rest of the floor. "The architect (who dictated the color scheme) wanted to give the center a warm feeling," Evans says.
The slab in the dining facility was separated by a series of 1/8- by 1/2-inch saw cuts. "We did several mockups on-site to get the colors approved," Evans says. "And once they were, we colored per predesigned direction in the overall pattern."
The state-of-the-art dining center serves as the centerpiece of the new 54,000-square-foot complex, which also houses an intercollegiate gymnasium, classrooms and music practice rooms. It features an exhibition kitchen where diners enjoy an open-style setting and can watch food being prepared. There also are specialty eatery areas that offer fresh food fast. The center contains a pizza oven, bakery, espresso bar and private dining rooms.
"The dining facility in any university is a focal point because it receives the most student and faculty traffic of any building in the school. Thousands of people every year eat there, have coffee, study and just hang out," Evans says. "I feel very privileged to have been a part of this project that will be admired and utilized for many years to come."
Client: The First Presbyterian Church of St. Louis; University City, Mo.
Decorative concrete contractor: Paul M. Wolff Co., Lindon, Utah; John Evans, senior project manager
General contractor: Reeve-Knight Construction, Roseville, Calif.
Project architect: The Taylor Group Architects, Fresno, Calif.
Task: Color the floors of new dining and athletic spaces at a Utah university.
L. M. Scofield products used: Lithochrome Chemstain Classic in Dark Walnut, Weathered Bronze, Padre Brown and Antique Amber; Cementone Clear Sealer.
---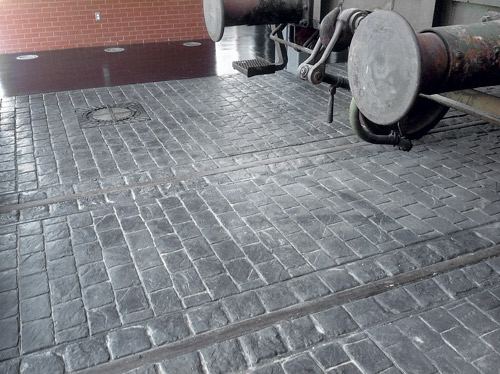 Scofield Awards Finalist:
Holocaust Memorial Center, Farmington Hills, Mich.
The stage was set Sept. 24, 2012, when a crane lifted a refurbished World War II-era railway boxcar, believed to be one of the last of its kind in existence, and moved it to its final resting place inside a newly created exhibit at the Holocaust Memorial Center in Farmington Hills, Mich.
"With the cameras rolling on live TV, all four wheels of the boxcar landed just where they were supposed to on the first try," says Shane Kern, who along with Glenn Levering co-owns Kern Enterprize, the decorative concrete company that poured, colored, stamped and sealed the 1,675-square-foot floor of the new exhibit.
Kern says that as part of the design process, he and Levering had to determine exactly where the boxcar would sit. "When we poured the cement, we had to make four cutouts for the wheels," he says. These holes, which were blocked with easily removed foam, were only about a foot long and an inch wide.
"We had to make the holes small so that the wheels would fill them entirely," Kern says. "We needed a nice tight fit so visitors wouldn't see space around the wheels and so the exhibit would look more realistic."
Besides making sure the boxcar fit properly in a predetermined space, Kern and Levering say they had to create a historically accurate scene using a picture of a German train center. The railroad tracks had already been installed and the site already prepped when the Kern Enterprize crew began their leg of the job.
"Instead of trying to make everything look perfect like we usually do, we spent a lot of time antiquing the floor to make it look older and used," says Levering, noting that they integrally colored the concrete and used an antiquing release powder to achieve the proper effect.
They primarily stamped the floor with a cobblestone pattern they got from Scofield. Along each side of the rails, they used a larger-stone pattern they already had in their inventory. "We did a little intentional chipping and marring and tried to make it (the stamping) not look so much like a pattern. And we used a matte sealer to tone down the finish so it wouldn't look shiny," Levering says.
After the boxcar was set in place, new walls were erected to complete the exhibit. It is situated in the lobby and beckons visitors as they embark on their journey through the museum.
Decorative concrete contractors: Shane Kern and Glenn Levering, co-owners, Kern Enterprize Inc., Highland, Mich.
General contractor: Sachse Construction, Birmingham, Mich.; Shawn Houck, supervisor
Design firm: Neumann/Smith Architecture, Southfield, Mich.; Christine Costa, head architect
Footings and railcar track subcontractor: McCarthy Construction, Commerce Township, Mich.
Task: To help recreate a World War II setting that depicts where European Jewish people gathered before boarding boxcars that took them to concentration camps.
L. M. Scofield products used: Integral Color SG in Dark Granite; Lithotex Pavecrafters in Cobblestone Running Bond; Lithochrome Antiquing Release in Deep Charcoal.
---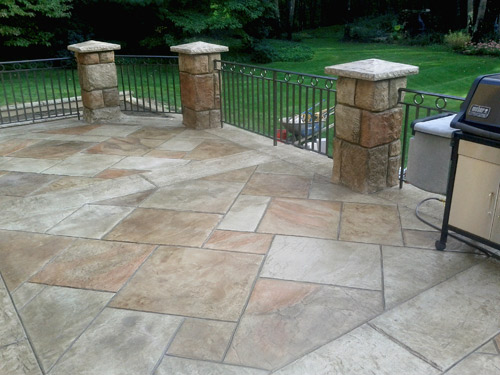 Scofield Awards Finalist:
Hayken Residence, Medford, N.J.
Before the job of replacing a 20-year-old wooden deck, massive retaining wall and brick-paved patio for the Hayken family could even begin, 10 tons of decking, 16 tons of railroad ties and 400 square feet of pavers, not to mention miscellaneous trees and bushes, had to be hauled away — by wheelbarrow.
"There was no truck access. Everything had to be wheelbarrowed out 150 feet from the bottom of these giant steps to the upper patio," says Bart Rockett, The Concrete Artist in Marlton, N.J., about the job's biggest challenge. It took him and his crew of three a good three weeks "working in a hole" just to tear out the retaining wall's stacks of railroad ties buried eight deep.
"I know for a fact it was 16 tons of railroad ties because we get charged (to dump) by weight," Rockett says. "We had two dumpsters full of waterlogged ties stacked like Lego blocks."
Once the area was cleared, 200 tons of recycled concrete were wheeled in for the base of the raised concrete deck that would match the adjoining pool deck Rockett's company had poured and stamped the previous year. They built the retaining wall out of cinder blocks and formed and poured its caps, coloring and texturing the components to look like stone. They also installed lights in the caps and the main steps.
Next they poured the patio, which was imprinted on a 45-degree angle to, as a landscape architect might say, give it some movement. They blocked columns that ring the patio's perimeter and faced them with hand-pressed glass-fiber reinforced concrete. Over all this, color hardener was broadcast to replicate the look of earth-tone slate.
"We didn't use any integral color. It was all shake-on," Rockett says. For an even more authentic look, they hand-painted individual blocks with a variety of acid stains and poured 18-inch borders to hide all the control joints. The crew even colored the mortar joints by hand.
To hide hoses and electrical outlets, Rockett built a 12-foot-long concrete bar complete with a polished top and two access doors camouflaged to blend in with the surrounding concrete stones. "If you touch the doors, they'll pop open," says Rockett, who takes pride in the craftsmanship so evident in his work. No stranger to being in the limelight, he also has had projects selected as finalists in Scofield's competitions in 2009 and 2011.
Decorative concrete contractor: Bart Rockett of The Concrete Artist, Marlton, N.J.
Task: Rip out and replace an existing wooden deck, retaining wall and brick-paved patio.
Project timeline: January-June 2012
L. M. Scofield products used: Lithochrome Color Hardener in Beige Cream and Saddle Brown; Lithochrome Chemstain Classic in Faded Terracotta, Dark Walnut, Black and Padre Brown; Lithotex Pavecrafters Pennsylvania Slate random interlocking pattern stamp and Fractured Slate seamless texturing skin; Cureseal-VOC matte sealer.
Other products used: Press-on GFRC from StoneMakers Corp. for facing columns
---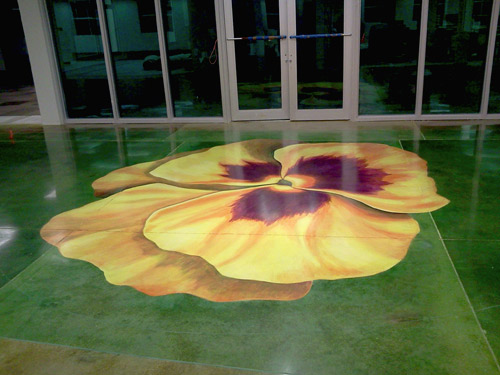 Scofield Awards Finalist:
Costa Farms Headquarters, Miami, Fla.
Creating a 10,000-square-foot canvas out of polished concrete to accommodate ginormous painted flowers was challenging for Donnie Sprecher. The operating owner of Florida-based Alternative Floors had to solve several problems before he could stain and polish the floors at the headquarters of Costa Farms, a thriving family business that grows and sells house and bedding plants.
In the project's preliminary stages, he notes, a 150-square-foot mock-up was placed to serve as a tooling guideline for concrete correction and polishing. They found problems that included excess moisture, a wavy rough slab that didn't bond well with dyes, and hundreds of tilt-up pinholes that were repaired with Rapid Set TRU, a material Sprecher knew accepted the Scofield colorants he prefers to use. To ensure the products used would bond properly, an autoscrubber and burnisher were run over sample artwork on the mock-up.
After the whole slab had been corrected, flattened, polished to a 400 level and dyed, acclaimed Florida artist Lauren Smith of L. Smith Studios began to work her flowery magic using Tintura stains as her medium. "The stains are like glazes and are amazing to stand upon because of the depth they create," she says. The four flowers she painted — award-winning varieties of Gerbera daisy, hibiscus, pansy and Mandevilla grown by Costa Farms — cover about 430 square feet of floor.
"The sunburst hibiscus is the star of the floor," says Mimi Vrba, project consultant and managing member of Alternative Floors, who convinced Costa Farms to nix stenciled artwork for these freehand creations.
"Lauren had never worked with Tintura and this was also her first time painting on polished concrete," Vrba says. "Tintura is designed to penetrate concrete, so she had to keep layering to get the depth she wanted. One of the key things she learned was that she had to be patient and let the layers dry completely, so she worked on two flowers at a time."
At the job's end, the owners and architect decided the joints should be filled, even though they were initially designed to be naked. "This afterthought made us sincerely appreciate our SB 2005 polyurea pump and joint filler from Hi-Tech," Vrba says. "The equipment, combined with a great product, delivered a precise addition to the final floor and artwork."
The decorative joints were engraved freehand with a hand grinder and a Cobra from Engrave-A-Crete to look like vines. Like everything else, they were colored with Scofield dyes and stains.
Decorative concrete contractor: Donnie Sprecher, operating owner of Alternative Floors, St. Augustine, Fla.; subcontracted by Sub-Floor Solutions, Miami
Artist: Lauren Smith, L. Smith Studio Inc., Indian Rocks Beach, Fla.
Architect: Luis Lanao, AIA, LEED AP, RLC Architects, Boca Raton, Fla.
General contractor: Link Construction Group, Miami; Angel Rodriguez, supervisor
L. M. Scofield products used: Lithochrome Tintura Stain in White, Black, Razz-ma-tazz Red, Mustard Yellow, Bright Orange and Plum Parfait; Formula One Liquid Dye Concentrate in Snow Pea, Emerald Green, Ponderosa, Leather and Beach Sand; Formula One Lithium Densifier MP; Cureseal-S sealer; Formula One Guard-W.
Other products and tools used: Rapid Set TRU from CTS Cement Manufacturing Corp.; HT-PE75 joint filler in Relic Bronze and SB 2005 polyurea pump from Hi-Tech Systems; hand grinder and Cobra engraver from Engrave-A-Crete
Got more questions about your project?