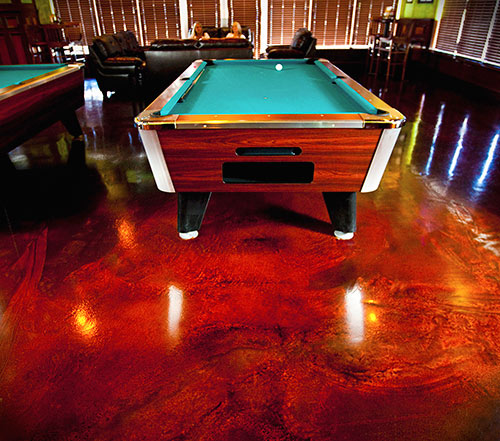 Greg Hyde Hryniewicz, owner of Hyde Concrete in Annapolis, Md., does not have your average resume. After growing up in Puerto Rico, Hryniewicz moved to the mainland for university. He received an undergraduate degree in systems engineering from the U.S. Naval Academy, served for six years as an officer in the Navy, earned an MBA from the University of Michigan, and slogged through several years as a high-powered management consultant for Fortune 100 companies.
Desperate to get away from the corporate rat race, Hryniewicz started a concrete coatings company, and in the seven intervening years, he's turned it into a decorative concrete firm that's garnered awards from the American Society of Concrete Contractors in five different categories (and a 2010 GreenSite Project of the Year award to boot). Hryniewicz, now 41, has been a busy man.
As circuitous as Hryniewicz's career path may seem, each zig and zag has contributed something substantial to the way Hyde Concrete operates. For example, when he was growing up in Puerto Rico, everything was made of concrete, he says. "I had never seen stick framing until I came to the States. I thought, 'Haven't you guys heard of the three little pigs?'" So concrete's value as both a structural and decorative material was known to Hryniewicz from a very young age, which made working in decorative concrete a natural fit.
At the Naval Academy, Hryniewicz's degree in systems engineering gave him a technical skill set that complemented his passion for building things —a passion instilled in him by his father, also an engineer and an occasional architect. During Hryniewicz's time as a naval officer, he says, he learned the leadership skills that he uses every day to manage his three crews. And while his career in the corporate sphere was short-lived, Hryniewicz says the business skills he honed in his MBA program have definitely influenced the way he runs his business. "My corporate background has really helped me to set up, from an early stage, what I believe to be a very professional company," he says.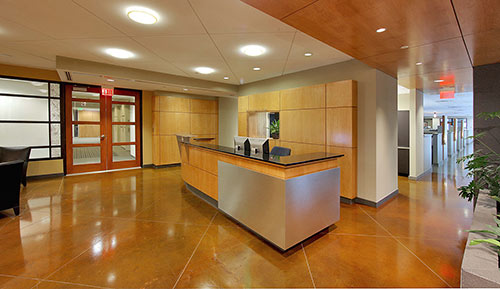 Although when he started the company, he was looking more for a corporate outlet than an artistic one, it didn't take long for Hryniewicz to get absorbed in the possibilities of decorative work. The company was initially focused on garage floor coatings, but Hryniewicz was soon introduced to acid staining, which was more or less his gateway finish. Now, Hyde Concrete offers a full spectrum of services.
Staining, Hryniewicz says, traditionally accounts for 25 to 30 percent of their annual business, but that percentage tends to fluctuate pretty significantly year by year. "Everything seems to go in phases," he says. The company will have a glut of staining jobs, but then it'll be three big stamp jobs in a row, then pervious, then a polished overlay. These days it's precasting. "Right now," Hryniewicz says, "I'm getting my butt kicked by countertops."
Having such a diversity of services to offer has been a definite blessing for the company. While some of the local concrete shops can compete with them in one or two areas, says Hryniewicz, none can compete with Hyde Concrete across the board.
But mastering this many different techniques can also be a curse. Hryniewicz spends a lot of time and money to keep himself and his crew of 10 up to speed on every service they offer.
Regardless of what technique they're using, Hyde Concrete's approach remains the same and reflects not only Hryniewicz's eye for decorative work, but also his technical precision as an engineer. For every product they install, Hryniewicz has done his own material testing and analysis to work out his own mix designs and color ratios. As a perk for volunteering as a technical adviser with the Naval Academy's concrete canoe team for the past three years, Hryniewicz has even had the opportunity to quantitatively test his mix designs in the Academy's materials labs. All of the things the books tell you about concrete, says Hryniewicz, he's been able to prove firsthand.
Of course, being a successful decorative concrete contractor requires more than a good eye and in-depth technical knowledge. It also requires experience, which Hryniewicz — and most of his people — were admittedly short on at the beginning.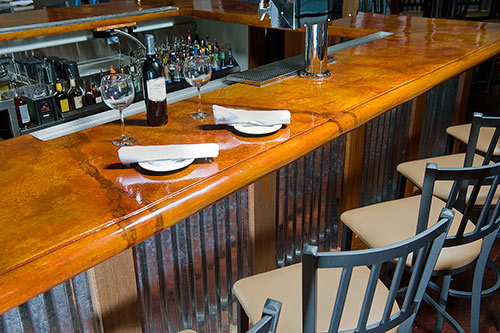 Fortunately, from Hryniewicz's first hire, Jose Cantarero, to operations manager John Haines, everyone on the Hyde Concrete team is a quick study. "We've made all the mistakes," Hryniewicz says, but they've taken every one of them to heart. "I don't think a mistake characterizes you as a person — I think what you do after a mistake characterizes who you are."
Recently, that very conviction won Hyde Concrete a job — and a couple of awards. After running into what Hryniewicz calls "a trifecta of issues" on the floor of a Tilted Kilt Pub & Eatery in White Marsh, Md., they reached the point where entire sections of the floor were failing, and they knew they had to replace the entire floor.
In the midst of this, before they'd done the replacement, Hryniewicz got a call from Tony Toskov, the owner of Two Rivers Steak & Fish House, in Pasadena, Md., who was interested in a very similar finish for that restaurant. During their initial meeting, Toskov told Hryniewicz that the owner of the Tilted Kilt location had recommended him. Hryniewicz was a little taken aback, he says, and asked Toskov why it didn't bother him that sections of the Tilted Kilt floor were peeling up. "He says, 'I spoke with the owner, and he said you're a stand-up guy, and you're going to make it right,'" says Hryniewicz.
Not only did Hyde's stained self-leveling overlay at the Tilted Kilt win a 2011 Decorative Concrete Award from the ASCC's Decorative Concrete Council, but they also took home this year's ASCC DCC award for Best Countertop for their cast-in-place, acid-stained bar top at Two Rivers, plus a Second Place for Multiple Applications, Over 5,000 Square Feet (for Two Rivers' top, its acid-stained overlay floors in public areas, and a broadcast-quartz floor in the kitchen).
While the company has certainly made the most of the speed bumps they've hit, Hryniewicz has taken great pains to put systems in place that keep those mistakes to a minimum. "I don't get angry when we make mistakes," Hryniewicz says, "but I get furious when we repeat mistakes." So from stain samples to mix designs, Hyde Concrete has established standards that they are careful to maintain from one job to the next.
Hryniewicz's journey to decorative concrete artisan may not have been the most straightforward, but he has no regrets. Not only does he get to use his skills as a businessman, engineer and lifelong concrete enthusiast, but he also has job satisfaction. "That's one thing I never had as a consultant," he says. "You worked your tail off, and at the end of the day you hand over a document and get paid all this stupid money, but it was completely unsatisfying. Now I can walk away from a project, and people are like, 'WOW.'"
www.hydeconcrete.com
Got more questions about your project?