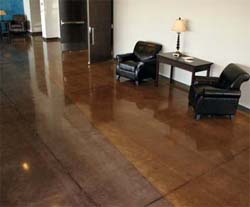 After listening to suggestions from contractors and distributors, Brickform, a division of Solomon Colors Inc., has redeveloped its popular Pro-Dye as a liquid formula.
With the older-generation, powdered Pro-Dye, contractors have to wait for as long as three hours for it to dissolve after it is mixed with acetone. Now the wait is over.
"We've come up with a concentrated liquid that's ready to use," says Art Pinto, product manager for Brickform. "When you add acetone, you just shake it up a bit and it's ready to go. It's a lot more convenient."
Pinto notes that the formula is nonflammable and can easily be shipped by ground or air. It may contribute to LEED points, as it emits zero VOCs.
In addition to eliminating the long wait, the liquid formula allows contractors to make small batches. Because so little powder is used when the old formula is mixed with the recommended one gallon of acetone, making a smaller batch requires a very accurate portable scale to keep the ratio correct. With the liquid formula, smaller amounts for smaller batches can be measured much more easily.
The difference between the new and old versions of Pro-Dye ends there, however. The same vivid 24 colors are offered, and it is still ideal for use with vertical applications, stencils and logos. "It's virtually the same product," Pinto says.
The original powder formula is still available for those who prefer it, Pinto says. "Habits are sometimes hard to break right away. From past experience, we know that some contractors will resist change and will prefer to stay with the original product until they are thoroughly convinced that that the new form is indeed a better option."
Pro-Dye can be used in conjunction with Brickform's new Pro Lithium Densifier and Pro Concrete Guard polishing system. "We feel it's a great compliment to our line of polishing concrete materials," Pinto says.
www.brickform.com
Got more questions about your project?