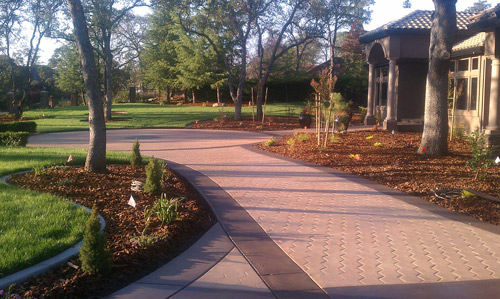 It's a fact we have to face — everything ages. And colored concrete is not immune. Sometimes it fades to a soft, mellow color, but often it just becomes dull and lifeless. Or worse, later repairs and additions don't match.
Scofield Revive Color Refresher is aimed at just that problem. It can brighten up the color of existing, unsealed exterior concrete surfaces. It can also impart a consistent appearance to mismatched colors or add color to uncolored concrete.
Not a coating and not a stain, the solvent-borne siloxane from L. M. Scofield Co. carries pigment into the slab to deliver a uniform color without leaving a film on the surface. The solvent used is VOC-compliant in all 50 states. The solvent allows deeper penetration than water and enhances long-term durability. It also dries quickly, shortening downtime for the customer.
Siloxane has been used for more than 25 years in bridges and parking decks to minimize chloride (salt) infiltration. Once cured, the siloxane's water-repellant properties protect the pigmented surface.
Revive Color Refresher is supplied in two parts — base material in 4-gallon pails and tint concentrate in 1-gallon cans. Typical coverage is 100 to 300 square feet per gallon, depending on the porosity of the concrete. It can be applied with an acetone-resistant sprayer or a roller with the appropriate nap. In most circumstances a 3/4-inch nap will give best results.
The color will develop into a uniform, consistent appearance after curing only when the concrete pores are filled with the material, so extra material may be needed if the concrete is very porous.
As might be expected, it is easier to make the concrete darker than lighter. Scott Thome, Scofield director of product services, recommends inviting customers to choose a new color just a little darker than the darkest portion of the slab they want to rehabilitate.
Contractors should view this as a restoration product, according to Thome. "We are restoring the surface by adding color," he explains. "With any restoration project, surface preparation is the key." All weak cement paste and previously applied sealers must be removed. Scofield recommends removing all existing sealers and cures with Lithochrome Coating Remover and pressure washing at a minimum 2,000 psi. Because the material does not build a film, it will not hide texture differences. The surface must be uniform.
Concrete contractor Nicholas Winn, of Winsol Groundworks, Rancho Cordova, Calif., got a close-up view of Revive Color Refresher when his new next-door neighbor asked him to do something about her hardscape. It was in fact ugly concrete, he says. "It had three different shades of pink and looked every bit 20 years old."
The customer was grateful to have an alternative to tearing out the concrete. After pressure-washing, Winsol applied Revive Color Refresher in Sombrero Brown with Revive in Westwood Brown for the accent trim border. "The process was a dream from start to finish," says Winn. "The material went down smoothly with very little effort." He also says that after six months there are no tire marks and there is no fading or flaking.
This material is popular with ready-mix suppliers as well as contractors. It allows both groups to offer customers a simpler alternative to complete tear-out when a color issue arises.
As with any new product, longevity in the field is yet to be proven, but signs are good that this solution will be long-lasting. Some test projects are more than six years old and performing as expected. "As long as the concrete surface remains intact, Revive Color Refresher will perform very well," Thome says. He cites the example of one large user that cleans the surface twice a week with a hot-water 4,000-psi pressure washer. While they are building a plan to recolor every five to seven years into their maintenance schedule, Thome says, "It is amazing how well it is doing."
www.scofield.com
Got more questions about your project?