The ColorJuice family of concrete colors has matured this year into a system that stands on its own.
For starters, the liquid-color concentrate from American Decorative Concrete now comes prepackaged with densifier to ensure more consistent, successful installations for its users. "All you have to do is add water," says ADC president Les Davis. ColorJuice's new formula combines nanopigments with a lithium-silicate hardener and other proprietary hardening products to lock the color into the slab permanently, even when exposed to ultraviolet light.
The original formula was designed to be used with three recommended lithium-based densifiers made by other manufacturers. Problems arose when contractors ignored this advice and combined the colorant with incompatible densifiers. In some of those instances, the densifier didn't penetrate the concrete deep enough and high-speed burnishers would take off the color. Other times, when ColorJuice was applied outside, a white film would form if the surface got wet before it had cured.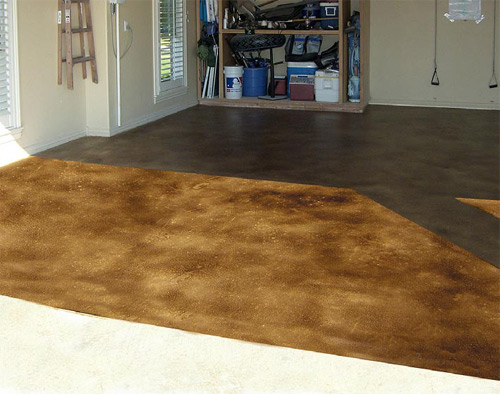 The makers of ColorJuice also changed the size of the pigment particles to allow the colorant to penetrate concrete more deeply. Nanopigment particles have replaced the original conglomeration of various-sized particles. These particles are measured in nanometers, units equal to one billionth of a meter each. The ColorJuice particles measure about 100 nanometers and are about the size of the particles used by inkjet printers, Davis says.
ADC calls ColorJuice a water-based stain, but that categorization doesn't tell the whole story. Most water-based stains have much larger pigment particles. They tend to produce more of a painted look because many of the particles stay on the surface instead of penetrating it. ColorJuice produces a translucent hue, allowing the natural character of the concrete to show through.
Also, ColorJuice differs from typical dyes in that its pigment particles are suspended in a liquid and don't change form when the stain dries. Particles in dyes are dissolved, and they return to a solid crystal form when dry. Dyes are also not UV stable, Davis notes.
The system includes interior and exterior sealers made specifically for the line. The sprayable exterior sealer dries to a satin finish, has very low VOC emissions and is nonyellowing. The interior sealer is designed for smooth-finished concrete and also has very low VOC emissions.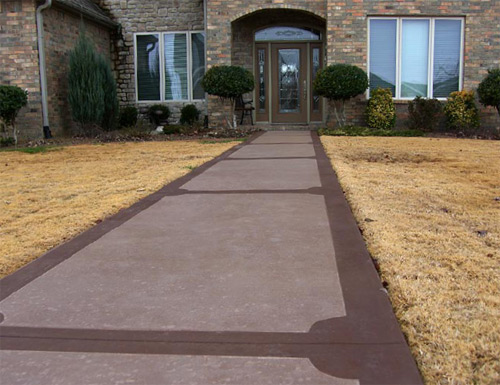 "In the past, we tried to make our product fit inside other manufacturers' sealer systems, which created confusion," Davis says. "Some of those sealers would not bond to the silicate densifier in ColorJuice. That's why we developed our own complete system."
Water-based ColorJuice is available in 12 standard colors, including black. ADC also added a white to its offerings, which allows the company to produce virtually unlimited custom colors. There are also plans to introduce additional colors at the 2011 World of Concrete.
To improve customization capabilities, Davis says, his company purchased equipment that allows it to match existing substrate colors. This color-matching technology uses an "eye" to take pictures at a job site that are e-mailed to ADC's lab and run through a computer.
"This allows us to take into account the color of the substrate and how it will affect the final color," Davis says. "This is also an important benefit for national accounts where a specific color is standard, yet the substrates on individual job are different colors." And it comes in handy with remodels when trying to match up with integrally colored slabs that vary in color.
ColorJuice is an excellent ecofriendly substitute for acid stain, Davis says. "Our system can turn a three-day acid stain job into a one-day job." It has few VOCs, requires minimal cleanup and dries shortly after application.
It also can be finished to look similar to polished concrete. After prepping the floor, contractors can use a high-speed burnisher equipped with a diamond-impregnated pad to make a ColorJuice-stained surface shine. "It's not a substitute for polished concrete," Davis says, "but you can do it faster than concrete polishing. It allows contractors to offer an option at a lower price point if someone doesn't want to go with full-blown polished concrete."
ColorJuice ships concentrated – it mixes 1-to-4 with tap water – saving on freight expense. It ships at rates for nonhazardous materials and takes up little shelf space. "The compact concentrate saves about 25 pounds of freight cost by allowing contractors to add the water when ready to use," Davis says.
"One of the problems with similar products is the shelf life," he continues. "Solid pigment tends to fall to the bottom of the container, but with the way we make our product (using nanopigmentation) there's very little fallout. You can just shake it up and you're good to go."
www.adcsc.com
Got more questions about your project?