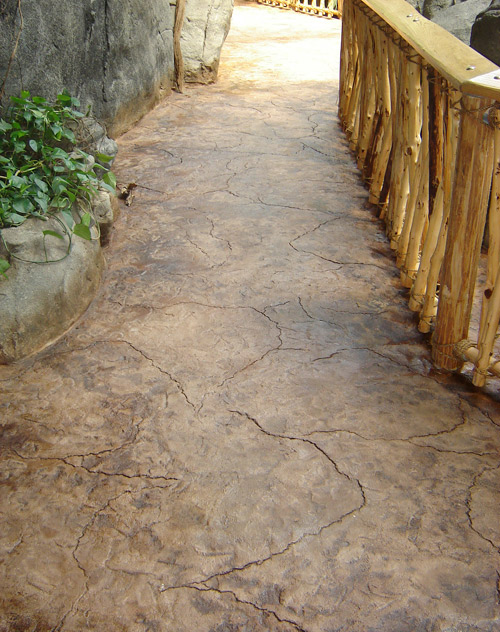 Surely you've heard the phrase "concrete jungle," but what about concrete in the jungle? In this case, the jungle is the Rainforest Habitat at Discovery Place, in uptown Charlotte. The exhibit boasts wildlife ranging from birds and reptiles to vegetation such as palms and epiphytes.
It's all viewable from a concrete mezzanine, which was renovated in 2010 to look like cracked earth.
After the surface was properly prepped and ground down, Jason Wartinger of MDJ Construction Co. Inc., out of Fort Mill, S.C., applied L. M. Scofield's stampable topping, Scofield Texturetop, which was integrally colored with Chromix Admixtures in Barcelona Brown. He then applied the texture using a Lithotex Pavecrafters embossing skin in a Fractured Earch pattern, and he added Scofield's Lithochrome Chemstain Classic in Black, Dark Walnut and Padre Brown for depth. He then sealed it with a water-based sealer, using Scofield's Cureseal-W.
While the work was relatively straightforward for Wartinger, there were major considerations to keep in mind when selecting products. All the wildlife had to remain in exhibit during construction, so everything had to be as clean and ecofriendly as possible.
"We had to keep the dust down and everything had to be low-VOC so it wouldn't affect any of the animals," Wartinger says.
Got more questions about your project?