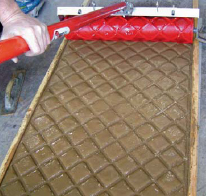 Cleform Tool – Rock N Roller
The Rock N Roller imprinting system from Cleform Tool is a roller, weight and spray release system that allows for faster completion times and less labor on texturing jobs. The rollers are available in seven different patterns: Running Bond Brick, Cobblestone, Ashlar Slate, Royal Slate, Pathway Slate, Heavy Slate Texture and Medium Slate Texture. Size options are 36-inch or 24-inch widths, depending on the pattern. A 12-inch or 9-inch touch up roller is included.
www.cleform.com
---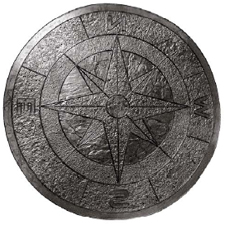 Increte Systems Inc. – Compass Star
The first in a new line of custom stamping tools from Increte Systems Inc., the Compass Star can provide a distinctive enhancement for a long list of residential and commercial applications, such as patios, marinas, malls, restaurants and specialty stores. The Compass Star measures 47 1/2 inches in diameter.
www.increte.com
---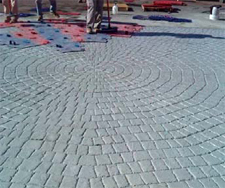 Proline Concrete Tools Inc. – Radial Stamp
Proline Concrete Tools Inc. is introducing a revolutionary new design in concrete stamps at World of Concrete 2010: the Radial Stamp. Proline's new radial stamp can create a radius of practically infinite dimensions with one affordable set of tools. What's more, this new stamp set can create a serpentine cobble, a straight cobble and other designs, all from the same set of stamps.
www.prolinestamps.com
---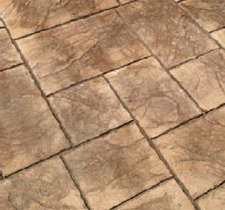 L.M. Scofield Co. – Vermont Slate Stamp
L.M. Scofield Co.'s Vermont Slate stamp is part of the company's natural-stone line of stamps. The random interlocking pattern comes in four different stamps, all 28 inches by 32 inches. These durable tools are made from high-quality polyurethane that produces realistic details.
www.scofield.com
---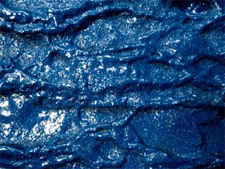 Something Better Co. – Vertical Concrete Texture Stamps
Vertical Concrete Texture Stamps from Something Better Co. are ideal for use on sculpted vertical concrete at 2-inch to 4-inch depths with lightweight mixes. They can also be used over freshly applied masonry mortar troweled on a wall or surface at 1/4 inch to 1/2 inch thick. Measuring 5 inches wide by 6 inches tall, these stamps are flexible for achieving deep contours. Available texture options are Rock Wood, Cliff Ridge, Deep Scale, Casual Stone, Deep Pocket, and two varieties each of small dimple and large dimple patterns.
www.betterpaths.com
---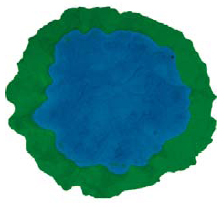 StampMaster/Creative Urethane Concepts Inc. – TexFlex Skins
The Husqvarna ProEdge V-Line and Radius Line blades bevel the cut, allowing for straighter joint lines, higher production and reduced labor versus using hand tools.
The StampMaster line of concrete texturing mats, from Creative Urethane Concepts Inc., includes a line of seamless concrete texturing skins. TexFlex Skins combine the rigid durability of a standard seamless texture skin with the flexibility of a "floppy" mat.
The center of the mat is made from a high-density, durable urethane, while the outer ring is created from a more flexible, lower-density urethane. These two components are fused together seamlessly, so the texture is not altered. The varying flexural strengths provide contractors with more workability and a more affordable option for their concrete texturing needs.
TexFlex Skins are available in a variety of textures, including Oxford Stone, Roman Slate, Cracked Earth and Vegas Stone.
www.stampmaster.net
Got more questions about your project?