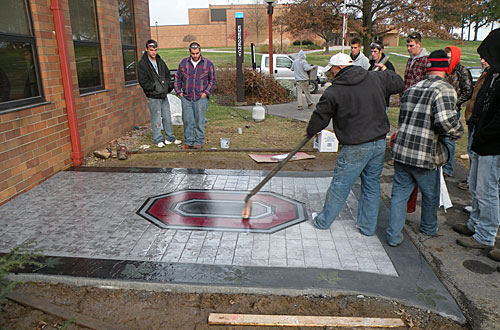 I was in the office one day when a couple walked in the door with a look of disgust on their faces. I could tell right away they were not there to tell me how great stamped concrete is.
They began to explain that they had a stamped patio installed a few years ago and were ready for it to be resealed. After multiple unsuccessful attempts trying to get a hold of the contractor that installed the patio, they had taken matters into their own hands.
They proceeded to their nearest DIY warehouse where they were told to apply Thompson's Water Seal over the top of the solvent-based acrylic sealer. Bad idea. The new material didn't bond correctly with the older sealer, and one thing led to another. They explained to me how it looked now and wanted to know what they could do to restore their investment.
At this point in the conversation all I could do was shake my head. After I told them their options, they uttered the worst words anyone in our industry can hear: "If we would have known that stamped concrete was going to be like this we would have done something else."
Unfortunately, these types of conversations happen about once a week. There's only one good way to handle this problem. Take steps to incorporate a maintenance program for your customers.
Let's look at several ways you can promote maintenance services that help relieve headaches and save the industry from a tarnished reputation.
Create care sheets
Throughout my years as a contractor, we made it mandatory at the end of each project to send a care sheet with the final bill and receipt. In this care sheet we included the following information on formal letterhead:
Specific color and pattern used
Type of sealer used
Signs that indicate that the surface needs resealing
Total square feet of the project
Cleaning instructions
How to take care of snow and ice removal
Along with the care sheet we included detailed instructions on how to reseal. This way, if the customers decided they wanted to save money and reseal it themselves, they were equipped with the necessary information. By including this information, you send the message that you care about their investment and want to keep it looking nice too. This in turn could lead to more referrals or repeat work from that customer.
It is important to not only create a care sheet for your customer but also to make a copy for your records. There have been many times when I have had a past customer call and I was able to reference their job sheet and let them know how much it would cost to reseal because I had the dimensions of their slab recorded. And I knew the colors used so I could make any touch-ups if necessary. This saves you from having to make an extra trip to the customer's house.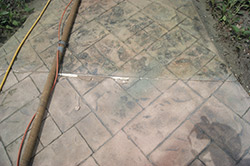 Educate the homeowner
I feel strongly that it is our job to educate homeowners about everything that is involved in maintaining their stamped concrete investment, regardless of if they or you will be performing the future maintenance.
While stamped concrete is a relatively low-maintenance material, I have found from my experience that many homeowners are under the misconception that because it is concrete it will be maintenance-free. From the outset, it is important to not cover up the fact that there will be maintenance involved. You must manage the expectations of your customers and make them aware of what comes along with stamped concrete.
For example, make them aware of the different types of sealers that are available: penetrating, solvent-based, water-based, etc. Not all sealers are the same so it is important to let them know what options are available, which one you will be using on their project and the dangers of mixing them together.
Along with informing homeowners about different types of sealers, it is crucial to teach them the signs that indicate their stamped concrete needs to be resealed. Many times the sealer wears off unevenly and the result is a blotchy surface that has nothing to do with the structural integrity of the surface and is more of an aesthetic issue. If the homeowner is not educated on this, they may get nervous and feel they must put something on top of the concrete or else it will start falling apart. A lot of headaches will be avoided if you make them aware of what to look for.
If your homeowner insists on doing their own reseals, they have to be told what is involved with the process, including the equipment needed, the time of day it should be applied, thickness required, potential problems, and the nightmare of trying to correct it if it is not applied properly. They will hopefully read these things on the care sheet, but if they don't they have at least heard the facts once from your lips.
One thing I have done over the years that is helpful is to invite my customers to watch me apply the initial application of sealer. This way they can see how thin it needs to be applied and know that more is not better. When you've shown them, they will be able to make a judgment call on whether or not they are capable of resealing.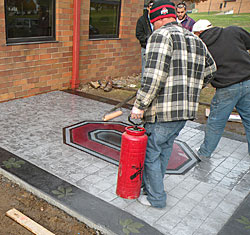 Do due diligence
When the new VOC laws were introduced here in my home state of Ohio, I knew contractors who didn't take the time to educate themselves and had horrible experiences, which scared them away from attempting future reseals. These experiences and the idea that there is no money in reseal (along with being too busy) have led to homeowners being ignored.
Contractors, these are no excuse for not returning phone calls! You have a responsibility to your customers and this industry to do your due diligence and at the very least, take care of your past customers or find somebody who can.
There is no set guideline or specification on how to reseal decorative concrete, so it is up to you to figure it out.
Start by figuring out what the sealer you are using needs to effectively bond to the previously sealed surface. There are products out there to aid in reseals. Start researching what products are available by contacting the manufacturer or local distributor of the sealer. They should be familiar with what is available to make reseals less frustrating. If they can't help you then find someone who can give you the technical support you need.
Also, educate yourself to know when the sealer has gone through its full life cycle, been overapplied or has some other issue that is affecting the overall appearance.
And no, the answer is not always a xylene bath, which is basically like polishing a turd. The surface may look good initially, but in a short amount of time, it may return to what it looked like before. We have to be able to identify when we need to strip the sealer and just start over.
I'm glad I have finally gotten all of this off my chest. Maintaining stamped concrete and the lack thereof is one thing that has given this industry a black eye, and my goal is to try to keep the stamped concrete industry thriving.
Got more questions about your project?