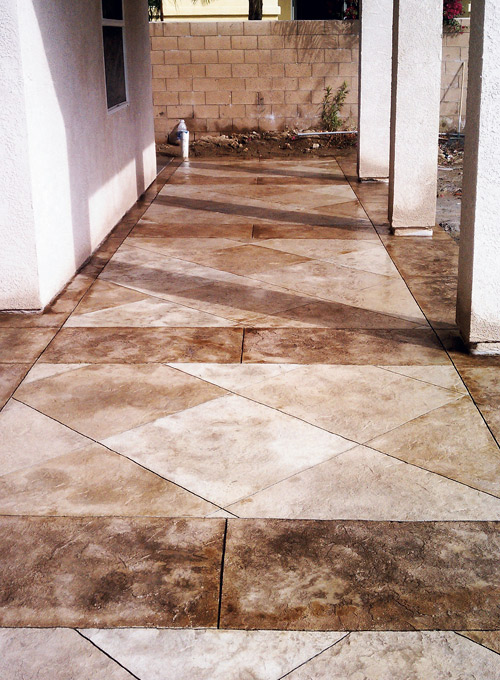 For father-and-son team Marshall Barabasch Sr. and Jr., concrete is not just a job, it's a vocation. As president and vice president (respectively) of MB Concrete Systems Inc., they power their company with a shared passion for the business, craft and artistry of decorative concrete.
Just over three years old, MB Concrete is the Barabasches' first venture they've run together, but it's just the latest phase in a pair of storied careers. Marshall Sr., 55, began in concrete as a teenager, when his father-in-law, a cement mason from back east, started having him push wheelbarrows on the weekends. In short order, he had joined the local union as an apprentice.
On one of Marshall Sr.'s first jobs, a local contractor with Patterned Concrete Industries Ltd. had been subbed to do some stamping work, which piqued his interest. "I've always been artistic," he says, "I was tired of grey concrete, broomed stuff."
He talked the contractor into letting him work for them, and they hired him in 1977. He advanced through positions with a number of other big-name decorative concrete companies, which put him on the leading edge of stamping and staining techniques that were brand new to the market at the time. His interest in artistic experimentation quickly earned him a nickname among his crews: Dr. Frankenstein. "On the weekends and at night I'd go to my shop and throw spaghetti on the ground and spray over it," he says. "You know the bubbles they use in wrapping? I'd inject those with stains and drop weights on them to see if I could get the splatter marks right."
With a decade of experience and a well of creativity to draw from, Marshall Sr. opened an Ontario, Calif., Patterned Concrete franchise in 1988 with two partners. After another decade, he moved on to a stint as director of architectural concrete for Peterson Brothers Construction, a large Southern California contractor for whom Marshall Sr. had been a regular union subcontractor. Finally, after about a dozen years with PBC, Marshall Sr. decided to open up his own shop again, this time partnering with his son.
In his father's footsteps
Like his father before him, Marshall Jr. grew up pushing wheelbarrows and digging trenches on the weekends. "I kind of knew right away I was always going to do this," he says. "I like the trade, and I was always real aggressive wanting to learn and come up with new ideas and cool stuff." The minute Marshall Jr. turned 18, he started working for his father full time and took jobs on the side every day after work.
"A lot of people ask right away, 'You're 29. What can you possibly know?'" says Marshall Jr. "But I feel like I got almost double those years because I worked double shifts my entire life, seven days a week."
Marshall Jr. started out with Patterned Concrete and PBC, working with his father's crews. At a certain point, though, he realized he needed "to get away from being Marshall Junior," he says.
Marshall Sr. totally agreed. "I told him, 'Marshall, you want them to call you for you.' You want them to say, 'I don't even know who his old man is — I want him because of what he can do.'"
Marshall Jr. moved through several brief stints at some big concrete outfits before really progressing on the decorative side, he says, at his own shop, Marshall Arts. Then, in 2009, having made a name for himself, he joined forces with his father to start MB Concrete.
No job too big
MB Concrete's project breakdown reflects well the passions and experiences of its founders. Typically the company has six or seven projects going at once, carried out by the experienced MB crew, who share the Barabasches' passion for the craft.
Their workload is usually divided in equal parts between extremely high-detail themed work — which allows both Marshalls to flex their creative muscles — and simpler staining and flatwork gigs that keep them current and in practice with the full range of services they offer.
This combination, says Marshall Sr., has been crucial to their success. "You gotta have both," he says. "I don't think you'll survive on the high-end, intense stuff unless you're constantly travelling."
That said, the "high-end, intense" jobs have definitely become a specialty for them — with Disney as one of their biggest clients. Marshall Sr. has been doing decorative work for the entertainment giant since he was running his Patterned Concrete franchise, and Marshall Jr. did some work in the parks at that time too. But even after years of completing successful projects, working for the Mouse presents unique challenges.
As you might expect, Disney's standards when it comes to art — whether animation or concrete sculpture — are the very highest. "It can't look good," says Marshall Jr. "It's got to look the best." And just as their standards are non-negotiable, so are their timelines. "They have deadlines to open, and they ARE going to open," says Marshall Sr., "with or without you."
One of MB Concrete's recent projects, 36,000 square feet of elaborate hand-tooled rock faces and packed-dirt-looking horizontal finishes at the Cars Land area of Disneyland, is a perfect example of the Disney experience. For Marshall Jr., it was one of the most difficult, most complicated, and most rewarding projects of his career. "I was nervous as hell going into it," he says. "It was my first big high-dollar, high-profile job."
Fortunately, high-end work under tight production schedules is an area where MB Concrete excels. No matter that they had to work through the night to accommodate events happening at the park during the day. No matter that, for the sake of stylistic consistency, Marshall Jr. had to personally hand-tool every crack in every inch of the packed-dirt finish they were doing while still managing the foremen for all three MB Concrete crews. No matter that last-minute change orders came through with a money-no-object attitude and no additional time. The mission stayed the same: Just get it done. "Somehow, someway we're pulling these things off," says Marshall Jr. "I don't know how we did it, but we did it."
No job too small
Of course, not every project on MB Concrete's plate is quite so high-intensity. The other half of their workload is more run-of-the-mill installations for schools, Department of Veterans Affairs hospitals, city development projects and so on. But even if they're less glamorous, these other jobs get the same treatment from MB Concrete. "Anything outside of Disney," says Marshall Jr. "is just as important as Disney."
In fact, for Marshall Sr., one of the most significant jobs of his career was a nonprofit endeavor. An old Disney contact reached out to Marshall Sr. for a project at a local continuation high school. The concept, says Marshall Sr., was to show these kids that "if you don't go to college, that doesn't mean you're going to flip burgers all your life. You can be successful. You can make money."
As a man who characterizes his early years as pretty wild, Marshall Sr. could relate to the kids and was happy to donate his time. Twenty students were selected based on essays they'd written about why they wanted to participate. The students worked on a pour at the school with Marshall Sr. and his crew for two weeks. "They did some really nice stamp work and stain work," he says. "There were a lot of creative kids."
Marshall Sr.'s father-in-law was the one who sparked his passion for concrete, but his father passed along something too. "My father told me," says Marshall Sr., "'You can be a brain surgeon and you can make $50,000 an hour or you can be a trash man and make $1 an hour. But if you like picking trash up, then that's what you want to do. Whatever you do,' he said, 'you need to be happy with what you do and be the best at it.'" Clearly, this is a piece of family wisdom they've taken to heart.
Got more questions about your project?