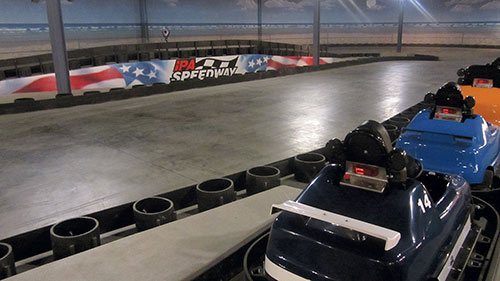 When Bob McDaid began making plans to build iPlay America, his 115,000-square-foot indoor family amusement park in Freehold, N.J., he envisioned flooring to complement two very different settings. On one side of the park, he wanted a boardwalk that would remind guests of playing arcade games and munching cotton candy on the famous New Jersey shore, and on the other, a worn asphalt road that would help depict a Tuscan village scene.
So McDaid decided to seek a highly skilled decorative concrete artisan who could replicate both asphalt and wooden boardwalk planks on the facility's floors using textured concrete coatings. (Due to state regulations, installing real asphalt indoors was out of the question.)
Enter Andre Garrote, decorative concrete manager for Chesterfield, N.J.-based Prendergast Landscape Contractors Inc., who met McDaid through a mutual friend, a masonry artisan. Garrote began submitting textured floor coating samples to McDaid and Jon House, iPlay America's construction manager. Eventually, they settled on a game plan for the floors in each themed section of the amusement park.
The park's Boardwalk and Midway would be imprinted with a wood plank stamp, the Grand Lobby would feature a European Fan stamp pattern, and the City Square, Broadway and parts of the Grand Lobby would be treated with a spray texture product, chiseled and stained to duplicate asphalt — a process Garrote worked out after much trial and error.
"Bob wanted to create a New Jersey boardwalk on one side of the park and he wanted the other half to look like an old worn road," Garrote says. "So it was my job to recreate this using decorative concrete materials and to make it look as realistic as possible."
Garrote and a crew of five to six men began the six-month installation process in late May 2011. First, they treated the structure's existing concrete slab, where a grocery store, hardware store and Kmart once stood, with a heavy-duty planetary grinder. To create the boardwalk surface in the park's Boardwalk and Midway areas, which contain carnival games, rides, benches and picnic tables, they coated the floors with H&C Concrete's Stampable Overlay and stamped them using Proline Concrete Tools' Boardwalk Wood Plank stamp. Workers mixed up the directions of the stamped planks to create natural irregularity, and they imprinted a few "king boards" using large, individual wooden board stamps, also from Proline Concrete Tools, to create the illusion of walking from a boardwalk onto a pier where the rides are, Garrote says.
"The wood planks give me the greatest satisfaction, when I hear everyone who walks on them asking themselves, 'Is this real wood?'" Garrote says.
Recreating asphalt using decorative concrete materials in the park's City Square, Grand Lobby and Broadway areas, which feature charming brick structures, shops, benches and trees, posed the biggest challenge for Garrote. First, he experimented with paint chips mixed into an epoxy material and stamping with various stamps, but neither technique led to a realistic result. So he called his original stamped concrete trainer, whom he hadn't spoken to in years, for advice, which also led him to a dead end. Finally, Garrote applied a spray texture product that gave him the results he desired.
He used H&C Concrete's Heavy Traffic Resurfacer System in charcoal and grey colors, which gave the appearance of embedded stones in the material, as well as in a sand color to make the "asphalt" look dirty. Four workers then spent three days creating cracks in the surface with chisels and hammers. Garrote says that during this process, he ran outside more than a few times to look at the cracks in a real asphalt surface, then ran back inside to recreate them with his hammer and chisel. To make the cracks look more realistic, he applied the Obsidian color of H&C Concrete Semi Transparent Decorative Stain into each one using a small paintbrush.
"This was a true custom creation," Garrote says of this difficult process. "You can't open a book to learn how to do it, and believe me, I tried."
Several areas of the decorative concrete "asphalt" include patches of overlay material stamped with Proline Concrete Tools' Appian Cobble Sone stamp, which Garrote says creates the illusion that the asphalt is so worn that the cobblestone has started to come out from underneath. "We left these areas so irregular that you can't see a transition between products. They look completely realistic."
The indoor imitation asphalt surface runs into an authentic, outdoor asphalt surface at the base of a park delivery door, and Garrote says the two surfaces blend together perfectly.
"It's amazing to not be able to tell the difference between the two," he says. "That's one of my favorite aspects of the job."
In the park's Grand Lobby, where McDaid requested an elegant, European courtyard look for the floor, Garrote used Proline Concrete Tools' European Fan stamp over H&C Concrete's Stampable Overlay. This area was stained in a silver grey as a base color and highlighted with a charcoal hue using a custom blend of H&C Concrete's Semi Transparent Decorative Stains. Garrote also chose a fourth stamp, Seamless Italian Slate, to enhance the floor of the City Square Grill, an elevated café located in the Grand Lobby.
On sidewalks and curbs throughout the facility, Garrote and his crew applied H&C Concrete's Broom Finish Repair, allowed it to cure and created expansion joint lines using a quarter-inch diamond blade on a hand grinder.
iPlay America opened to the public on November 11, 2011, and Garrote and McDaid think most visitors believe they are walking on wood, asphalt and stone — not concrete.
"This type of project means so much to me," says Garrote. "My favorite thing to do is watch people's reactions to seeing the floor. Even someone on a local radio station couldn't stop talking about the floors. They couldn't believe they were made from concrete."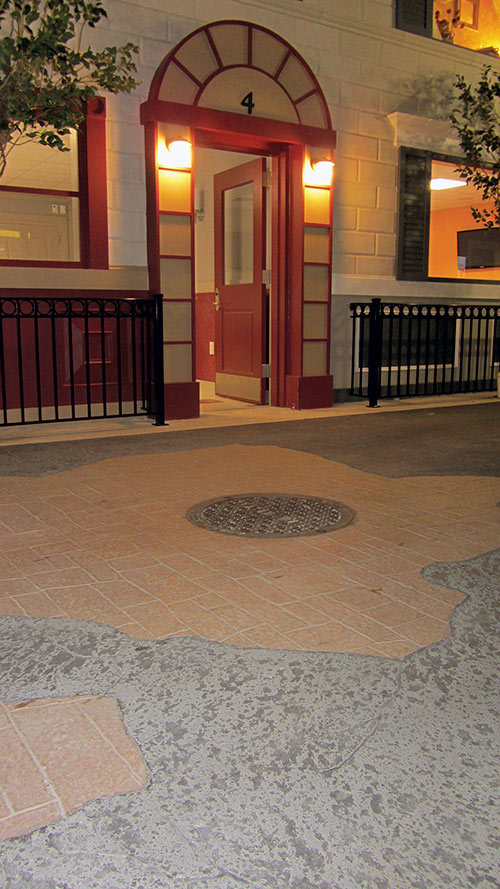 McDaid says he's thrilled with the floors' realistic appearance. What's more, he admires Garrote's commitment to perfection and willingness to work long hours throughout the construction phase.
"He could have taken a lot of shortcuts, but instead, he paid a lot of attention to detail and had no problem doing more work," McDaid says. "People will come in and walk on the boardwalk, and it feels lumpy and bumpy like a real boardwalk would. You can paint a surface to make it look like a boardwalk, but since ours has grooves in it, it seems very real."
Project at a Glance
Client: Bob McDaid, iPlay America, Freehold, N.J.
Decorative Concrete Contractor/Designer: Andre Garrote, Prendergast Landscape Contractors Inc., Chesterfield, N.J. | www.prendergaststampedconcrete.com
Scope of project: About 50,000 square feet of textured decorative concrete floor coatings
Duration of project: Six months
Material Suppliers: H&C Concrete, Proline Concrete Tools
Materials Used: H&C Concrete Stampable Overlay, Broom Finish Repair, Heavy Traffic Resurfacer System, and Semi Transparent Decorative Stain in Obsidian and several custom blended shades; Proline Concrete Tools stamps in Boardwalk Wood Plank, European Fan, Appian Cobble Stone and Seamless Italian Slate
Got more questions about your project?