The 500,000 square feet of stamped concrete pathways and patios at the new Italian theme park Rainbow MagicLand look like no place else on Earth.
Yes, the surface was imprinted using Paladiano "Wonders of the World" stamps, which are intended to recreate the looks of stone-paved streets found in some of the world's most historic cities. But while the stamps are typically used one design at a time to transform, say, a sidewalk into a Parisian cobblestone path, Rainbow MagicLand unites a number of designs from the line into a unique mix of textures.
The complex design throughout the park demonstrates how multiple stamp designs can be used to create an effect much like a patchwork quilt, as opposed to using a single stamp design to achieve a uniform look. For example, the park's Main Street showcases clusters of stamped concrete blocks of different shapes, colors and sizes. On a walkway leading to a medieval-style entry gate, an angular, gray stone pattern is bordered by a reddish, rectangular stone design. In some areas, large, overlapping circles merge various stone patterns and colors.
"Another section features dolls and is geared toward girls, and we used a lot of pink," says Luca Seminati, managing director for material supplier Ideal Work. "The job is really intricate."
Rainbow MagicLand, located just outside of Rome in Valmontone, Italy, is a 148-acre, family-oriented amusement park filled with fantasy theme structures and characters such as Vikings, fairies and sorcerers. The park is the latest development by Brescia, Italy-based theme park development company Alfa Park S.r.l. Group, which opened Miragica – Terra Di Giganti ("Land of Giants") in Molfetta, Italy in 2009.
Hired to install the theme park's concrete patios and walkways was B. Nord Pavi, a construction services company based in Northern Italy that specializes in large industrial jobs and recently began zeroing in on theme park installations, Seminati says. The creative brain behind the entire park's design is Art Project, a San Giorgio in Bosco, Italy, firm focused on the artistic and functional design of parks and commercial spaces. Art Project architects designed the layout of the stamped designs in collaboration with B. Nord Pavi, says B. Nord Pavi's Christian Da Canal.
"We helped the designer to create some special effects," Da Canal says. "We used a lot of different stamps."
The Paladiano stamp line, which is manufactured exclusively by Brickform, was developed after its owners visited 28 different cities to study stone shapes, textures and patterns in streets, sidewalks, plazas and interior floors. Seminati is a co-owner of the stamp line.
Five different stamps from the Paladiano line were used throughout the park to create various stone pattern effects. Pavimento of Paris, which was inspired by streets found near the Eiffel Tower, depicts small cobblestones in a fish-scale design. The Fractured Cyprus Slate design, taken from streets found on the island of Cyprus, features heavily textured squares and rectangles. Another, Hammered Sofia Stone, depicts rectangular stones with a bush-hammered texture and was inspired by streets in Sofia, Bulgaria.
The final two Paladiano stamps showcased at Rainbow MagicLand are Rotating Venetian Marble, which displays the worn surfaces of stones similar to those found on the sidewalks of Venice, and Stones of Athens, which combine the textures of limestone, marble and granite. Four other Brickform-manufactured stamps were used as well.
This outdoor masterpiece has been in the works for the past five years. Da Canal said he began talks with the theme park's owner in 2006, and the actual work took place from September 2010 to April 2011. Seminati said the job was in fact slated to begin in May 2010 but was delayed due to organizational issues.
The installation process involved adding color to newly poured concrete surfaces using Ideal Work Colour Hardener and applying Ideal Work Release Agent, a powder that forms a bond breaker between surfaces and stamping tools. After stamping was completed, the entire surface was sealed with Ideal Work Sealer in Regular, an acrylic, solvent-based sealer and curing agent.
B. Nord Pavi assigned two teams of three men to work on the surfaces throughout the job simultaneously, and in January 2011, the company added another team of three to help speed up the process. The extra hands paid off — Da Canal said workers covered 80,000 square feet in three weeks alone.
Da Canal said the project's biggest challenges were its size and the fact that it took place during winter months. Rain caused some delays at the end of 2010, leaving workers no choice but to increase their productivity in January.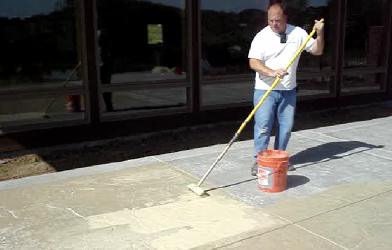 "We have been really lucky because we only had problems with the rain on 3,000 square feet," Da Canal says. "November and December were really rainy last year, but we did it."
Seminati says the use of Paladiano stamps was a win-win for both his company and the contractor. Paladiano offered the stamps to B. Nord Pavi for very little money, and in exchange, the contractor returned the stamps to Paladiano owners, who tested their durability. The test results were good — Seminati says they discovered the stamps did not wear as quickly as they had anticipated.
As Concrete Decor began conducting interviews with Seminati and Da Canal, final touches were still being made to the stamped theme park surface. Rainbow MagicLand opened at the end of May, and Da Canal says the response from everyone involved has been positive.
"Everybody is happy," Da Canal says. "We are sure this nice job will help us to get new jobs like this in Europe and the Middle East."
Project at a Glance
Client: Alfa Park S.r.l. Group, Brescia, Italy
Decorative Concrete Contractor: Christian Da Canal, B. Nord Pavi, Mel, Italy | www.bnordpavi.it
Designer: Art Project, San Giorgio in Bosco, Italy
Scope of project: 500,000 square feet of colored, stamped concrete
Duration of project: Eight months
Material Suppliers: Ideal Work, Valla, Italy; Solomon Colors/Brickform, Rancho Cucamonga, Calif.
Materials Used: Ideal Work Colour Hardener: Sky Blue, Sun Buff, Pewter, Terracotta and Yellow Buff. Ideal Work Release Agent: Gray, Marrone, Tabacco and Black. Ideal Work Sealer: Regular. Paladiano "Wonders of the World" stamps (manufactured by Brickform): Pavimento of Paris, Fractured Cyprus Slate, Hammered Sofia Stone, Stone of Athens and Rotating Venetian Marble. Brickform stamps: Random Stone, Roman Slate, Rough Stone and European Fan.
Got more questions about your project?