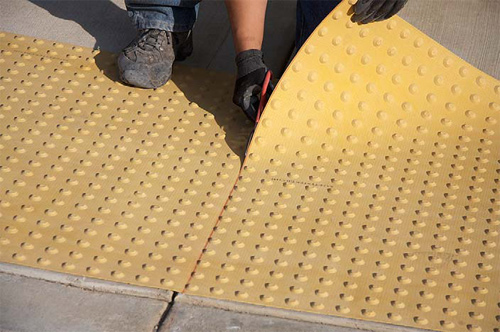 Seven years ago, Mike Menendez, a veteran in the decorative concrete overlay business, was presented with a franchise opportunity for detectible warning systems, which signal terrain transitions to pedestrians. After evaluating the products, he felt that he could create a better one. The end result was SafetyStepTD.
SafetyStepTD is a system of truncated domes on flexible mats that can be easily cut to any shape. The easy-to-customize mats allow the cutting away of domes for both visual appeal and to avoid partial domes, which can create trip hazards. Most importantly, the mats bond to concrete surfaces to avoid moisture underneath as well as potentially hazardous separation between the system and the concrete. SafetyStepTD can also be used on asphalt.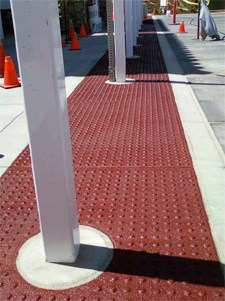 "The key benefits of the system is that it's flexible, breathable, and can be used on both concrete and asphalt" says Dan Dodgen, who handles business development for SafetyStepTD. "It doesn't trap any moisture behind the detectible warning system."
The installation process is simple. After cleaning the concrete surface and precutting the mat to the desired size, remove any unwanted domes. Apply a thin coat of SSTD 589 Liquid Adhesive, and adhere the SafetyStepTD mats. Next, broom the mat to insure proper bond, and apply more SSTD 589 on the surface, making sure to get the edges and seams. Then, broadcast SSTD No. 30 Silica Sand to create a nonslip surface. Remove any unbonded material, apply a topcoat of SSTD 100 color pigmented acrylic sealer, and finish with an application of SSTD-1250 sealer.
Standard mat colors are yellow, red, black and gray. However, custom colors can be created by the manufacturer to match any job. SafetyStepTD's flexibility allows it to flow nicely with any design. "Whatever decor went into the concrete design, especially size and shape of panels, SafetyStepTD can form to that," says Aaron Chusid, who is in charge of the company's marketing.
Another benefit is the speed of turnaround. It can handle light foot traffic within a few hours of application. This means less disruption for stores or other businesses.
The SafetyStepTD system is available in bulk from the company or as a quick-start installation kit. Each kit includes the mat, adhesive, topcoat material, sealer and bonding aggregate. A kit will contain a mat that is either 2 feet by 8 feet, 3 feet by 8 feet, or 3 feet by 10 feet.
(866) 723-3883
www.safetysteptd.com
Got more questions about your project?