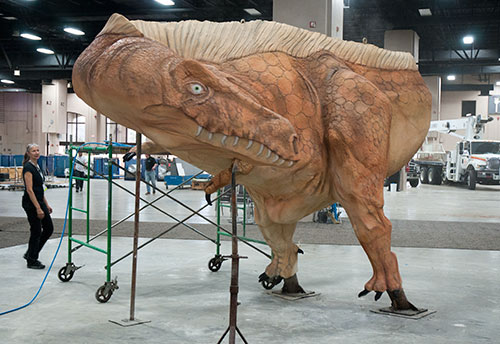 The SAY Si makeover wasn't the only thing the 2012 Concrete Decor Show gave to San Antonio. It also left its host city a dinosaur.
Acrocanthosaurus, a biped, roamed the state of Texas 200 million years ago. The species has returned as a concrete statue crafted at the show.
Artisans Thom Hunt and Mark Whitten led the effort to construct, sculpt and color the ginormous dinosaur. The life-size replica spans 30 feet from nose to tail and is 13 1/2 feet tall.
The basic skeletal structure and scratch coat were done in advance of the Concrete Decor Show, but the detailed sculpture work and coloring was accomplished at the Henry B. Gonzalez Convention Center under the watchful eye of show attendees. Students at the workshop "Dinosaurs Go Decorative: Theming in Large Scale" got to participate in its creation, as did some key volunteers.
What do you do with a nearly 10,000-pound concrete dinosaur once it's finished? In this particular case, it was craned onto a truck and driven across San Antonio to its new home at the Witte Museum.
"People had never seen anything of that size going down the road before," Hunt says. "There were helicopters from the news stations overhead."
Understandably, it's the kids visiting the Witte Museum that are the most excited about the dinosaur.
"They all want their picture taken with it," Hunt says.
Got more questions about your project?