In 2007, the city of Westminster, Colo., a suburb located northwest of Denver, began initial planning for a new park that would sit on 9 1/2 acres of open land across from its city hall. City planners sought to build an inviting community gathering spot where children could play and families could stroll, take in art and view live performances. For inspiration, Westminster, Colo., city planners looked to their sister city, Westminster, England, a central borough of London.
Home to British landmarks such as Big Ben and Westminster Abbey, the Westminster across the pond is also home to the Kensington Gardens, which is the original setting of the Peter Pan fable and holds a bronze statue of "the boy who wouldn't grow up."
Westminster City Center Park, which opened to the Colorado public in 2010, incorporates an obelisk similar in shape to the Big Ben, a Neverland-themed playground, the street grid of Westminster, England, and a blue concrete path with geyser-like water features that represents the Thames River.
"We wanted to create a park across from our city hall," says Kathy Piper, a landscape architect with the city of Westminster. "Westminster, England is our sister city, so we actually made a replica of the city."
Stylized London
Decorative concrete installed by Denver-based concrete construction company Colorado Hardscapes was among many materials planners integrated into the park's design.
Headed up by concrete and water feature consultant Keith Craig and rock and water feature superintendent Jerrod Buys, the Colorado Hardscapes team created the street grid, which includes roads and lettering, in the park's center plaza using Colorado Hardscapes' Sandscape Texture finish. "The Sandscape Texture finish is a concrete finish where we reveal the sand, creating a warm, uniform textured finish," Craig says. Custom stains made by Colorado Hardscapes colored the grid.
Running through the center of the park, between a fountain with lion heads and a feature known as the "bubbling boulders," is the virtual Thames River — blue concrete that resembles a stream of water. Colorado Hardscapes installed the faux river using Lithocrete, a patented concrete paving process in which materials such as marble and glass are embedded in a concrete matrix. (In this case, workers hand-seeded blue glass into the concrete matrix.) Workers applied a custom-blended blue stain to finish the Lithocrete surface.
The team used Sandscape to finish surfaces around the street grid, around the Thames River path and at park entrances.
For the Neverland theme play area, Colorado Hardscapes crafted lifelike structures using glass-fiber reinforced concrete (GFRC) and shotcrete. The "Neverpeak Mountain" is a climbing structure that features a built-in slide and shade structure, which Colorado Hardscapes workers constructed by casting GFRC panels in their shop and taking them on-site for assembly. "Neverwood," a life-size climbing log and tree stump, were made on-site using shotcrete.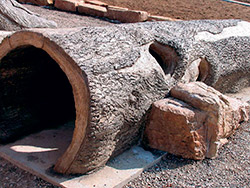 Colorado Hardscapes created a realistic look of bark on the shotcrete tree stump and log by imprinting the shotcrete with some of the company's custom-made textures. "We have amazingly skilled employees who have an eye for this type of work and years of experience," Craig notes. "When you are trying to create a natural look, you have to understand how it would look in nature and how people expect it to look in nature, and those two are not always the same."
The bubbling boulders, a group of rocks that sit in and around a pool of water at one end of the Thames River path, were also constructed using GFRC, and Colorado Hardscapes custom-built molds to create the GFRC lion heads for the fountain.
Colorado Hardscapes became involved with the project when architects from Architerra Group — the Littleton, Colo.-based firm hired to design the entire park — enlisted the company's assistance with the project's decorative surface finishes. "Architerra Group came to us with questions about the concrete finishes, and that progressed into having us look into other aspects of the project," Craig says.
The decorative concrete design process began with the approval of color and texture samples for the park's plaza and other decorative surfaces. Then, Colorado Hardscapes built a scale-model maquette of the Neverpeak Mountain climbing structure and Neverwood's log and tree stump. (Architerra Group had already included these elements in its plans, but only identified their locations — no details of what they would look like.) Architerra Group then turned the project over to Piper and her team of city of Westminster designers, who approved all final details.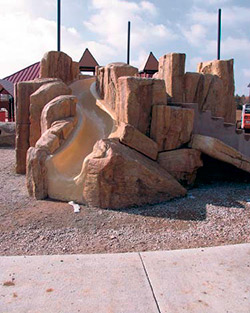 Nature and play
Colorado Hardscapes artist Philip di Giacomo played a large role in the design of the play structures, and Craig says di Giacomo's primary concern was ensuring the structures would be conducive to play and effectively encourage interaction between kids and parents.
"As he designed, he really considered the age group of the kids who would be playing on the structures and how their parents would be sitting around and interacting with them," Craig says. "For example, the fallen trees have holes in them so parents can look through and see their kids playing."
Nature also influenced the design of Colorado Hardscapes' play structures. For instance, Neverwood's hollow log is not only textured on the outside to look like bark, but is positioned partially on top of a rock-like feature, similar to how a fallen tree might sit in a forest.
"We really wanted them to look like natural features, not concrete," Craig says. "For instance, we thought, if this tree were to fall naturally, how would it fall and land?"
Piper also notes that the park's rock and tree features turned out very lifelike.
"(The Neverpeak Mountain climbing feature) really looks like a rock that's been there," she says. "It looks really natural."
With so many construction workers and artists on-site, coordination posed the biggest challenge to Colorado Hardscapes, Craig says. The park encompassed many other small projects, such as a performance amphitheater, various lighting elements, a rubberized play surface with a tricycle track and more Peter Pan-themed playground equipment, such as a pirate's ship play structure and a sandstone crocodile.
Despite the presence of numerous vendors in one space, Craig says his team did their part with few problems, and he notes no specific roadblocks throughout the process.
"For us, it went pretty smooth," he says. "Scheduling is always a challenge, but we worked well with the general contractor out there and made it happen."
Piper says the city was very fortunate to have hired Colorado Hardscapes. "I told them what my vision was, and they came up with what we needed."
Craig notes that on the Westminster City Center Park project, each person he came in contact with shared an emotion: Passion.
"It was a blast working with both Architerra Group and with Kathy and her team with the city. Everyone was as excited and intrigued with faux rock work as we are," he says. "It is breath of fresh air when our clients have the same passion as we do about concrete and what you can do with it."
www.coloradohardscapes.com
Project at a Glance
Client: City of Westminster, Colo.
Decorative concrete contractor: Colorado Hardscapes, Denver, Colo.
Architect/Designer: Architerra Group, Littleton, Colo.
General Contractors: Arrow-J Landscape & Design Inc., Denver, and city of Westminster, Colo.
Timeline: One year
Scope of project: 9 1/2-acre park across the street from Westminster's city hall featuring textured and stained concrete surfaces, a lion-head fountain, "bubbling boulders" and custom-made concrete playground structures.
Products used: Sandscape Texture concrete finish (developed by Colorado Hardscapes), Lithocrete
Got more questions about your project?