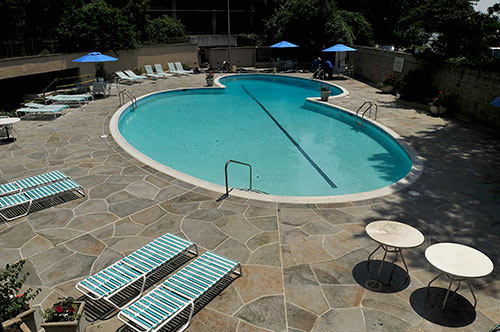 About four decades ago, the Watergate Complex in Washington, D.C., was the site of one of the most talked-about political scandals in American history. Today, the luxurious Watergate Hotel, which sits in the complex, houses executives and politicians as well as everyday travelers looking to immerse themselves in American history.
The hotel is also home to a newly resurfaced decorative concrete pool deck that is reportedly sometimes mistaken for real stone.
Desperately in need of a makeover, the pool deck received its treatment from C.J. Salzano of Salzano Custom Concrete, a Centreville, Va.-based contractor specializing in stamped concrete and concrete resurfacing. He used texture and color products from Pure Texture. The result? A textured flagstone pattern, outlined with pool caulking material and accented by hues found in natural rock.
Working toward a pool reopening scheduled for Memorial Day weekend 2011, Salzano faced his initial challenge: 20 years worth of old coatings, including paint, epoxy coatings and a spray overlay. "The deck probably had about four or five layers of coatings that had been put on it over the past 20 years," Salzano says. "We weren't sure what we were dealing with. We were trying to get all of the coatings off and get back down to bare concrete."
That process took about three weeks and involved experimenting with several types of grinders, Salzano says.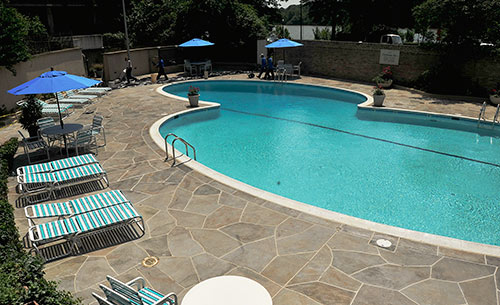 Once workers had removed all previous coating remnants, they tackled their second major challenge — cracks. Instead of covering up the cracks, Salzano says, he incorporated them into the stone pattern.
Working with a large design team from The Watergate Hotel, Salzano developed the stone shapes that would cover a total of 6,350 square feet, including the pool deck, a terrace and a landing area. Salzano hand-sketched stone patterns and met regularly with members of the design team, who tweaked and gave final approval to his patterns.
Using tape, workers sealed off the stones' outlines, including the cracks-turned-grout-lines and the additional grout lines that had been agreed upon by the designers. Then, they applied the first layer of texture: Pure Texture's PT Texture White mixed with an acrylic resin and tinted with a blend of dispersion pigments in brown and gray. The same mixture — with different colors — was applied to texture the grout lines. That batch contained a blend of gray and bluestone dispersion pigments.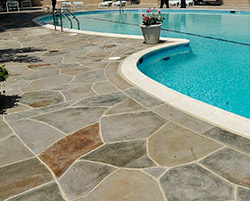 Pure Texture's system is a polymer-modified grout mix combined with a strengthening polymer resin that's designed to duplicate the look of natural stone. "We have one mix that does it all," Pure Texture owner Dominick Freda says. "It'll work horizontally and vertically and on countertops, and it will even stick to glass."
Freda says Salzano was introduced to the Pure Texture system at one of the company's many training seminars. "He had done a lot of stamped concrete, and he wanted to diversify and get into coatings," Freda says.
Salzano also distinguished each stone with Pure Texture's Accent Powders, polymer-modified cementitious colorants intended to replicate the natural colors found in stones as well as resist abrasion. He used Black Jade, Rust, Walnut, Tan and Sand. "He rubbed the colors on with a sponge to create a look like veining or shading," Freda says. "It individualized each stone."
Finally, two coats of Pure Texture's Thermoplastic Sealer were applied. Salzano says the sealer was spiked with a nonskid additive to get a finish similar to sandpaper. On a pool deck, which is often wet, slip resistance is key.
Another company that played a role in the project was Jefferson, Md.-based Stateside Construction Co. (also known as "The Pool Caulking Pros"), which supplied and installed custom-colored pool caulking material after the Pure Texture system installation was complete. Salzano says that Stateside was initially brought in to handle an estimated 900 linear feet of caulking, which included 300 linear feet of caulk in the standard coping joint, 300 linear feet in the expansion joints, and 300 linear feet in random cracks in the concrete slabs. An additional 300 linear feet of cracks appeared during the grinding process, bringing the total number of linear feet caulked to 1,200.
After landscapers added finishing touches with outdoor furniture, the pool area was ready to welcome guests. Salzano says that since the pool's reopening, the only hurdle project managers encountered was minor cracking of the caulking material in about 10 or 15 small spots, which Stateside Construction repaired in a follow-up visit.
Salzano says the pool deck has received a major upgrade. "People had been walking on an old pool deck for so many years, and we've totally transformed the look and feel," he says. "I'd say that the casual visitor thinks they are walking on stones."
Project at a Glance
Client: The Watergate Hotel, Washington, D.C.
Decorative Concrete Contractor: C.J. Salzano, Salzano Custom Concrete, Centreville, Va. | www.salzanoconcrete.com
Scope of project: 6,350 total square feet of outdoor textured, colored concrete, comprising a 5,100-square-foot pool deck, 1,200-square-foot terrace and 50-square-foot landing area
Duration of project:Six weeks
Material Supplier: Pure Texture
Materials Used: PT Texture White, PT 1 to 1 Acrylic Resin, Thermoplastic Sealer, Dispersion Pigments: Brown, Gray and Bluestone, Accent Powders: Black Jade, Rust, Walnut, Tan and Sand
Got more questions about your project?