In 2000, the museum installed a concrete floor sealed with a wax topcoat. "They were waxing the floor to maintain the shine which was expensive," says Nick Dancer. "The wax was also soft so when they would bring in tables and chairs for events, they found it would scuff and scratch and the concrete didn't look good long term."The Auburn Cord Duesenberg Automobile Museum in Auburn, Indiana, is dedicated to preserving cars built by Auburn Automobile, Cord Automobile and Duesenberg. The building, at 1600 Wayne St., was a factory where cars were hand-built during the 1930s. The museum houses about 125 cars that relate to this period of automobile history.
Dancer's company, Dancer Concrete Design, offered another solution to waxing the scuffed-up floor in the events center — polished concrete. "We proposed a polished concrete floor system using diamond abrasives and subsurface sealers," he says. "The floor looks like it has a thick lacquer or epoxy on the surface but it's actually subsurface. It won't mark up or scratch and this can hold up to forklift traffic."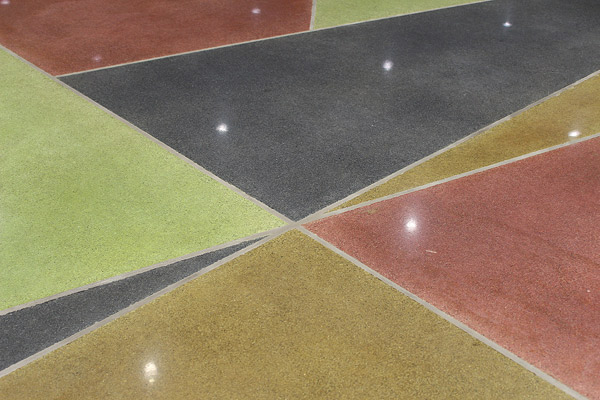 The museum chose a design for the floor that mirrored the art-deco style terrazzo found in the front of the building in the original office area. Dancer's crew cut 3/8-inch grout lines and used nearly two miles of tape and plastic to keep the penetrating dye separate while it was applied to each section of the 7,000-square-foot rectangular room.
"This extra effort was worth it when you see the completed space, with clean lines, clear color and a great overall shine," Dancer says. The floor was finished to a Level 2, 800-grit finish. Four colors of penetrating concrete dye were used along with
Ameripolish 3DHS Concrete Densifier (applied after dye) and Ameripolish SR2 Concrete Sealer (applied after polish).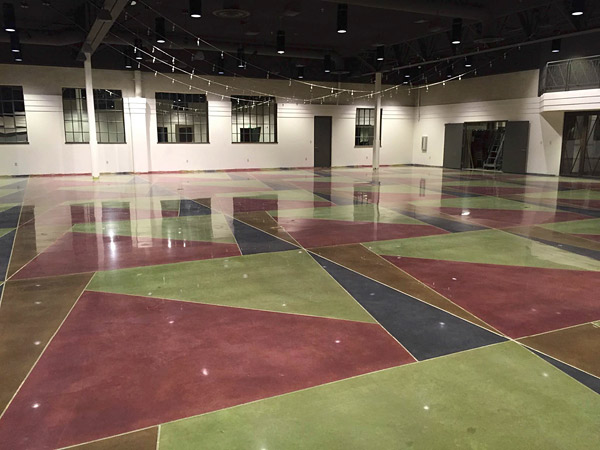 Other Indianapolis Decorative Concrete Featured by Concrete Decor
Melvin and Bren Simon Cancer Center, IUPUI
Children's Museum of Indianapolis
Castleton Square Mall, Indianapolis
Greenwood Park Mall, Greenwood, Indiana
Tilt-Up Buidling: 620 N Delaware St.
The Green County Viaduct, Tulip, Indiana
Hoosier Patriot Memorial, Washington Park East Cemetery
Got more questions about your project?