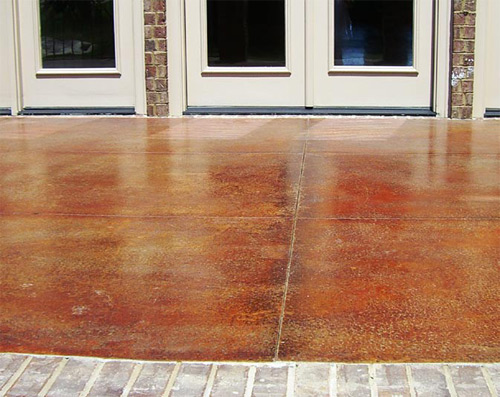 The Clemons Universal line, which includes Super Dyes and Super Colors, offers a pair of unique approaches to coloring concrete.
Super Dye is a liquid concentrate, not a powder dye. The Super product is packaged as an 8-ounce concentrated liquid that is mixed with a gallon of water or acetone. Give the mixture a quick stir, and it's ready to apply to the concrete floor without having to wait for the dye to sweat in.
"The nice thing for the contractor is there is no overnight waiting for anything," says Don Ware, general manager with Clemons Concrete Coatings, which manufactures the Super colorants. "With powders you have to wait overnight for dye to dissolve in acetone."
Super Dye also offers some advantages over traditional water-based dyes, Ware says. "With water-based, you have to wait about four hours for the water to evaporate, but with Super Dye, the contractor could immediately seal over it with any kind of sealer." Also, water-based dyes do not penetrate as well as acetone-based dyes because the surface tension of water is much greater than that of acetone, Ware adds.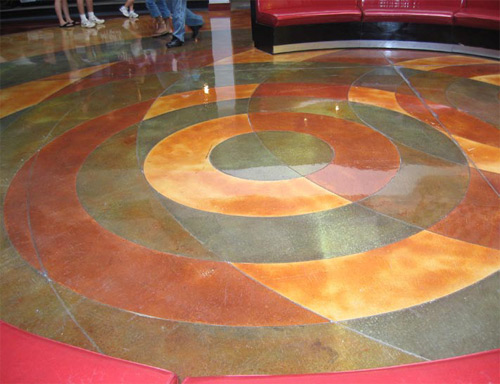 A mottling agent in the Clemons dye creates the effect of acid stain without the time and work associated with acid stain – another timesaving benefit.
Super Dye is for interior use only and can be used in the polishing process. Unfortunately, however, like most dyes, Super Dye is not UV-stable and cannot be used in outside applications. "Our answer for an outdoor product is Super Color," says Ware.
Super Color is an exterior stain. The concentrate is mixed with acetone and applied to concrete with a sprayer. It is then immediately ready to be sealed over with any type of sealer.
"It works much in the same way as Super Dye," says Ware. "The biggest differences are Super Color is UV-stable and cannot be used with water."
What makes Super Color an attractive product is its look in outdoor applications. Also, it penetrates concrete like a dye but is UV-stable like a stain. In terms of performance, Ware says, the colorant would fall in between a dye and stain, but technically, it is extremely fine stain. Super Color uses glycol, a nonflammable solvent, as a carrying agent, and the micronized pigment is able to penetrate concrete pores.
Super Color can be used both indoors and outdoors. Ware says that if he used Super Color indoors, he would pre-etch the floor. "But I always recommend that, if you were dying or coloring the floor," he says. "That way you get better penetration."
Contractors will want to use a sealer afterward. Clear sealer helps the color in the dye or stain "pop" from the floor, Ware says.
Super Dye comes in 19 colors, while Super Color comes in 10 colors. In both cases, the colors can be mixed, creating a virtually unlimited palette to choose from.
Both products have their place in new construction, but Ware says he is seeing growing interest in use for remodeling projects. "The products give a whole new look to old concrete floors," says Ware. "If you have a plain concrete floor, you can make it look stained or give it color or give it an expensive look for relatively little money."
www.ccc-usa.com
Got more questions about your project?