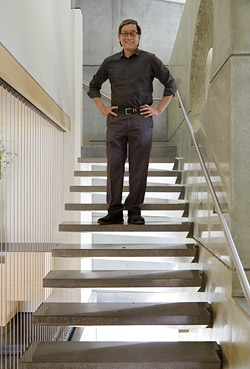 "Cantilevered stair treads are always an eye-catching sensation in architectural circles," says FuTung Cheng, founder of the website concreteexchange.com. "The very idea of a single point of support at one end of a plank, managing the enormous weight of a person walking on a stair tread, is dramatic. Intuitively we connect the idea of a diving board to the concept — a springy, unstable path to the second floor should be the result. Combined with the inherent weight of a concrete tread, the instability disconnect is reinforced."
In the award-winning Los Altos Hills, California, residential design shown here, the 300-pound treads were engineered to be cast around a dense cage of #5 rebar, a 1/2-inch-thick welded plate and two PVC sleeves for the post-tensioning threaded rods running the length of the tread from the wall. A robust matching steel plate with 5/8-inch rebar tangs was precisely located up and along the wall for each tread. They were then welded to the wall rebar before the concrete walls were formed.
The treads were formed in laminated-lined melamine molds (just like a countertop) with a special mix design of blended fibers and high-performance cement. After curing for 28 days, they were individually ground to a non-slip 200-grit finish. For installation, the contractor made a special rolling carriage to slide each behemoth into the precise level and location of the plate attachment on the wall and into the embedded sleeves for the threaded rods.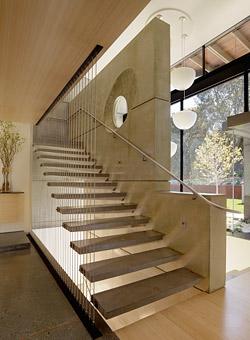 To test the cantilever's strength, Cheng says they placed 650 pounds of solid concrete block on the end of each tread, before he and the engineer gingerly stepped on. "We measured a mere 1/16th of an inch deflection with a nearly 1,000 pounds dead load," he says.
NOTE: Engineer of house and stairs: Endres Studio, Emeryville, Calif.; foreman: KC Lowen, and concrete specialist: Greg Whiteside, RJ Dailey Construction, Los Altos, Calif.; and project architect: Ann Kim, Cheng Design.
Got more questions about your project?