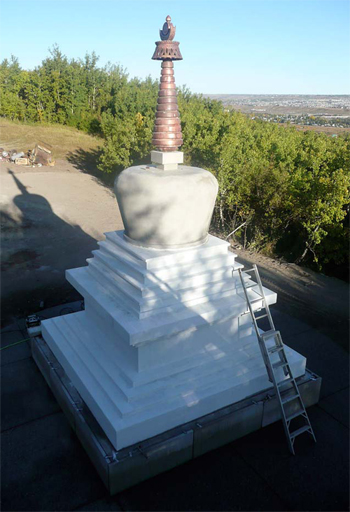 A stupa is one of the most venerable icons in Buddhism. It's a structure steeped in symbolism, and building or maintaining one is said to bring a person close to enlightenment.
Which is good news for Renaissance Concrete Design and its owner, Nicholas Sproule.
When a private landowner in Calgary, Alberta, wanted to build a stupa in honor of the Dalai Lama's planned visit in September 2009, he approached Sproule to erect the 25-foot-high structure. "The project was a real challenge, as we only had a six-week timeline in which the stupa had to be completed," Sproule says.
The schedule wasn't the only challenge. Calgary-based Sproule was a veteran installer of residential and commercial flatwork, but he had no experience with stupas. So he sought advice from other artisans, most notably seasoned stupa builder Paul Kloppenburg of Colorado. "I was kind of out of my comfort zone, but it turned out amazing," Sproule says.
"The planning/building process was a truly amazing journey. Buddhist monks were present throughout the entire build and performed traditional rituals at certain points throughout the project. The chanting was truly amazing."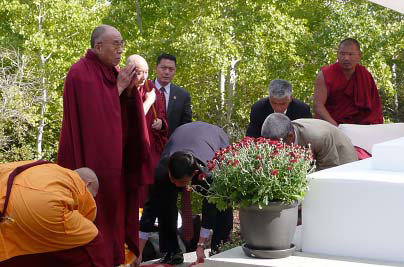 The stupa was poured in place over several stages, a process that was dictated in part by Buddhist tradition. It was also built hollow so offerings could be placed inside during construction. "There are three separate cavities that were filled with offerings," relates Sproule. "These offerings consist of everything mankind needs to survive. Weapons, guns, tools, food, gold, peacock feathers and scrolls were just a few of the items offered in the stupa."
Workers sculpted the dome-shaped piece at the top of the stupa with custom-made tools. The entire monument required 103 cubic meters of high-flow concrete with polypropylene fiber reinforcement, 10 mm washed pea gravel and Type 10 portland cement. "The copper work was all made in India and is truly a work of art," he says.
After the stupa was cast, the crew applied a coat of silicate-based paint recommended by Kloppenburg. "We were going to go with white concrete, but the price was going to be ridiculous," Sproule notes.
Other concrete stupas have been said to take up to nine months to build. Sproule and his team finished theirs inside the six-week window. The Dalai Lama consecrated it on Sept. 30, 2009.
If a planned Dalai Lama Center is built at the site, Renaissance Concrete Design may be tapped to build more stupas, Sproule says.
www.renaissanceconcrete.ca
Got more questions about your project?