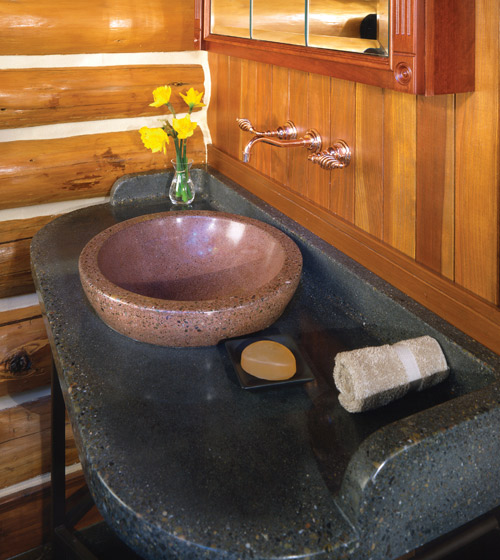 Start with a career developing computer and video systems that track the movements of fish, humans and animals, add 17 years of doing high-tech special effects for video games and movies (including the last two "Matrix" movies), and end up owning a high-end decorative concrete company? That's the career path taken by Patrick Miller, founder of Bohemian Stoneworks, in Sonoma County, Calif.
"After working for years in the special effects field I had enough money to build kind of my dream house," explains Miller. "While the house was being built I was spending a lot of time on location in China setting up special effects studios and I found that all I wanted to do was get back to the construction project."
He soon realized that the aspect of his home's construction that intrigued him most was the challenge associated with decorative concrete. It wasn't long before he was doing work for paying customers.
"By around 2000 and 2001, when the dot-com bust happened, I knew I was ready to get out of the special effects field," recalls Miller. "The bust was just the impetus I needed to finally make the decision to start my own company."
Since then, Bohemian Stoneworks has developed a reputation for its ability to create virtually anything a customer wants in decorative concrete — countertops, fireplace surrounds, furniture, floors and walls. You name it, they either do it already or are willing to try.
"I was comfortable that I knew the concrete aspect well enough, but having never had my own business before, the details of starting a company were the hardest part," Miller says.
He says he started his business following five business principles:
Curiosity: Stay eternally curious about better methods, collaborative opportunities and advances in sustainability.
Artistry: Remember that concrete is an artisan's canvas.
Innovation: Employ state-of-the-art techniques to achieve a very dense and reliable concrete product.
Collaboration: Work closely with customers to craft pieces that meet their aesthetic, functional and budgetary requirements.
Responsibility: Success is measured by more than just a balance sheet. Provide superior customer service, maintain a healthy and interactive workplace and acknowledge responsibility to the environment.
Miller has stayed true to those principles and it has served the company well. A case in point: Sebastopol, Calif., resident Cynthia McReynolds wanted a concrete countertop to go with her new bathroom cabinet and was referred to Bohemian Stoneworks. After visiting the showroom she settled on a concrete top with a hand-crafted copper sink embedded flush.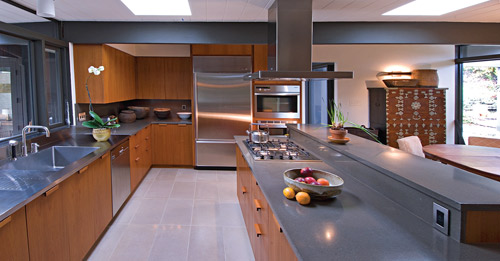 Patrick Miller collaborated with her to create something special. "Patrick encouraged me to think about colors and patterns and what I might want as inlays in the countertop," recalls McReynolds. "Instead of just a pretty countertop, we were creating a piece of art. I picked out a color I liked from a paint store and Patrick matched it perfectly. I was involved in deciding the placement of serpentine rock gravel and cut gravel in the mold, all with Patrick's encouragement. They made me feel like I was the artist and not just another customer."
Being green
Lots of contractors sell the idea of concrete as a green product. Miller takes it to another level. "I try to be a realist when it comes to being environmentally responsible," he says. Considering how much energy goes into shipping and manufacturing a lot of so-called "green" products, many aren't that green, he argues. "If you're located in California, like me, and you're getting your colored, recycled glass from Utah, where it's crushed, melted with pigment added, and shipped, is that really being green? Shipping rock across the United States just doesn't make sense. Getting raw materials from a local source does."
| | |
| --- | --- |
| | |
Miller is also dedicated to putting in additives (fly ash, silica fume, ground glass powder) to reduce the amount of cement in his company's concrete. The sand and gravel in Bohemian's mix are quarried only 19 miles from their manufacturing facility. The mix uses CSA (calcium sulfoaluminate) cement, which is fired at a much lower temperature than standard portland cement, using less energy and producing less carbon dioxide. Adding glass-fiber reinforcing material to the mix reduces the amount of cement and raw material needed.
"Our manufacturing facility is another way we work to reduce our impact on the environment," says Miller. "At least 95 percent of our production wastewater is reused through a closed-loop system. We recycle most of our scrap, and since the size of each batch of concrete is carefully and accurately calculated, extra landfill is minimized."
The art
The quest for being green has led to some of the signature art that defines much of Miller's work. He embeds wafers cut from recycled wine bottles, oyster shells and river rock — all collected locally — in some of his countertops and has mastered a grinding and polishing technique in which the aggregate is subtly revealed to add to the feeling of depth in the finished product.
"With all the techniques we use, it's important to have an artistic eye so the final product almost looks like a thing of nature," says Miller.
Vincent Landucci has known Miller for several years — they met because Landucci specialized in etching and cutting concrete with water jets. He's been an employee of Bohemian Stoneworks for about a year and a half. "There's so much fusion to concrete," he says. "There are so many different components to it — cabinetry, mixology, knowing your ingredients, fabricating. At times, our options seem to be limitless. I like to experiment with new ideas and Patrick encourages that."
"I think part of the reason that I was interested in the challenge of concrete has to do with my father, Eugene Miller," says Miller. "He worked as a civil engineer and always encouraged me to think and be innovative."
Miller's work can be found throughout Northern California. It can also be found in this year's Marin Designers Showcase house, an annual high-end remodeling project in Marin County, Calif.
"This particular house is estimated at a value of $45 million," says Miller. "We built a 12-foot radius bar, with a curved backsplash and edged detail, and also a large outdoor barbecue and fire pit. The opportunity to display our work while giving something back to the community was really something special."
It seems that "special" is Miller's bailiwick.
"Everything about my experience with Bohemian Stoneworks was unique," says McReynolds. "What was most special, though, was that even though I could tell they had far bigger projects than mine going on, they always made me feel like my project was the most important one."
www.bohemianstoneworks.com
Got more questions about your project?