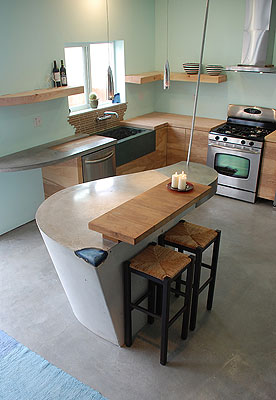 Cheng Concrete announced the winners of its fourth annual Members' Circle of Distinction Design Challenge at the 2008 World of Concrete show in Las Vegas last January. More than 100 entries were received for the contest from 25 states as well as Canada, Mexico, and England.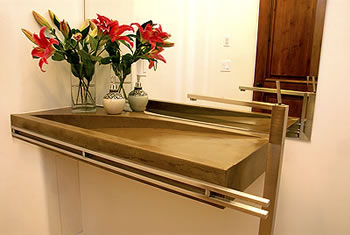 This year's competition featured eight categories — Best of Show, Best Kitchen, Best Bath, Best Integral Sink, Best Decorative Finish, Best Functional Feature, Best 3-D and a new category, Best Fireplace. The Best Fireplace category was added while judging was taking place because of the number of fireplace entries submitted for the 3-D category. More importantly, the judges thought the entries were of such high quality and good design work that they warranted their own category. Sixteen Merit Awards were also given to the runners-up.
The contest was open exclusively to members of Cheng Concrete Exchange, an online resource for designers, homeowners, contractors and do-it-yourselfers interested in training, products, creative ideas and business opportunities in concrete design.
When asked about design trends or recurring themes in the project entries, Fu-Tung Cheng notes that many of this year's entries used a complete palette of materials rather than concrete as a stand-alone material, demonstrating what he called a more sophisticated approach to designing with concrete. "In several projects, the peripherals were as important as the concrete itself, as in the case of a steel superstructure holding up a water feature or the fusion of a sculptural brushed stainless steel countertop integrated into a concrete countertop island."
Cheng says the Best of Show winning project, submitted by Chris Jarman of Concrete Connexion in Silver Spring, Md., was an eye-opener.
"The surprise for me was the Best of Show project, which was not a countertop, but instead a fireplace project," he says. "During the judging process, the jury and I found that the more we looked at the project, the more we discovered a sense of classic elegance and simplicity. The line work, ceramic tile and natural stone inlays were perfectly balanced."
Cheng also says that he saw a high level of technical proficiency in many of the projects. "Entrants were pushing the parameters of what they could do with concrete and technology, using fiber optics, intricate color blending and large cantilevers. Overall, it was a privilege to see such high levels of work coming from our members."
At the awards ceremony, held at the Concrete Decor magazine booth, Cheng started the show by presenting a digital slide show of the entries. The event drew a crowd, and many winners came from across the country to collect their awards in person.
Project entries were judged on the basis of overall design, surface interest, and the inclusion of innovative edges, details, knockouts, and well-crafted and functional accessories, such as trivets, cutting boards or drain boards.
www.concreteexchange.com
www.chengdesign.com
Got more questions about your project?