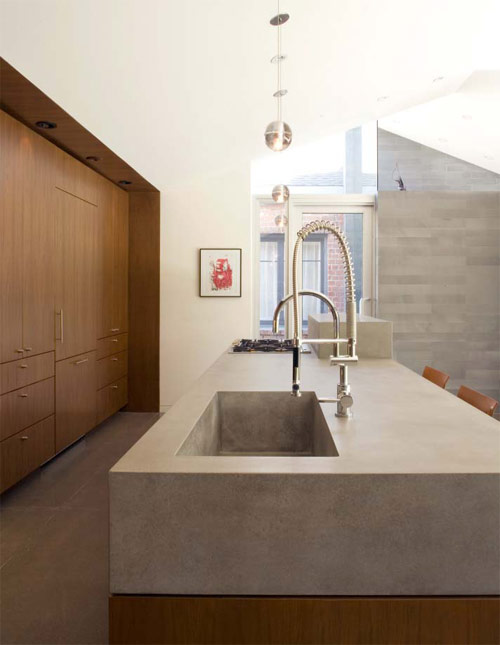 No one's more passionate about their art than the hard-working members of your typical undiscovered garage band. They can put in a full day at work before jamming all night whether or not there's a remote possibility of a paycheck.
But it's not just musicians who exhibit that kind of dedication and resilience. Jim Ralston, president and owner of URBAN Concrete Design in Phoenix, Ariz., pursued his passion in a similar manner.
"I've been around concrete ever since I could walk," he says, crediting a father who owned a ready-mix plant. In an effort to branch out and get away from the too familiar, Ralston trained as a welder. But it didn't take. He worked in architectural precast for 17 or 18 years. "
I remember having to do concrete countertops in precast for a post office once and wondering what they were thinking," he says.
Of course, that was before Ralston discovered that the functionality of concrete extended well beyond driveways and parking lots. About a decade ago, he read one of the books by California decorative concrete innovator Fu-Tung Cheng. As he puts it, "Cheng ruined me for my employer."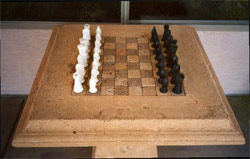 With his newfound book in hand, Ralston spent his after hours in his garage, determined to make a concrete chess table the Cheng way. He finished the piece in 2000. He was basically just doodling around, trying to see if he could create something as good as a piece he'd seen on eBay.
Here's the twist: Ralston found a buyer for his experimental table in a newly opened coffee shop near his home.
Next, their coffee roaster needed a polished concrete base. And after that, Ralston made concrete countertops for his own kitchen, and then graduated to the kitchen of his wife's best friend.
He might have a hard time nailing down the exact moment when passion turned to commerce, but he eventually found his way right back into the concrete jungle he thought he'd left behind when he left home – and he's loving every moment of it.
Ralston and the four full-time employees of URBAN Concrete Design, launched in 2004, are building a regional reputation as a high-end artisan firm specializing in custom countertops, water features, fireplace surrounds, floor tiles, wall claddings and other site work for residential and commercial clients in both new construction and remodeling.
Ralston also teaches a class for Cheng Concrete on working with glass-fiber reinforced concrete (GFRC), a lighter-weight, high-tensile-strength material that's opened up new possibilities in decorative concrete.
With Phoenix among the hardest-hit American regions in the real estate meltdown, Ralston's business has certainly changed, but not for the worse. "What's gone away," he says, "is the idea of people pulling equity out of their homes to remodel their kitchens." That was the case when he started out, in the "good old days," when as late as two years ago he says he was turning business away.
But the mortgage boom in Arizona had also resulted in a whole lot of characters with varying degrees of industry knowledge and experience starting and operating decorative concrete businesses in their garages, Ralston says. When the economy slumped, "there was a weeding out of a lot of those guys," he observes. As a result, his market share has improved. Architects and general contractors have him on their speed dial. Among his proudest achievements are the sleek, white lobby of the BSH Gallery and Training Center in Scottsdale, commissioned by the architectural firm Merz Project, and the ultracontemporary kitchen of the AIA Desert Living Home of the Year for 2007, in Phoenix.
He says that residential customers are more knowledgeable about decorative concrete today than they were five years ago – and more excited about its possibilities.
Ralston says that the only direction he gives outside salespeople in the acquisition of prospects is, "Dude, just get me in front of them."
Jim Ralston might talk like a garage rocker, but his garage days are obviously far behind him.
Got more questions about your project?