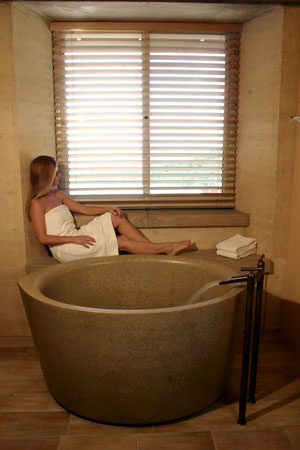 It was just a matter of time. An upstart player in the decorative concrete market is making a grand entrance into high-end bathrooms: concrete soaking tubs.They're big, they're fragile, they weigh nearly a ton, and choosing a design is not unlike picking a sculpture. "It takes a genuine commitment," says Stone Soup Concrete owner Michael Karmody in Florence, Mass.
Concrete tubs are just a small piece of the decorative concrete market. Not everyone can pay $8,000 to $20,000 for a concrete tub that needs to be installed before walls go up because it won't fit through most doorways. But those who do choose these concrete tubs find them appealing, not only aesthetically, but for the comfort and deep indulgence they provide.These concrete tubs can be found in upscale spas seeking the meditative quality of a Japanese bathhouse, but residential homeowners can replicate that feeling at home with the right planning for the tub's size and bulk.
Karmody says concrete tubs present a number of engineering challenges. His company installs its box-shaped tubs on site in five pieces. The side elements must feel smooth and comfortable against the skin, obviously, and joining and sealing the pieces together properly is critical so the tubs don't leak. "In the middle of installation, I'm tearing my hair out, but in the end they look beautiful," he says.
In addition to the technical considerations, a stand-alone concrete tub must look like a piece of art since it dominates the bathroom environment, Karmody says. "Some people think of tubs as just a large sink, but there's nothing farther from the truth."
The Stone Soup tubs can hold 120 gallons of water, so Karmody says he has to caution clients that most hot-water heaters don't have that capacity. Keeping the water warm in a concrete vessel is another challenge, which is where radiant systems come in. Heating coils embedded in the concrete keep water at the proper temperature.
Steve Rosenblatt, president of Sonoma Cast Stone of Petaluma, Calif., says people who encounter the concrete tubs at trade shows are often surprised to find them warm to the touch. They can be ordered with a programmable timer.
He says the company has 10 concrete tubs on order: four for residences and six for hotels and spas. Some have been placed outdoors at hotels, while others are installed near windows overlooking vineyards. Sonoma Cast Stone tubs are manufactured on-site. They are about three inches thick and come in one piece — it takes eight men on a vibrating table to cast just one, says Rosenblatt.
Sonoma Cast Stone offers two kinds of tubs: the Ofuro, a Japanese-style, 24-inch-deep, one-person tub weighing in at 865 pounds (not counting the water and the bather), and the 1,800-pound double WaveTub, which is contoured and has room for two people. "It's a look of elegance," says Rosenblatt. They are made of NuCrete, which Sonoma Cast Stone calls "the world's only stainless concrete" and is available in dozens of colors.
The main selling point of decorative concrete is the infinite number of options available for customization. Color, shape, texture … it's all up for grabs. Concrete tubs are no different, and they give homeowners' bathrooms distinctive looks.
"I've heard it described as buying a piece of sculpture and 'maybe I'll bathe in it once in a while,'" says Rosenblatt.
Got more questions about your project?