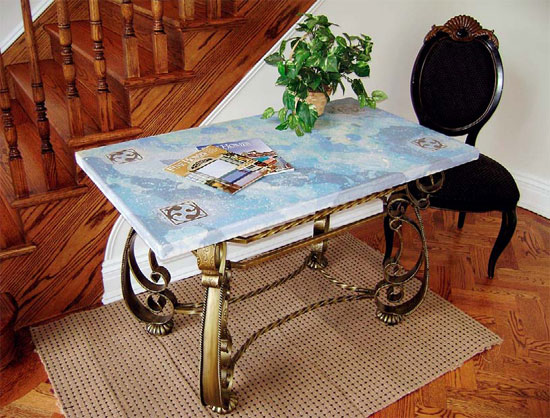 TopCrete Design Studios does a lot of amazing things with concrete. Recently, though, one of their creations itself did something remarkable — it helped fight AIDS.
TopCrete, founded by Daniel Herzner and Vincent Monje, pitched in as a member of the American Society of Interior Designers to help with a charity event that raised money to benefit AIDS research. Its contribution was this Concrete Cocktail Table.
Taking advantage of the opportunity to do a project with no design specs, Herzner and Monje created a complex, custom-blended design using Buddy Rhodes Concrete Counter Mix and Buddy Rhodes' integral Liquid Color. "We eyeballed it," says Herzner, "really had some fun with it."
The lightest shade of blue was created using a very small measure of the Sky tone of Liquid Color. The slightly darker blue was also Sky, in larger proportions. Finally, the navy blue accents were done using a blend of Sky and Coal. The three different shades of concrete were mixed in separate batches before being scooped into a form.
The mix for the table incorporated FritzPak's Counter-Flo admixture, giving it a slushy consistency. Although TopCrete frequently employs Buddy Rhodes' signature hand-packed technique to place concrete, Herzner used a different approach with this table, taking advantage of the doctored concrete's high flowability. After snapping on a pair of rubber gloves, he created swirls and ripples in the different colors by hand, resulting in a visually striking piece for the charity event.
The table went for $1,200 at auction, all of which was donated to Broadway Cares/Equity Fights AIDS and the International AIDS Vaccine Initiative. Not only is the new owner happy with his table, but Herzner and Monje are, too. "We really love the way it came out," Herzner says.
He and his business partner plan to produce other tables in the same style, but with different color schemes.
Building tables for charity is just one of the many ways that Herzner is involved with decorative concrete. TopCrete fabricates a wide array of custom concrete countertops and interior design elements. Herzner's other company, the DecoCrete Depot, supplies contractors in and around White Plains, N.Y., with specialty decorative concrete tools and materials.
Got more questions about your project?