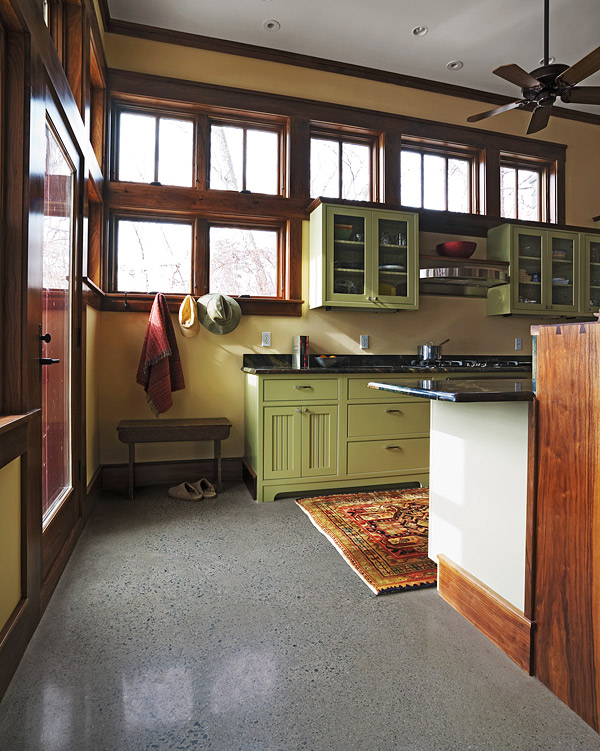 In wintry areas of North America, heated walkways and driveways that melt snow have been a prized feature of upscale homes and businesses for decades. Indoors, radiant-heated floors have long been an amenity in high-end homes, and new technology makes them a worthwhile investment in starter homes, too, since they can reduce the cost of heating the house.
Alliances between decorative concrete contractors and heating contractors can add value to both businesses. Why not offer customers floors and hardscapes with all the benefits of decorative concrete and hydronic heating?
A hydronic systems designer and three decorative contractors talked with Concrete Decor about how those partnerships work for them.
Hydronic tubes solve the problem of removing snow on steep driveways, such as the driveway at this Salt Lake City house. Photos courtesy of Harris-Dudley Co.
What's the difference?
Hydronic radiant heat systems circulate a heated solution of glycol and water through loops of cross-linked polyethylene (PEX) tubing under a floor. The water is usually heated in a dedicated boiler, which may be gas, electric or solar, depending on the climate. Other radiant heat systems heat the slab with electric wires instead of liquid.
A plumber or electrician must design the system and make the connections, but some regulatory jurisdictions allow the concrete contractor to lay out the tubing or wires.
Once the concrete has been poured over the tubing, the slab is finished just as any other indoor or outdoor floor. The buried tubing will not change the processes of troweling, stamping, coloring, sawing or polishing.
Benefits in snowy climates
Bob Dudley, of radiant heating contractor Harris-Dudley Co., Salt Lake City, has been designing snowmelt systems for about 25 years. "It's definitely a high-end item," he says. "We see more residential, but there is a strong commercial component."
His company specifies hydronic systems from Uponor North America. The systems are controlled by temperature and moisture sensors and are designed to melt the snow as it falls.
"The radiant and snowmelt industry believes that concrete lasts longer in driveways when you have a snowmelt system because you eliminate the freeze-thaw cycles," he says. Also, "There are no blades and no scraping."
What about when the customer wants a decorative finish too? "We often recommend a concrete contractor, and then he gives the homeowner options on borders, colors and patterns. There are times when a homeowner will independently call the contractor, but we'll often get involved in a little package deal."
Dudley prefers that concrete contractors not lay out the tubing, but he suggests that decorative contractors form relationships with the mechanical contractors or plumbers who design radiant heating systems. "Oftentimes, I will give a concrete contractor leads, and he will give me leads, and it works for both of us."
Before Reuben Keim's Ohio-based crew poured a 25,000-square-foot slab for a commercial building in October, a plumber laid out this hydronic tubing on Crete-Heat, a foam board with knobs that hold the tubing in place. Reinforcing mesh is laid over the tubing.
Laying their own tubes
Architectural Concrete and Design, a Bomanite licensee in Draper, Utah, does hydronically heated concrete floors, walkways and driveways in Park City, a ski resort community where many homes are 8,000 feet above sea level and can get as much as 300 inches of snow a year.
"We added it to our repertoire 20 years ago," says Devin Johnson, vice president of the 40-year-old company. "We get a lot of calls for heated driveways, and we wanted to be able to provide that. It eliminates the middleman."
Johnson's company usually gets the work via a general contractor who has contracted out a hydronic or electric heat system. He works with Warmzone LLC, a radiant heating company based in Draper. Johnson prefers to have his employees place the tubes or wires themselves, subcontracting a certified plumber or electrician to make the connections.
"We terminate the wires or tubes to a certain area, and the electrician or plumber will take them from there to a junction area, where they will run them to the control panels. The boilers and panels are generally in the garage.
"The heat system is always attached to some kind of welded wire mesh or rebar grid to hold it in place and give it strength. We lay an insulating membrane below the subgrade to enhance the heat. Then we lay down our rebar grid and welded wire mesh on top of that. The heat tubes are tied to that system, and the rebar grid and tubing is chaired up on adobes to get it up into the middle of the slab."
Johnson uses a boom pump to place the concrete without dislodging the tubes. For indoor applications, 2 inches of lightweight gypcrete are poured over a wooden subfloor, and the gypcrete is then covered with floor coverings or a decorative concrete overlay. Exterior slabs with heat systems are poured at least 4 inches thick with a standard concrete mix.
Who's buying?
Reuben Keim, owner of Keim Concrete in Wooster, Ohio, finds that his hydronic work is about half remodels and half new construction. "On a lot of our jobs, the house might be two or three years old, and they are adding a feature to it, like a patio," he says.
Generally, he gets his radiant work from homeowners. "It's not something that I really push that much," he says.
"Until the past two years, 80 percent of our stuff was interior floors, but we're seeing it shifting to outdoors," he says. He's done heated patios, so homeowners can let their dogs out in the winter, and heated walkways that give easy access to a hot tub.
Although Keim doesn't sell or design hydronic heating systems, he does lay his own tubing, using a different method from Johnson's. He starts with two layers of 1-inch blue Dow foam insulation placed perpendicular to one another. Then Keim lays out the hydronic tubing, staples it down to the foam insulation, and lays #6 wire mesh on top of the tubing. "If you tie your tubes to your wire, then the wire is down flat on the bottom of the concrete and that's not good," he says. "When we cut our concrete, we're comfortable knowing that the tubes are lying flat on the Styrofoam."
Recently, Keim's crew tried something new: They poured a slab after a plumber had laid out tubing on a substrate of Crete-Heat, a foam panel covered with knobs that hold the PEX tubing in place. "I was very impressed with the way it worked," he says.
Michele Pondi-Salik, of Davinci Pavement Design LLC, Stratford, Conn., installed a Warmzone radiant heating system in this interior. Photos courtesy of Davinci Pavement Design LLC
Coming in from the cold
Decorative contractors can also find opportunities when radiant heating is installed indoors. Michael Frost, of Vermont Eco-Floors, Charlotte, Vt., has made a specialty of polishing hydronically heated residential concrete floors designed with different combinations of aggregates and sand.
Radiant heat under wood floors has long been popular in Vermont, but it's more efficient to heat a concrete floor. "This allows us to use lower water temperatures, which increases the efficiency of the heating system," Frost says. "When efficiency is increased, the size of the alternative energy system is decreased, reducing costs. The money is then available to increase insulation, better windows and so on to maximize energy efficiency.
"On a cloudy day in January the new solar panels set for winter heating performance will make 75-degree water." Frost says. "In a well-insulated house, this lower water temperature is adequate to provide the required heat. Any leftover heat can be used to boost the domestic hot water."
Vermont Eco-Floors has been working with Vermont builders who are installing solar-heated radiant systems in starter homes. "While you may not be reducing the cost of building the house, you can reduce the future heating bills for the homeowner or tenant," Frost says. The new generation of solar hot water systems are even more efficient than the old, with only a small amount of the glycol heating loop exposed to the cold weather.
A plumber or heating contractor installs the hydronic tubing and a concrete contractor pours the slab. Vermont Eco-Floors comes in afterward to do saw cuts and polish the floor. "We market through our website — and by meeting with architects and builders — ways to make these floors decorative using local materials," he says. "The architect gets involved, and we give them the components to build their own floor."
Frost also has finished hydronic floors in basements, where they help heat the whole house, and in warehouses. In high-ceilinged industrial spaces, radiant floor heat keeps temperatures comfortable on the floor without wasting heat at the ceiling.
Frost praises the efficiency of these new heating methods. "The world is getting better every day. We are helping to reduce our carbon footprint, house by house," he says.
Got more questions about your project?