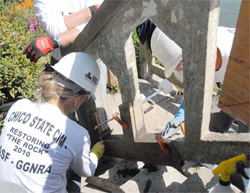 As undoubtedly the most colorful and memorable element of the U.S. National Park Service, the infamous Alcatraz Island gets more than a million visitors a year, and it shows. As a former military prison, federal penitentiary, bird sanctuary and, much more recently, a popular tourist destination within the Golden Gate National Recreation Area, The Rock's concrete walkways, railings and other structures are weathered and badly in need of stabilization and repair.
"The 150-year-old military structures beneath the existing Prison Recreation Yard, the tops of which we exposed during slab repair work in cooperation with NPS archaeologists, have what could be some of the very earliest concrete in the United States, " says Dr. Tanya Komas. Her concrete repair and decorative concrete students in the CIM Program at California State University, Chico got the call to spend last summer making repairs.
Working under the watchful eye of NPS staff, archeologists (interested in the below-ground structures) and biologists (safeguarding the bird population), Komas' students painstakingly patched and repaired concrete a century old. The goal was to match as perfectly as possible the existing concrete work within the old prison rec yard and concrete stairs that are part of the old officers' row.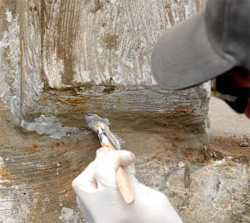 "The students started with mock-ups to decide on the best approach, then either formed and poured or hand-placed the repair material. As soon as the material would allow, they used decorative techniques to rough it up and scar it, " Komas recalls.
Her group used three different kinds of materials from BASF to accomplish structurally successful repairs as well as formulate concrete coloration and textures that replicated the shades brought about by decades of moss growth and bird droppings, the rough textural conditions incurred by the harsh weather, and the effects of millions of hands and feet.
"The company's Zero-C mixes perfectly matched what we were doing, " says Komas. "We shaped the Vertical Overhead Mortar mix like Play-Doh for hand placement in vertical applications, which was quickly followed by scratching and scarring to match the historic textures. We used the self-consolidating mix with wood forms in other places. The students devised a very creative method of texturizing the interior surfaces of their forms to match the historic texture in these cases.
"To achieve color matching, we dabbed on white and tinted microtoppings and an overall subtle application of color-matched water-based ecofriendly stains. All the while, we worked among the tourists and sea gulls. "
Bureaucracy was as much a working challenge as the environment. "Operating under Secretary of the Interior guidelines, we had to be very minimalist in what we took out. It was a situation where standard practices didn't always apply, and that was a valuable lesson to students, " says Komas.
"What they learned, " says Clark Branum, "was to do structural repair properly with a blend of artistry and concrete. "
Got more questions about your project?