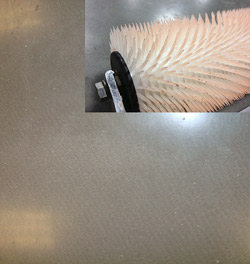 An overlay installation starts with the product in powder form being mixed with a specific amount of cold water. Right after it's poured or pumped onto the floor you use a gauge rake to set the thickness you want the self-leveling overlay to be.
When you wait too long after pouring and gauge-raking to run the spike roller, you end up with a "dot matrix" look, as the product cannot heal itself where the spikes went through the material. An installer has to be fast and spike-roll immediately after it's poured out and gauge-raked to prevent this issue.
Also, everyone should be wearing proper narrow-spike shoes rather than football or soccer cleats, as those have too-wide posts that push all the fine sands away, and only the cream material will heal back in those spots.
Some manufacturers recommend using a smoother trowel rather than a spike roller. You will treat it with the same urgency and use the smoother trowel right after the gauge rake. It's a good idea to use the smoother trowel in a random or more organic pattern on your last pass so if you do end up with smoother lines, they will not be organized lines that the eye will pick up on easier.
Got more questions about your project?