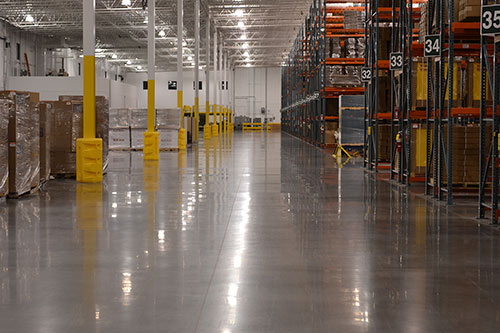 D&B Industrial Floor Coatings Inc. is a company that knows a thing or two about retail and commercial floor systems, having polished and sealed floors for some of the largest retail companies in the United States. Three- or four-man crews have the process down almost to a science, capable of delivering projects in a four- to five-week time frame that exceed 500,000 square feet.
So when Uline — a leading North American distributor of shipping and packaging materials — was looking for a contractor to restore an existing warehouse near Dallas, Texas, D&B evaluated the 600,000-square-foot slab and offered a recommendation. D&B had already done restorative diamond polishing at three other Uline facilities, so it knew the drill. Their proposal this time involved extensive joint repair and filling, degreasing the existing slab and polishing the basic gray floor to restore its luster.
Satisfied with the pricing and a proposed time line of less than two months, Uline hired D&B to work its magic.
The building had previously been occupied by Shaw Flooring, a company best known for its carpeting. A number of holes needed to be patched before the polishing could even begin. "There were thousands upon thousands of holes in the floor that we were unaware of because they were covered up by Shaw's racks," says Brad Van Dam, president and owner of D&B Industrial Floor Coatings. "We knew there were holes but the number was ten- to twenty-fold what we estimated. It was ridiculous."
Another challenging aspect the three-man crew often encountered was working without lights, says Stephen Nehls, who served as foreman of the job. (Nehls is a quality control manager as well as president of decorative concrete equipment company Floors by Design LLC.) The lights were being replaced and repositioned as construction commenced.
But even with these challenges, Nehls says, they could have easily finished in six weeks instead of the 11 weeks it took them. "We took so long because we had to wait for other people," he says. They had to coordinate work schedules with tradespeople such as painters, demolition teams, drywallers and electricians. That part was frustrating, he adds, because the crew had expected to be there about half the time. Instead, the job ran from February through May 2011.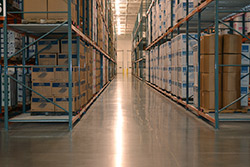 Nehls says that to achieve the highly polished look on the distribution center's floor, he first used Ashford Formula, a chemically reactive liquid hardener and densifier that's been around for 60-plus years. Instead of coating the wearing surface, the product grows new crystals in the concrete, filling in concrete's natural voids and creating a dense, hard surface that's easy to clean. There's no coating to wear off.
"Uline loves the Ashford look," Nehls says. "And as long as they keep scrubbing the floors, they'll stay shiny."
"Uline has very high standards in cleanliness," says Van Dam. "They are not only committed to clean floors in the beginning, but they maintain that cleanliness throughout the life cycle of the building."
In fact, adds Nehls, "If your shoes don't squeak when you walk through one of their buildings, they won't stand for it. We couldn't ask for a better client."
In addition to the Ashford Formula, Nehls continues, his SAMz abrasives, long-lasting diamonds that have only been on the market for a few months, allowed him to do the polishing in only four steps. "I originally made these diamonds for us to use because I was looking for a better diamond that would last forever," he says, noting that he markets them through his company, Floors by Design LLC. "But they work so well, I decided to share them."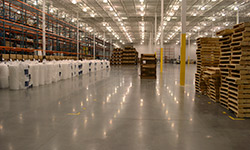 Overall, Nehls says, he's very pleased with the outcome of the Coppell, Texas, distribution center — with the exception of fresh holes that were more recently created by heavier-than-anticipated traffic. As it turns out, Uline's high-bay fork trucks and steel-wheeled pallet jacks are much harder on the surface than Shaw's soft-tired trucks were. Consequently, the vehicles are dislodging aggregate in the weaker paste areas, creating new holes that need to be filled and ground down.
Even though the resurfacing job was completed in May, "We'll be patching those holes for awhile more," Nehls laments.
"I absolutely wish there weren't holes popping out," he says. "But other than that, the floor came out great. It's so shiny that when the employees open the doors in the morning, the sun blinds them."
Project at a Glance
Client: Uline, a distributor of shipping and packaging materials
Contractor: D&B Industrial Floor Coatings Inc., Germantown, Wis.
www.dbfloorcoating.com
Scope of project: Repair and polish 600,000 square feet of flooring in a warehouse near Dallas, Texas
Materials Used: Rapid Refloor from Metzger/McGuire, Euco QWIKjoint 200 polyuria floor joint filler from Euclid Chemical, Ashford Formula densifier from Curecrete Chemical Co., SAMz abrasives from Floors by Design LLC
Got more questions about your project?