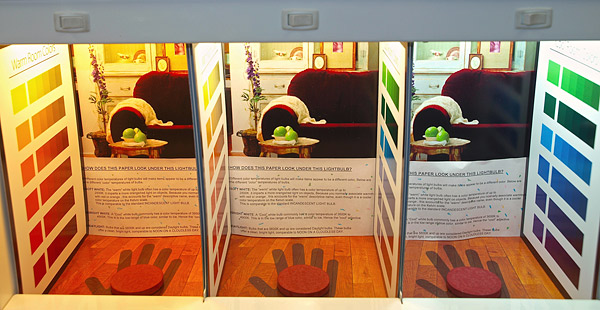 When you are asked how well you understand dyes, are you confident? Maybe you shouldn't be. Unless you or your customers have art or design backgrounds, or you have been burned on a project, you are probably naïve.
I was burned by dyes back in the '80s on my very first sales call, when I was selling commercial carpet tiles. My employer specialized in custom designs through the use of injection dyeing. I was asked to provide a custom sample, and I set everything up as I'd been taught and submitted the sample request. The sample showed up, and both the designer and I were very impressed as we viewed it in her office.
We were impressed, that is, until we took the sample to the project site. What we ordered as purple, and had looked purple in her office, came off as a horrific-looking brown at the project site. The culprit? Neither of us knew enough to first confirm the light source where the installation would occur.
Dyes look different in our eyes depending on the wavelength of the light source, or sometimes combination of sources, that is illuminating them.
Floyd Davis, a professor of chemistry and chemical biology at Cornell University, addressed this topic on the University's website: "Highly colored molecules that absorb at certain wavelengths, known as dyes and pigments, have been used for thousands of years to add colors to materials," he wrote. What we and our customers need to understand is that the absorption of colors is the work of the dye, but what is then reflected or transmitted back to our eyes is determined by the light source.
Light is measured in Kelvins, a unit of measurement for temperature, and color temperature is a characteristic of the light that we see. Color temperatures of more than 5,000 K are described as cool (bluish white), while colors in the range of 2,700 K to 3,200 K are considered warm colors (yellowish white to red).
Whenever you are involved in a concrete project that will be polished, the first question that you need to ask is whether or not color will be a part of the specification. If the answer is yes, then the next question is how the color will be imparted to the floor.
If the answer is integral color, you need to be aware of the effect of your light source on how your color is perceived. And you very definitely want to be aware of this if you are applying a topical dye or micronized pigment.
Determine the base color first
Before you worry about your light source in regard to the perceived color of your dyes, you must recognize the true color of your undyed concrete mix, including cement, aggregate and fines. Not only does every region of the country have varying hardnesses of concrete, but they also have varying colors dependent on the colors of the cement, fines and aggregate. Just because two batches contain quartz sands does not mean they are the same color.
So it is important for a customer to evaluate both the possibility and the cost of replicating a look between regions. Remember that dyes are translucent in nature, so they will be directly affected by the color of the concrete they are applied to.
When you are asked to provide color in the form of a dye, it is imperative that you identify the color of the mix and the predominant light source. And once this has been done, make sure that you produce samples for approval — and that they are only approved under the specified type of lighting.
Mock up the lighting
In addition, when producing your mock-up, it is necessary to again ensure that the light source at the mock-up is similar to what will be found at the project site.
Looking at examples, you can see what happens to the perceived color based on a shade variation in the mix. As you might expect, the lighter, more translucent colors, such as mango (an orange-yellow), will show more variation than a darker, more opaque color like black or blue. If you have questions about how colors may appear, one option is to make up some small samples, then visit a local paint store or lighting store and ask to use the light boxes that many have in place for their customers.
Using digital cameras
A related thought concerning the application of dye to concrete: Be aware of the limitations of digital cameras when "reading" the colors in the same manner that film cameras could in the past.
Instead of film, digital cameras depend on their CMOS chips to discern and store your photographs. Some cameras excel better than others in the ability of their "auto" modes to capture photographs in which the color matches the sample.
In addition to evaluating your camera's ability in auto mode, you also want to have the ability to change your camera's white balance to reflect the project's light source.
Most digital cameras provide you with the ability to take images with processed "lighting" that mimics daylight, shade, incandescent bulbs and varying fluorescents.
If you want to ensure that red is red and black is black, always read the instructions, verify site conditions with your customer, and know your concrete color and lighting. Do these steps on every project, and you will develop a strong reputation as a color expert.
Got more questions about your project?