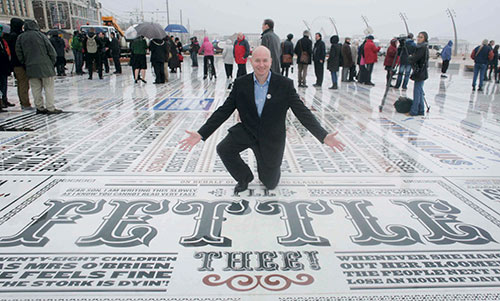 I would bet that when you think about concrete, humor is not the first word that comes to mind. Then again, you aren't Gordon Young. Young, a visual artist who specializes in public art in the U.K., has created some amazing works of art with concrete. His most impressive to date is the Comedy Carpet at Blackpool.
The Comedy Carpet is a 2,200-square-meter courtyard made up of 320 individual slabs of concrete made to look like show bills, variety posters and newsprint, all paying homage to British comedians as well as foreign comics who played Blackpool. The lettering and characters were created out of red and black granite and blue concrete, all cut out and embedded in a perfectly white concrete base.
A seaside town on the Northwest coast of England, Blackpool has long been a popular destination for British and foreign vacationers. During its heyday in the early to mid-1900s, Blackpool teemed with workers when factories would shut down for maintenance and upgrades. It was during this time that comedy came to the fore, as stand-up was a popular form of entertainment for Blackpool vacationers.
Young was commissioned through a collaboration between the Blackpool Council and the Commission for Architecture and the Built Environment's Sea Change Project to create something outside the entrance to the iconic Blackpool Tower that would represent the past, present and future of Blackpool. "I wanted to go back to the roots of the area," he says. "Light entertainment and comedy were the heartbeat of Blackpool during its halcyon days."
Young had done other projects involving lettering embedded in concrete, some of them quite large, he says, "so the idea of creating wood type on a grand scale wasn't completely mad."
Once Young had an idea of what he wanted to do, he had to figure out how he was going to do it. He met with someone he calls "an old guy, a chemist in Bristol," who is an expert in pigments. He had meetings with other chemists, too, to start figuring out how to create the concrete he wanted, and he talked to people familiar with different types of granite and sand.
"We wanted to do something that was of a ridiculously high quality," recalls Young. "It wasn't long before I realized that even though the end product would be a piece of art, the creating of it was really a matter of chemistry and craft. Everything was relevant — the sands we used, the density of the granite, the malleability and viscosity of the concrete, and of course, the ratios of water to solids."
Teamwork
Young interviewed a few concrete contractors and soon realized that the scope of the job was simply too unusual, and therefore risky, for most conventional contractors. He decided to put his own team together.
Having done projects with embedded figures in concrete in the past, Young had some contacts from which to build a team. He started with Why Not Associates, a graphic design company based in London. Then he added Andy Sawyer, an engineer with a reputation for taking on unusual projects, and Russ Coleman, a stonemason and sculptor. With his core team in place, he recruited experts in international stone and sand, chemists, and machinists.
Young searched the globe for his materials. The red and black granite and the white sand came from India.
One pesky detail — they needed to find a suitable setting in which to cut the granite and concrete letters and characters, then pour the concrete slabs. Young found a factory that fit the bill. However, it was hours away from Blackpool, creating yet another logistical factor.
Trial and error
Sawyer became the factory manager, responsible for setting up the flow of work — cutting the letters and characters, gluing them in the forms, mixing and pouring the concrete, removing the slabs from the forms, polishing them, and ultimately preparing them for shipment.
"Something like this comes along and it's challenging and interesting. It proved to be just that, quite a process," says Sawyer. "The slabs were two meters by four meters, poured in three separate stages. Each pour was done upside-down. We bought a high-pressure water jet machine from Sweden to cut the granite and the cobalt blue concrete for the letters and characters. It had to have specially designed software to meet with production demands. Once the letters were cut, we glued them on layouts in the bottom of steel molds and poured the first layer of concrete around them."
Coming up with a mix that would work for the surface of the Carpet proved to be a huge challenge.
"We needed 'high-spec' self-placing concrete, and it was absolutely essential that it would flow into every nook and cranny without any vibrating. Because the letters were glued in place, vibration could have loosened them and skewed the layout," recalls Sawyer. "It took an incredible amount of trial and error. If we achieved a mix that flowed well, cracking was a problem. If we designed one that didn't crack, we might have voids around some of the letters. It was all very challenging. But we finally worked it out. The mix we ultimately used performed very much like a high-flow grout."
The facing pour was only the first step. Next came a backing of high-compression grout and finally a layer of a standard casting mix from a local ready-mix company. Sawyer was worried about delaminating, but they wanted to eliminate any possibility of staining from any metal they used to reinforce and tie the layers together. They ended up using stainless steel.A Monlevi bridge polisher was used to polish the individual slabs at the factory. "Each slab weighed about four tons," says Sawyer. "When we started the operation, we thought we might achieve 10 slabs per week. The best we ever did was seven."
Final spit and polish
After the panels were delivered and placed, they had to be polished again. And once again, the Comedy Carpet presented unique challenges.
"Lippage and the combination of granite and concrete was the problem for most contractors," explains Brian Wilson, president of polishing equipment manufacturer Werkmaster. "The Comedy Carpet was constructed of concrete panels that were fitted together, much like a simple puzzle. At the edges, where each panel met another, there was a lip, or slight unevenness. With a typical polishing or grinding machine, an uneven surface promotes a lot of tooling marks. The contrast in density between granite and concrete created additional difficulties for a standard grinding machine."
Happily, Werkmaster had designed its Colossos grinder specifically to polish black granite, the hardest of all granites, Wilson says. "It also features a grinding plate that can either flatten a surface with the rigid setting or follow the waviness of a surface with the flex setting. Our United Kingdom distributor, Tim Devenish, was convinced that the Colossos was equal to the task. He scheduled a demonstration and it didn't take long for Young and his team to realized that this was the machine for the job. They bought one and set about polishing the Carpet."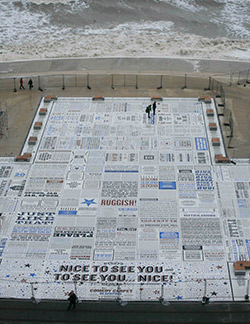 Starting with 25-grit pads and graduating to 1,500 grit, the Comedy Carpet team was able to achieve a mirror-like finish.
"The machine performed brilliantly," says Wilson. "And one last thing — Young was pleasantly surprised that there was virtually no downtime. They were able to run it rain or shine with equal results."
Dry humor
The end result is one of those prized decorative concrete installations that gets a response from passersby. Specifically, they stop to read it and they laugh.
"I knew we hit the mark when I went out to watch people reading the carpet — they shuffle sideways as they read, laugh to themselves or share a laugh with a stranger," says Andy Altmann, graphic designer and one of the founders of Why Not Associates.
"It is exactly what we were going for."
For Young, his moment of "yesss" came when a concrete ready-mix driver saw a slab with Monty Python quotes and had to stop working because he was laughing too hard to continue. "We put together a collaboration and then we came up with a massive piece of art," says Young. "Funny how that works, right?"
In case you're wondering, the dry British humor had no discernable effect on the cure rate of the concrete.
Project at a GlanceClient:
City of Blackpool, U.K.
Contractor: Gordon Young, U.K., in collaboration with Why Not Associates, London | www.gordonyoung.net
Scope of project: Create a 2,200-square-meter concrete courtyard that looks like a sea of show bills and newsprint.
Most challenging aspect: Finding materials that would both work for creating the "newsprint" and stand the test of time, setting up a factory to create concrete panels, engineering mix ratios that would flow into the smallest areas of the lettering without vibration, transporting and setting panels.
Materials and Tools Used: Specially engineered self-placing concrete and high-compression grout, Werkmaster Colossos grinder, Monlevi M1 Standard No. 4323 bridge polisher, Super Selva Abrasives and Diamonds pads, Frankfurt pads
Got more questions about your project?