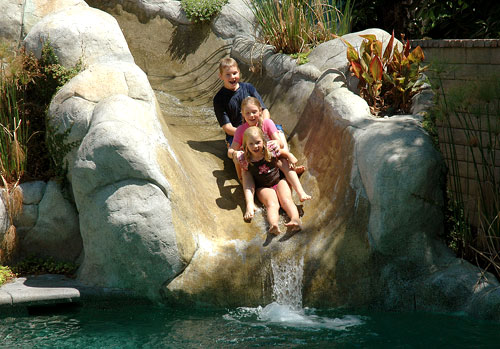 It could be said that Scott Cohen never really grew up. Or, to put a more positive spin on it, that he's one of the delightful few who have managed to put a grown-up face to the pursuits that filled their childhood — and earn an excellent living in the process.
"When I was a kid, I was forever sketching and playing with Lego blocks," he says. "Today, I'm doing the same thing."
Cohen, is president and supervising designer of The Green Scene. The company is an outdoor landscape and design firm based in Los Angeles, but with a national audience. The firm's appeal is coast-to-coast. This in part because of Cohen's multiple appearances on popular HGTV television shows such as "Landscaper's Challenge" and "Designing for the Sexes." Cohen also appeared in another seven episodes of HGTV's "Get Out, Way Out!"
In talking with him, it's easy to figure out why a cable TV audience takes to him. He chats easily, laughs freely, and modestly credits his clients and associates for enabling him to create the ponds, fountains, outdoor kitchens, sculptures, swimming pool bars and other elements that the comfort-loving homeowner "must have" and with which he's enthralled clients for the last two decades.
A lot of his work is in concrete. "No maintenance, no splinters and I can do anything I want with it," he explains.
On his Web site, Cohen refers to one of his design approaches as "over-the-top resort style," which seems playfully appropriate. His multiple award-winning Johnston project, for instance, featured a swim-up bar and two outdoor kitchens. It also featured a 900-square-foot pavilion dining room, a full bathroom and two outdoor-friendly LCD screen televisions.
Another job included a concrete and crushed-glass bar fed by 500 optic cables so that the countertop changes colors and glows at night.
What could be more fun than that?
"I thought it might be too disco," Cohen admits. "But it's not. It's very subtle."
For yet another client, he designed and installed a zero-edge spa. Yet another project included a seven-foot mermaid water fountain sculpted by Cohen with his rather shapely client serving as model. Talk about your atypical nine-to-five.
Castaway adventure
The Fernandez project gives a little bit of insight into the Cohen method, if there is such a thing. The client was a young family with several kids under the age of 12.
"I started doing sketches as I toured their property. Then, I came up with a Robinson Crusoe 'lost' backyard theme," Cohen recalls.
There'd be a pool with stamped concrete dining-patio "dock," a 20-foot-long water slide over a hidden cave. There would also be an outdoor kitchen with a concrete counter hand-seeded with seashells, a sand pit, a putting green and, arguably the centerpiece, a "shipwrecked" boat formed from concrete that serves as a spa with 12 water jets.
As if the concept itself didn't have enough pizzazz, Cohen sold the idea to the client family with a dash of Hollywood. "I brought them pirate costumes and had them wear eye patches," he says with a chuckle.
There's no way he would have needed such a swashbuckling backstory to sell the zany theme. However, that's part of the appeal for Cohen. If he doesn't seem fully grown-up in his approach, it bears mentioning that he started on his well-landscaped career path when he was just 15.
An assist from Google
Cohen's Web site, Greenscenelandscape.com, grabs the attention of 12,000 unique visitors a month. Besides giving him global distribution of his project portfolio, the digital age has changed how Cohen does business in other ways.
"With Google satellite maps and digital photos, I can start serving clients right from my office," he says. For instance, he can offer design consultation by phone. Buy an hour of Cohen's time and he'll have a bird's eye view of your property up on his screen while he's talking you through initial concepts.
The Internet also acts as a sales tool for thousands of his ready-to-use landscape designs, available at Fetch-A-Sketch.com.
Cohen says that he's worked with a number of film stars and other celebrities, but he won't name names. Instead, as diplomatically as possible, he offers the opinion that the layers of aides and personal assistants keep him too far removed from this particular class of client. He prefers the eyeball-to-eyeball way of doing business, tossing ideas back and forth like a Frisbee.
If Cohen has any kind of firm design philosophy at all – besides his gleeful "go for it" attitude — it's the idea that people want pockets of entertainment activity rather than vast, open spaces. "My approach is to break an area into separate rooms," he says, "just like we all tend to cluster into small groups at a party."
That's why many of his backyard projects feature a panoply of elements. A pavilion here, a spa in this corner, a water feature dazzling the corner of the eye, a hidden cave somewhere… and a swim-up bar at one end of the pool.
Sounds like fun, and that, Cohen believes, is what it's all about.
www.greenscenelandscape.com
Got more questions about your project?