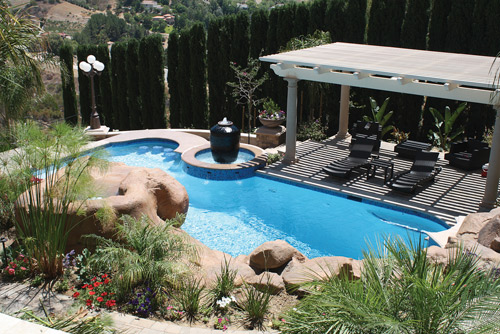 For Scott Cohen, owner of The Green Scene Landscaping and Pools in Northridge, Calif., creating spectacular, outdoor entertainment and leisure spaces is second nature, but many of his jobs require much more than bringing a vision to life.
A case in point is his work in the Gontmahers' backyard in Bell Canyon, Calif., where the services of engineers and geologists were just as, if not more, important than structure design and installation.
Homeowners — and grandparents — Kanie and Lera Gontmaher contacted The Green Scene with a desire to remodel the pool behind their three-story house as well as build a deck area for entertaining. On their must-have list: an outdoor barbecue and kitchen area, plenty of shade from the intense desert sun, and a design that oozed elegance and family fun. "They wanted to be known as the grandparents with the better backyard," Cohen says.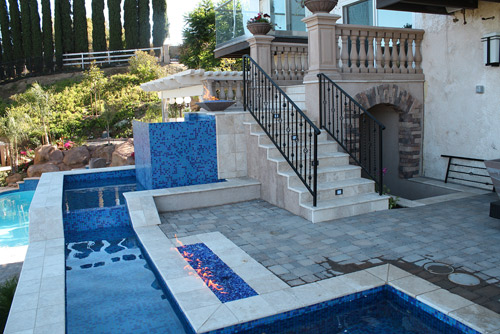 Initially, the Gontmahers' backyard only contained several large rock formations and a plain, sunken pool, both of which had been there for about 25 years. Complicating matters, a very steep and sloping stretch of land filled the space between the back door and the pool.
Faced with a challenging canvas to work on, one option for the Gontmahers was to build a retaining wall into the sloping ground as a base for a deck that could be accessed directly from the back door. But Cohen came up with an alternate idea that would let them work with the surface instead of against it — build an outdoor spa just outside the back door, where the deck would have been, then add additional structures that would lead the Gontmahers and their guests from the spa to other parts of the backyard.
The local setback requirement for "clearance to daylight" (the distance from the back side of the base at its lowest point to the exposed face) is half as deep for an outdoor spa structure as it is for a retaining wall, Cohen says, which made the first option more appealing and cost-effective than the second.
Cohen's complex design contains seven levels: a landing area that bridges the back door to a fire-feature patio; the spa and its adjacent patio; an outdoor kitchen and dining area; a walkway and patio nestled in between the outdoor kitchen and pool area; a covered lounge area; and two different pool deck levels. During his process, he envisioned the space in terms of individual outdoor "rooms," a concept he says is not only trendy, but conducive to how people like to socialize. "People tend to not hang out in one space," he says. "It's natural for groups to split up and break into their own conversations."
Cohen says the 3-D modeling software Google SketchUp made a huge difference in the design process because it allowed him to get into the space visually, get a feel for what the backyard would look like and accurately convey the design to the Gontmahers. He worked closely with his clients in determining the backyard's layout as well as decorative materials and colors. As a signature color for the backyard, they chose a palette of vibrant blues, which appear in tile and glass accents in the spa and pool.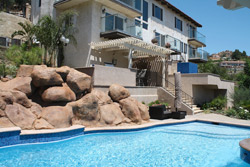 The Green Scene was far from alone in the execution of this large-scale residential project. Cohen enlisted the help of geologists from Oro Engineering Corp., based in Bell Canyon, Calif., and pool engineer Ron Lacher, of Pool Engineering Inc., in Anaheim, Calif., to perform inspections of the land he was about to work on. He also brought in a number of subcontractors, including contractors specializing in steel, shotcrete, tile and plumbing.
Aside from the backyard's design, Cohen and his crew were responsible for the formation and installation of all concrete structures and the installation of several decorative concrete elements: a recycled glass concrete countertop in the outdoor kitchen area, a polished concrete swim-up bar on the side of the pool, concrete fire bowls located around the spa and an acid stain on the driveway in the front of the house. All concrete features were cast-in-place.
The construction process entailed many steps. First, Cohen took input from the experts at Oro Engineering, who helped him determine soil types at the site. Next, the subgrading work, which involved building a road to transport workers from the front of the house to the backyard and putting in friction piles and grade beams for support, was completed. Then steel cages were installed as shells for each structure. Shotcrete, which Cohen says was used plentifully throughout the backyard, was added next, followed by coping, stone elements, cast-in-place concrete pieces, various finishing materials, and finally, plants and flowers.
The concrete countertop in the outdoor kitchen was hand-seeded with American Specialty Glass Inc.'s amber-colored glass pieces taken from recycled beer bottles, then ground and polished. The swim-up bar includes four underwater concrete stools covered in tile, and concrete steps around the pool deck area feature no-slip, scalloped edging detail. The driveway at the front of the house, which had previously been stamped, was treated with a Triple-S Chemical Products acid stain in a blend of tan, coffee and dark brown colors.
The spa, which Cohen says is his favorite part of the backyard, is made out of shotcrete, topped with travertine coping and veneered in its entirety with 1-square-inch glass mosaic tiles. In the fire feature elements found all around the spa, Cohen added more recycled glass pieces from American Specialty Glass in the same vibrant blue shades chosen for the tiles.
The Gontmahers' backyard was completed in August 2012 — two years after the initial design process began.
"They love the pool, the spa and the fire features," Cohen says. "They feel like they live in a resort, and after all this time the project took to complete, they're anxious to just go and relax in it."
The multilevel backyard provides many options for sitting, standing, lounging and swimming, and its design encourages natural, flowing movement from one space to another, Cohen explains. Upon exiting the house through the back door, guests of the Gontmahers can take a flight of stairs down to the spa, then turn left and take another flight of stairs through a tunnel to the outdoor kitchen and dining area. Or, they can take a staircase straight ahead and go directly to a patio and the pool. From the kitchen, they can follow a staircase to the left down to the pool or continue straight ahead to a walkway and another patio, which also leads to the pool.
Kanie Gontmaher says the backyard not only looks stunning, but is spacious enough to accommodate a large party. "We usually do a lot of entertaining, but when we have too many people in the same area, it becomes a disaster," she says. "Now, we can entertain 75 to 100 people at once and they will never bump into each other."
Cohen adds that the project gave him and his crew the unique opportunity to showcase many of their talents in one place.
"This project involved multiple layers and levels, and with all the skills my staff has in concrete, steel, tile and other materials, we were able to tap into every resource we had to make it all come together," he says.
Project at a Glance
Clients: Kanie and Lera Gontmaher
Landscape Designer and Concrete Installer: Scott Cohen, The Green Scene Landscaping and Pools, Northridge, Calif. | greenscenelandscape.com
Scope of project: A multilevel outdoor entertaining space that includes a 200-square-foot spa, 900-square-foot pool and various structures containing about 150 cubic yards of shotcrete, plus a stained driveway
Duration of project: Two years from initial design to completion
Key Material Suppliers: Stegmeier LLC (styrofoam forms for concrete barbecue countertop and pool), Triple-S Chemical Products Inc. (acid stain for the driveway), American Specialty Glass Inc. (recycled glass for concrete countertops and fire features), Angelus Block Co. Inc., Sun Valley, Calif. (concrete pavers)
Got more questions about your project?