A bluestone-stamped field trimmed with richly stained faux beams, this technique is perfectly suited for any room with an upscale rustic theme.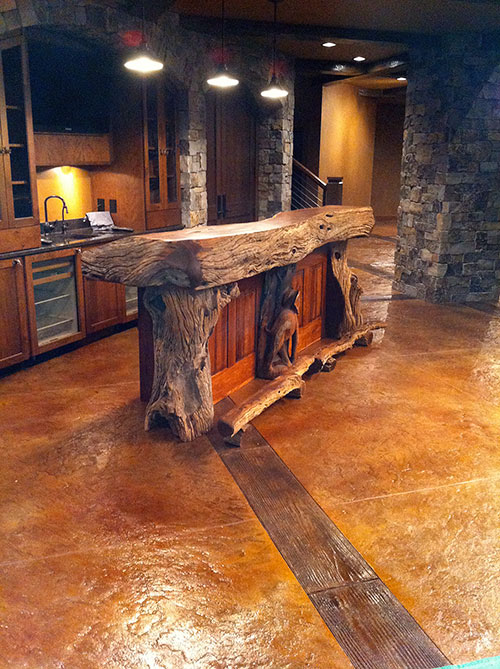 Ingredients:
Roadware 10 Minute Concrete Mender
Weld-Crete concrete bonding agent
Aggregate Industries 4,500-psi topping mix, with:
– BASF low-range water-reducing admixture, at 3 ounces per hundredweight of cement
– standard 1 percent dosage of Solomon Colors ColorFlo liquid integral color: Canvas
Legacy Accent Liquid Release
L.M. Scofield Lithochrome Antiquing Release: Charcoal
Proline Boardwalk Wood Plank Stamps: 12 inches by 48 inches
Proline Concrete Tools Seamless Texture Skins: Blue Stone
Legacy Fresco Stain: Hickory
L.M. Scofield Lithochrome Chemstain Classic: Faded Terracotta, Dark Walnut
Baking soda (for neutralizing)
ChemSystems CSI Concrete Dye: Elkhorn
Acetone (for dilution)
W.R. Meadows Decra-Seal
Butcher's Iron Stone floor finish
Special equipment required: 1/8-inch concrete edger, terry-cloth staining pads, wax applicator mop
Directions:
This application was tested as a topping poured over a rough slab with radiant-heating tubes. If you also intend to install on a slab, your first step is going to be to clean the existing surface thoroughly, especially any cracks in the substrate.
Apply the Roadware mender to any cracks and let set.
Use 2-by-4s to block off 12-inch-wide borders and dividers. These will be the accent spaces that you'll stamp with the plank pattern.
Apply a thin coat of Weldcrete bonding agent to the substrate.
Pour your topping mix into the borders and dividers at a depth of 3/8 inch.
Mix 3 gallons of liquid release with 12 ounces of the Charcoal powdered release.
Using Boardwalk stamps and the release mixture, stamp all of the border and divider areas.
Let the concrete cure overnight.
The next day, strip the 2-by-4 forms and cover the borders with painter's plastic sheeting.
Pour the remainder of the floor (using the same topping mix), being careful to keep it flush with the borders.
Use a 1/8-inch concrete edger around the seams next to the borders to give them nice clean edges.
Using just the clear release, stamp the remainder of the floor with the blue-stone texture skins.
Let cure overnight and return the next day to remove the plastic sheeting and to saw-cut control joints.
Let the floor cure for three weeks before you come back with stains and dyes.
When your three weeks are up, wash floor thoroughly with water, and use a stiff brush to remove any residue left over from the release.
Mix the Hickory Fresco Stain at 4 parts stain to 1 part water.
Spray Hickory stain in an even coat over the entire floor, including the borders and dividers.
Mix, in another sprayer, a batch of the Faded Terracotta Chemstain half and half with water and fill yet another sprayer with water. Spray a coat of the stain across the entire surface, while also spraying water on the floor, to diffuse the color.
Let stains dry, and then clean off the residue with a solution of water and baking soda, mixing a 1-pound box into every 10 gallons of water.
Mix up a batch of the Elkhorn Concrete Dye, using one 5-ounce bottle of concentrate per 1 gallon of acetone, and spray at random across the surface.
On the borders, using a terry-cloth staining pad, apply the Dark Walnut Chemstain by hand to deepen the shadows in those areas a bit.
Neutralize and clean the floor and let dry overnight.
Apply three coats of Decra-Seal to the floor, letting each coat dry completely before applying the next one.
Finally, use your wax applicator mop to apply a coat of Iron Stone floor finish.
Got more questions about your project?