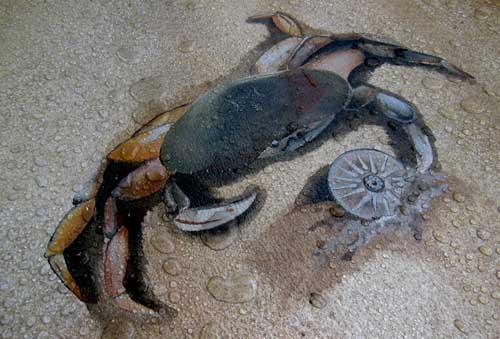 Elite Crete Australia and decorative concrete artist Audra Lynch Nanay, of Audra Lynch & Cie, Chicago, have brought the ocean ashore in greater Melbourne. Their ocean-themed concrete mural sweeps across a restored footpath outside of Conway Fish Trading, in Footscray. (The crab you see above was actually the work of Audra's daughter Julienne Nanay — Audra did the rest.)
Elite Crete Australia tells the full story on its blog:
"The theme of the concrete mural is a birds eye view of a high traffic ocean scene that progresses its way from deep waters into a sandy, stony beach leading the way to the entrance of the fish market. Schools of fish can be seen swimming in and around shallow reefs while larger predators are seen lurking below in the deeper waters. On the beach side of the mural, starfish and crabs can be found deposited in the wet sand while Conway's has been sketched in the deeper and drier end of the sandy beach.
"Working on a high-traffic concrete sidewalk in front of Melbourne's most bustling fish market was no easy task. The concrete overlay system, Elite Crete Thin-Finish, had to first meet the approval of the Maribyrnong City Council engineers before work could be commenced. Once the approval was granted Melbourne's wet winter weather became the next obstacle. Working around weather often meant working in the middle of the night or even being caught in a flash shower or two while watching hard work and concrete stains wash steadily away. Pedestrians were also an obstacle and had to be directed like cattle through roped off working areas while still allowing them access to the front entrance of the fish market."
The installer used Elite Crete Systems products and colorants on the project. The base color was Chem-Stone acid stain in Antique Blue and Antique Green, diluted with water at various ratios and applied by pump up sprayers and sponges. The next two layers of staining were Ultra-Stone in various blues and greens, again applied by pump up sprayers, sponges and chip brushes.
The sea creatures were done with Ultra-Stone, while the light refraction effect in the shallow waters was devised with Reflector Enhancer Charcoal Pearl mixed into undiluted Ultra-Stone.
The images below are closeups of the reef part of the mural.
… these are sea turtles …
… and this is the name of the seafood store, Conway Fish Trading.
Got more questions about your project?