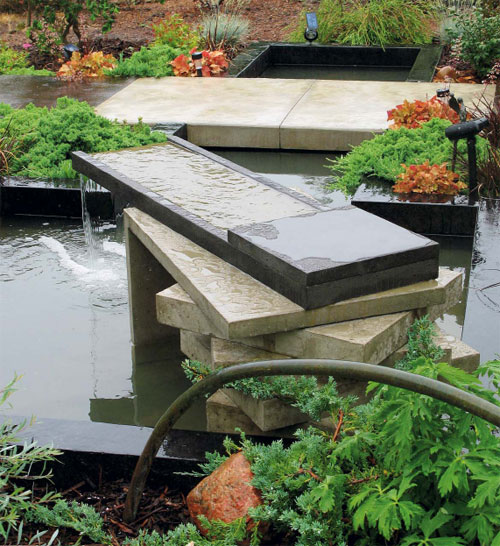 Dylan Lauger has become a master in modern, industrial, experimental concrete furniture design and other artistic concrete skills while living on a remote peninsula in Wisconsin. Among other achievements, he once designed and cast an 8-foot-long GFRC sturgeon as a submission for a local arts competition.
Lauger has been involved in the concrete industry for most of his 35 years. Born and raised in Door County, Wis., a sparsely populated peninsula that extends into Lake Michigan, Lauger grew up around his father's concrete business.
Although going into concrete may not have been Lauger's original life plan, the death of his father when Lauger was 15 had a definite impact, he says. After he had spent a couple of years on a waiting list for a career in hotel and restaurant management, an old employee of his father's called him and said, "Hey, you want to work on concrete?" It wasn't long before Lauger was following in his father's footsteps. "I've been pretty busy ever since," Lauger says.
That phone call was in 1997, and the intervening 13 years have seen Lauger's concrete career totally transformed. He eventually started his own company, Lauger Concrete + Design, which he still runs from Sturgeon Bay working with his brothers Luke and Christian.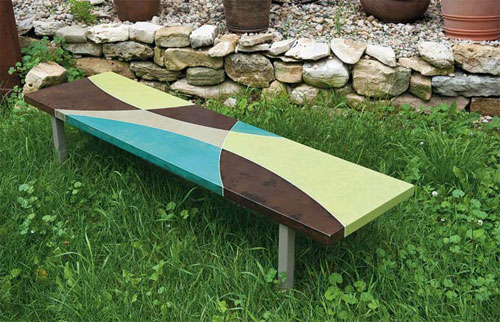 Initially, it was just Lauger and a rundown truck. If he needed fancy tools or equipment, he'd find someone to borrow from. If he needed to use a technique he'd never done (or even heard of), he'd figure out how. "I like being self-taught," he says. "I experiment a lot. The instructions will say, 'You're not supposed to use this here,' but I will … and it will work."
The two creative concrete elements he started to work with most frequently were stains and concrete countertops. (Lauger, by the way, prefers the term "creative concrete" to "decorative concrete" – "decorative" reminds him of decorating a Christmas tree or a cake, neither of which has much in common with his design aesthetic.) At the time Lauger started experimenting with countertops, they were sufficiently rare in small-town Wisconsin that he was pretty convinced he'd invented them. (When he found out he wasn't alone in the countertop world, he eagerly reached out to other contractors to compare notes.)
While Lauger was very enthusiastic about the more creative elements of concrete, for his first five years as a business owner, most of his projects were either flatwork or foundations. But after years of pouring footings with forms (in fact, the same brand of forms his father had used before him), he had an epiphany – this was not the kind of concrete he wanted to be doing. "Working on foundations, you're breaking yourself to set 'em up, pour 'em, and strip 'em – just to turn around and do it again."
He sold the forms and turned his attention to more creative concrete pursuits. "I was starting to get noticed for doing alternative stuff with concrete," he says.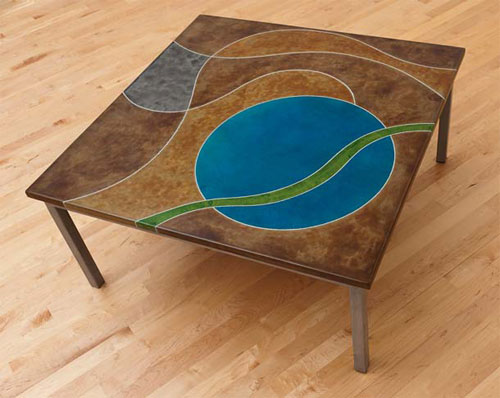 In fact, Lauger has made that his company's prime directive. He defines his specialty as "interior and exterior alternatives," which basically comes down to finding creative concrete solutions for any and all of his client's needs. Concrete countertops, sinks, tubs, walls, floors – Lauger has installed most of these in his own house and is game for it all. "You want a door?" he says. "Let's make it out of concrete!"
Lauger's creativity has found an outlet not only in residential and commercial concrete applications, but also in modern, minimalist concrete furniture design and fabrication. His first furniture project was a table lamp. It was very simple and very striking – a raw gray block of concrete with a bare light bulb wired and mounted into one end of it. This lamp design has become something of a signature for Lauger, whose furniture has a raw, industrial look.
Although he has riffed on the block lamp design several times since that first one, his second iteration is probably the most evocative. Several years ago, Lauger was doing spring cleaning and came across a bin full of nuts and washers that had belonged to his father. Rather than trash them, Lauger mixed them into a batch of concrete and cast another block lamp. Twenty-plus coats of L.M. Scofield Lithochrome etched the surface down, and as the lamp sat in his workshop to cure, it developed a gorgeous green patina. Meanwhile, the nuts and bolts began to weep vibrant, rust-colored rivulets. The end result is incredibly striking, and a terrific example of Lauger's eye for modern design.
Unfortunately, Lauger's appreciation for the minimalist aesthetic is not shared by many of his neighbors in Door County. Although he would really like to see his furniture become a larger part of the work he does, his local clientele aren't often interested in industrial, rebar-and-wet-cast end tables. "It's a very lidded, conservative area," Lauger says. "People get scared if they don't know what it is."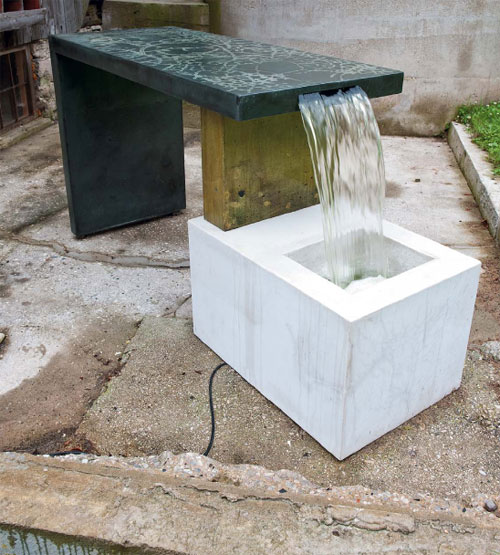 His more accessible projects – his countertops, water features, stained floors and even the 8-foot sturgeon statue – have been well-received, but they haven't really driven up demand. Four years ago, for example, he did his first commercial job at a cafe in town. "I got like 800 compliments on that floor and only two jobs off of it," he says. "That's my area."
That said, there are some advantages to the small-town setting. "People know me," Lauger says. "When they see something cool that's made out of concrete, they know it's mine." That renown, combined with the fact that his company has very successfully diversified their services, came in very handy when the market took a dive a few years ago. While 2008 was not a particularly good time for the industry, it was one of Lauger's best years to date. "No one in the area is doing what I do," he says.
Of course, if Lauger has his way, he might not be in the area much longer – he's planning a move in the near future, hopefully to a community with more of a taste for modern art.
But even if there is a change of locale, his career path is pretty well set in stone. "I would never do another thing ever in my life – I'm kind of obsessed," Lauger says. "I work with concrete all day. I come home thinking about it. In the morning, my girlfriend tells me I asked her for a trowel last night in my sleep. I shouldn't be dreaming about concrete?…?but I really love what I do."
www.laugerconcrete.com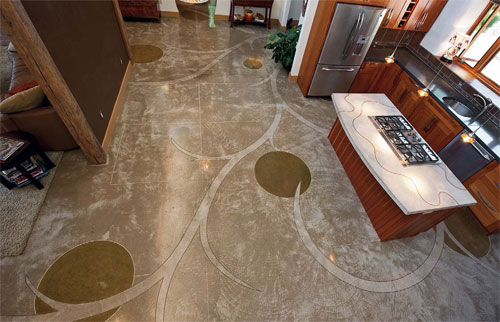 Got more questions about your project?