With an economy like ours, success is dependent on your ability not only to deliver a high-quality product, but also to be creative and innovative, to give your customer something that truly stands out. For this collection of concrete recipes, we let that thought guide us in selecting the following techniques, chosen for their creative flair.
Whether it's incorporating homeowners' interests with a custom aggregate or opting for a free-form staining technique to achieve a flower design, we hope the techniques featured in each of these recipes will inspire you to try something new.
Editor's note: If you're a fan of recipes like these, you're in luck – you won't have to wait another year for more! Look for another batch of recipes in our next issue, as we turn this once-annual feature into a regular column.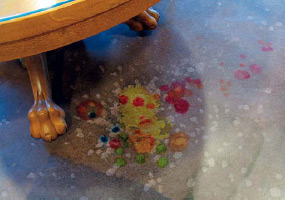 Wildflower Drops
Michael Miller
The Concretist – Benicia, Calif.
These free-form flowers are a great way to bring some unique and colorful details into a floor design.
Ingredients:
Acid/water solution – 1:10 muriatic acid to water
Colormaker Patinatech stain: Ebony – diluted 1:5 with acid/water solution
Miracle-Gro fertilizer powder
Ironite mineral supplement
Colormaker Aquacolor pigments and Deso Dyes: primary colors, black and white
Acetone/water solution – 1:2 acetone to water
Surtec CL-630 low-VOC solvent-based acrylic sealer
Required equipment: a Preval or hand-pump sprayer, pipettes (Miller uses the plastic tube from his
sprayer, but you could just as effectively use drinking straws)
Directions:
Stain the concrete substrate with the diluted Patinatech and while it is still wet, sporadically cast on Miracle-Gro and Ironite. These will form the background for the subsequent application of "wildflowers" using the Aquacolor pigments and Deso Dyes. Miracle-Gro will generally go a light pink when applied over Ebony, and Ironite will give you tans, oranges, reds, and browns. Both of these will produce a lighter background than the Ebony stain – perfect for receiving the flowers.
Let the stain dry, and then rinse well, making sure to leave no salty residue. Then, let dry again.
Take your Deso Dyes and Aquacolors and mix batches of any color you want to incorporate. Use the acetone/water solution to dilute the colors to the desired saturation. (The beauty of this technique is the level of design flexibility; you can use any or as many colors as you want – go nuts!)
To encourage a watery bleed (which will produce a look similar to wildflowers moving, being blown by a slight breeze), wet down the surface with the acetone/water solution, applied with a Preval or hand pump sprayer.
Apply drops of color with the pipettes. Place pipette in a container of color. Fill with the desired amount. Place index finger over the pipette (this will hold the liquid color in the tube). Choose an area (generally in the vicinity of where the Miracle-Gro and Ironite was applied, but don't worry about staying in the lines). Lift your index finger off the pipette and let a drop of color fall. Repeat to form your flower patterns.
Once your flowers have dried, finish off the surface with your sealer.
Got more questions about your project?