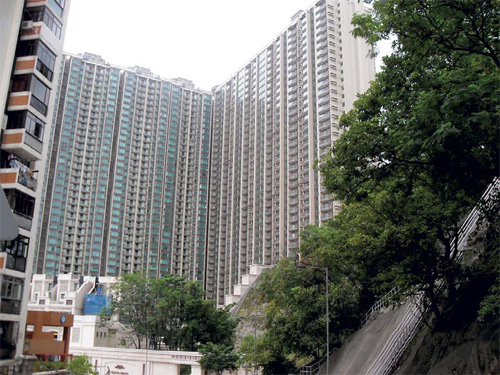 Last January, Hong Kong-based company APS Construction Systems International faced 600,000 square feet of unfinished parking-garage flooring and a three-month deadline at Celestial Heights, a massive high-rise condominium development in the Ho Man Tin district of Kowloon, Hong Kong.
Working systematically around the clock, crews utilized stamping, staining and sealing products from Concrete Solutions Inc. to create a pattern of neutral-toned tiles, red parking-space numbers and dark-hued borders and traffic-control markers. The result? A project billed as the world's largest quarter-inch concrete stamping job, and a mighty nice place for residents of the development's upscale condos to park.
"Michael Lau of APS Construction Systems International really raised the bar with this project," says Concrete Solutions vice president Gerry Sadleir, who supplied the materials for the project. "It's going to be hard to beat."
Lau, the managing director of APS, can add this ambitious project to his company's already impressive portfolio, which includes decorative concrete flooring, paint finishing, wall finishing and concrete repairs for venues in Asia such as Hong Kong Disneyland Resort, The Venetian Macao Resort Hotel and Universal Studios Singapore.
Using the materials from Concrete Solutions, a San Diego-based manufacturer that has supplied many high-profile projects in Las Vegas, APS brought the concept of a high-end parking garage at Celestial Heights to life for client Cheung Kong Property Development Ltd.
The applications not only beautified the garage's floors, but added function, with stamped traffic-control symbols, space numbers and stall lines that require much less maintenance than painted lines and symbols do.
The project is also the largest concrete stamping project to date utilizing the quarter-inch stamping process, a system that was first unveiled by Concrete Solutions at the World of Concrete show in 1997. Sadleir says prior to the system's invention, about 4 inches of existing concrete would have to be removed and the concrete repoured in order to achieve the stamped look, which generally limited the method to outdoor surfaces. With the quarter-inch system, a thin, stampable overlay is applied over the existing concrete, allowing indoor and outdoor applications. "It's much easier to control than traditional concrete stamping is," Lau says.
The massive parking-garage makeover began when Sadleir traveled to Hong Kong to fine-tune Lau's crew on the quarter-inch stamping technique. They trained other crews until enough workers had mastered the process to get the job done. Then, each of the garage's six stories was shotblasted and cleaned to create a rough surface for the polymer concrete to bond to. Workers filled in surface cracks with Concrete Solutions' Ultra Surface Crack Repair System. "Its purpose is to restrict movement and to help prevent cracks from coming back through the overlay," Sadleir says of the repair system. Workers then applied Ultra Surface Polymer Concrete Squeegee/Bond Coat to the surfaces, followed by the quarter-inch stamping mix while the bond coat was still wet.
To save on shipping costs, APS chose to purchase local concrete sand and cement, combining it with a polymer liquid concentrate provided by Concrete Solutions. "We give people a choice – they can either buy our bag mix and pay for shipping, or get their own local sand and cement and mix it with our polymer," Sadleir says.
After shotblasting and filling cracks over the entire surface of each lot, workers taped off the parking stall lines, parking-space numbers, and arrows (which guide traffic through the garage) and began the bond-coat application process within those shapes only, following it with the stamping mix application and the remaining steps required to finish those parts of the floors. They then repeated the entire process, starting with the bond coat, in the parking stalls, and finally in the driveways. Lau said splitting the job up into these three segments allowed for smooth management of the process. "We didn't do everything at the same time, and that gave us control," he says.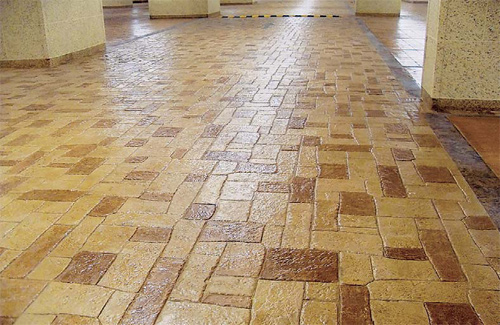 Workers spread the stamping mix over bond-coat layers with gauge rakes and used fresnos to smooth out the rake lines. After letting each surface dry for about an hour – its consistency is similar to Play-Doh when it's ready, Sadleir says – workers sprayed on a liquid release agent. In some cases, such as the parking-space lines, color was added to the liquid release agent with antique powder, Sadleir says. Then, the stamping began.
Concrete Solutions' English Fieldstone Large and Ashlar-Italian Slate 12-inch tile stamps were used in driveways to create looks similar to blocks of stone paving and square tiles. A pattern of uneven tiles that mimics cobblestones was applied to driveways using the supplier's stamps, and lines, arrows and numbers were imprinted using Italian Slate texture skins. Using rubber stamps that are 3 to 4 square feet in size, crews completed approximately 1,000 square feet of stamping at a time.
The job was completed with two to three coats of stamped-concrete sealer. On areas that were not stained with color in the liquid-release-agent application step, workers added antique powder to the sealer, along with acetone to create a solid bond. Shades of brown, tan and amber were selected for the tiles in parking stalls and driveways. Variegated patterns of tan and charcoal were chosen for arrows, lines and borders, and parking spot numbers were stained in brick red.
"The colors were determined by what the client required, which included yellow tones and earth tones," Lau says. To maximize time, crews followed one another beginning on the lower level of the six-story parking garage, with each crew responsible for a step or set of steps in the job. Timely completion of the job depended on an adequate number of crews working efficiently day and night.
"They had a shotblasting crew, and another crew that just did all of the arrows, numbers and lines," Sadleir says. "They designated different crews to do different things." Adds Lau, "We did it in a systematic way to make it effective."
The time constraint was the biggest challenge presented by the job, Sadleir says. "There was also a lot of construction going on around them, such as electrical work and plumbing. There was pressure to get it done."
Lau says APS is accustomed to complex project coordination, but that executing the work over such an expansive space did pose a challenge. On average, crews worked on 5,000 to 7,000 square feet of space per day during peak production.
"I'd say our biggest challenge was the output, because the area is so big," Lau says. "Coordination was not a big problem for us, as the project management team of (Hong Kong-based) Paul Y Engineering Group is so cooperative and helpful."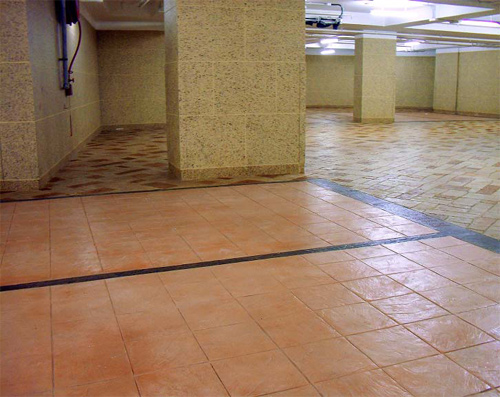 Durability is a big plus of the materials used – maintenance only entails cleaning about once a month and applying additional coats of sealer down the road.
As of November 2009, Lau says a few finishing touches have yet to be made to the parking-garage floors. However, once that last coat of sealer is added, all of the building's luxury condo residents can admire a work of art that's built to last every time they walk out to their cars.
"The size, and the fact that all of the arrows and parking spot lines were stamped, is unique, and it was a lot of work," Sadleir says. "Usually, paint is used to create lines, numbers and arrows in parking lots, which have to be repainted every six months. There aren't too many parking garages out there that are as nice as this one."
Project at a Glance
Client: Cheung Kong Property Development Ltd., Hong Kong
Contractor: Michael Lau, APS Construction Systems International Ltd., Hong Kong | www.apsconst.com
Project manager: Philip Siu, Paul Y Engineering Group Ltd., Hong Kong
Architect: Carmen Wong, LWK & Partners Architects, Hong Kong | www.lwkp.com
Scope of project: 600,000 square feet of quarter-inch stamped and stained concrete parking garage floor on six stories
Duration of project: Three months
Materials supplier: Concrete Solutions Inc., San Diego, Calif.
Texturing tools used: English Fieldstone Large stamps, Ashlar-Italian Slate 12-inch tile stamps, Staggered Wood 6-inch stamps and Italian Slate texture skins.
Other materials used: Ultra Surface Polymer Concrete; Ultra Surface Polymer Concrete Squeegee/Bond Coat; Ultra Surface Crack Repair System; Liquid Release Agent; Stamped Concrete Sealer; Antiquing Color Powder
Got more questions about your project?