Question
We are looking to fix flaws in poorly stamped concrete. We recently had a 600-square-foot concrete patio installed at our home. The concrete was colored and our contractor used what he called a "seamless stone texture mat" to stamp the concrete.
It has been finished for a few days and our concern is that we can see many of the edges of the stamping tools and the concrete surface looks like a checkerboard. We also are concerned about many areas where the surface has no texture and we can see trowel marks. Also, do you think that the saw cut lines I'll be adding will attract the eye to these spots if I cut right on them?
Answer
This question reminds me of a quote painted in large letters on the lobby wall at the headquarters of Groninger Concrete in Colorado Springs. This variation of a famous quote used in aviation since the early 1930s has stuck with me since I first saw it some 13 years ago. "Concrete construction in itself is not inherently dangerous, but to an even greater degree than the other trades, it is terribly unforgiving of any carelessness, incapacity or neglect." (Doug Groninger Sr.)
Concrete is unforgiving. Surface defects and poor workmanship issues on stamped and textured concrete are difficult to repair. In many cases there are no viable repair options.
In this scenario, the installers attempted to stamp 600 square feet of concrete with small 4-by-4 texture skins. They also did not overlap their edges to feather out the seams created by the tools. These two factors created a checkerboard pattern, with many edges lacking texture.
Lastly, the installer did not provide any control joints, leaving the homeowner to research the issue online and hire a third party to come in and make saw cuts to help break up the patio, draw attention away from the checkerboard pattern and provide the control joints that were missing.
Camouflage imperfections
The saw cuts did help. In addition, color highlighting and antiquing methods (stains, tints, color washes and tinted sealers) will provide additional camouflage to hide some of the poorly finished areas. Another method I have seen successfully used in these situations is to grout or caulk the saw cuts a contrasting color to further draw your eyes away from the imperfections.
In extreme cases a thin microtopping layer can be applied and textured to cover areas where the original texture is missing or poor finishing has left surface blemishes. However, using the microtopping option to spot-treat areas can prove challenging when trying to make the topping blend in with the surrounding areas or assure proper adhesion for a long-term repair. I always recommend sampling and testing any repair methods before attempting the entire project.
Short of these repair methods, doing nothing or removal and replacement are the other options.
The issues described above are unfortunately only a small part of a much bigger issue. Surprisingly, after so many years, I still receive too many of these types of complaints. While I am not naïve in thinking stamped concrete can be completely problem-free, I can and do expect that those promoting themselves as professional stamped concrete installers (anyone installing stamped concrete for hire) has the training and expertise to avoid what I consider to be unacceptable mistakes.
Poor installations affect the entire industry
The types of surface issues and blemishes in the email above from a homeowner are 100 percent avoidable and no one's fault other than that of the installer. Problems with color, cracking, curing and sealing often occur because of conditions or variables either unknown or out of the installer's control. Issues such as poor stamping technique, on the other hand, are nothing more than poorly trained installers damaging more than their reputation.
What most installers don't ever get a chance to see is how one small poorly installed patio sets off a chain of events. This chain of events negatively affects the industry as a whole. Those of us who make our living by marketing and promoting decorative concrete products and services on a national level have seen firsthand what this has done to the industry.
A poor job, such as the one described above, changes the perception of stamped concrete to homeowners. They paid a premium for colored and stamped concrete. They were obviously looking forward to a value-added textured patio. Instead, their disappointment led them to research the problem, find me, and write me an email. They ended up paying extra for control joints (which should have been part of the original scope of work) and overall are disappointed with what they received.
I can almost guarantee you that the homeowners who wrote the email above are no longer pro-stamped concrete, but instead anti- or, at best, on the fence about stamped concrete.
Word of mouth is everything
When we get good service and quality we expect it and tend to make little mention of it. When we get bad service we make it our business to let as many people as we can know about it. We want to share how we have been wronged and how bad it was.
Conversations by our homeowners are not about their amazing stamped concrete patio. Instead, I imagine these conversations revolve around how the homeowners saved their stamped patio. They talk about paying a third party to come in and make saw cuts. They discuss strategically placed patio furniture to hide the imperfections created by their less-than-competent installer. All of their friends will now think twice about using stamped concrete on their next project.
What I often hear as a response is, "So what's the big deal, Chris? This is only one job?"
While this is true in some cases, for an industry that relies heavily on referrals, word of mouth is everything!
And the truth is that if it really were just one job here and there it would not matter. But it's not. It's the hundreds of these types of jobs every year in your area slowly erode confidence. Add in the number of people who hear or see only the negative side. Then multiply that by the last 10 years, and you start to get the picture.
I know of entire communities that will no longer use stamped concrete. Poorly installed work completed by one company over a three-year period in the early 1990s has turned them off.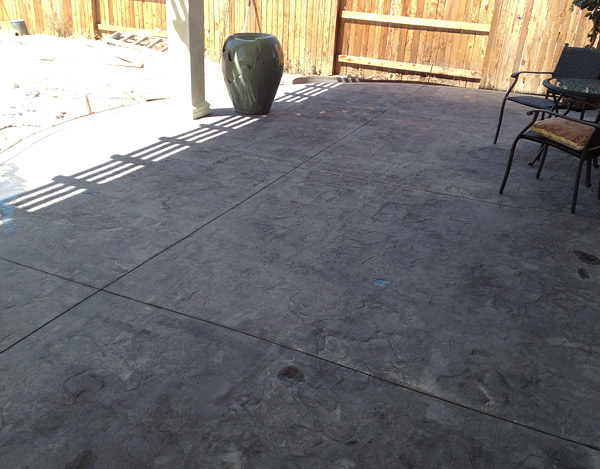 Training is imperative
The saddest part of this story is that this scenario is totally avoidable. Industry professionals have well documented the process of stamping concrete. Dozens of product manufacturers and independent consulting companies also offer training and education on the basics.
In today's world there is no reason these types of workmanship and finishing issues should occur. I strongly believe in diversification. And today's turbulent economy demands most concrete flatwork installers offer multiple concrete options to survive. But being a diversified company does not mean producing substandard work.
Stamped concrete no longer seems to carry the high-end specialty tag it once did. Most residential flatwork installers offer stamped work as part of their portfolio. However, the importance of quality installation, properly trained staff, and just plain knowing what you are doing hasn't gone away. The next time you see a poor stamped concrete job, take a second and think about how that job impacts the market as a whole.
---
Questions from Readers
Question
Stamped concrete with a slate gray color and deep charcoal release is less than impressive. Are the control joints supposed to look like the raw concrete color or the darker color?
Answer
Regardless of the color of your textured or stamped concrete, a control joint cuts through the color on the surface. If the concrete was not integrally colored (in the truck) before installation, a control joint may very well expose the gray concrete below.
You can fix this problem though. This article talks about using a tile grout to accent the joints. Doing this will hide any uncolored concrete while also preventing dirt and debris from collecting in those joints. You can also use a joint caulk that will fill the joint with a material that can be custom colored. This material will expand and contract with any movement of the slab.
Question
We recently had a 762-square-foot stamped concrete patio installed. As you can see from the pictures, there are 12×12-inch square spots all over the place on the last half of the patio they stamped. Just so happens that the hand tamper used to tamp the forms was 12×12 inches. I'm guessing that the concrete was setting up faster than expected and they started tamping it harder to make the impression. In doing so, they were forcing the powder antique release into the concrete from hitting it harder.
It has not been sealed yet. I've expressed my concerns with the guy that did the job. At first, he told me that he thought it looked good. Then he told me, to let him seal it, and it would make those spots not noticeable.

Fast-forward 2 weeks and fortunately he hasn't been able to seal yet due to a shedding Bradford Pear tree in my backyard dropping white flower pedals by the thousands. Since then, the guy that did this has reached out to me and said he contacted a manufacturer to find out what he can try to correct this issue. Obviously, he knows it looks bad because he reached out to the manufacturer. He said he's going to attempt to fix it. The manufacturer told him to power wash it. Then he said to mix a liquid antique release with the sealer and hand feather in the release/sealer concoction.
What are your thoughts on this? Please help!!!
Answer from Concrete Decor
So glad to hear that the concrete is not yet sealed. Do not seal it until the problem is resolved.
After consulting a few of our trusted experts, we recommend you first acid wash the patio. A 5 to 7 parts water/1 part muriatic acid is a good starting point. Use a flower watering container to sprinkle the solution onto the entire patio and scrub the surface to remove those spots. Treating the entire patio will ensure that a new color coat takes evenly to the surface. Before you recolor make sure to neutralize the entire patio with a baking soda and water solution.
When you have accomplished this use Brickform's E-Z Tique product. Apply it to the patio using an RV washing brush to move it around and evenly apply it. Just make sure to move the brush in a random motion to ensure that your color does not look painted onto the surface. If the contractor follows the initial E-Z Tique application with a random application of a complementing accent color your wood plank pattern will come to life. You can then seal the patio and start the BBQ.
Got more questions about your project?