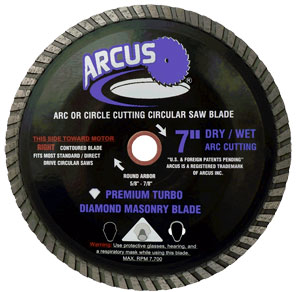 While Barbara Cotton Robinson, owner of Arcus Inc., was working on a stained-glass project with her husband, it occurred to her that there must be an easier way to make contoured cuts than with a router. A few hours later, she was rolling a rimless, contoured salad plate on its edge, watching as it traced a perfectly smooth, contoured path. Thus, the Arcus Contoured Blade was born.
The second generation of the blade was the Contoured Wood Blade. And now Robinson has applied the same technology to developing a premium turbo diamond blade for concrete, stone, masonry, backer board and tile applications.
The Arcus Contoured Masonry Blade is a 7-inch blade that can be used to cut arcs, curves and circles — all useful shapes when designing decorative concrete surfaces. With a turbo diamond rim 1/8 inch wide and 10 millimeters high, the blade delivers a smooth, consistent edge. It can be used dry or wet, though wet use does extend the life of the blade considerably.
When cutting a circle with a 15-inch radius (the minimum radius possible with the Contoured Masonry Blade) the maximum depth of cut is 1 1/2 inches. For circles with a 24-inch radius or more, maximum depth is 2 inches.
Due to its shape, the Contoured Masonry Blade is 1/4-inch high lying flat. Be sure to check the clearance before mounting it, as some saws, especially compact or lightweight models, do not have enough clearance. The blade is, however, designed for use with most standard saws, and it is available for direct-drive saws, as well as hypoid and worm-drive saws.
In her efforts to simplify the precise, challenging job of cutting a perfect circle, Robinson also created the Arcus Compass Saw Guide and Pivot Point to accompany her contoured blades. First, the Pivot Point, engineered to leave no marks on the concrete, is mounted at the center point of the circle to be cut. Then, the Compass Saw Guide is attached to the Pivot Point, and a saw is attached to the Guide's other end. The saw follows the arc of the Compass Saw Guide for a perfect plunge-cut circle.
The Compass Saw Guide is made from durable, 14-gauge square tubular steel and will not bend or flex. The standard guide is for circles of 30 inches to 54 inches in diameter, but the tool is also available in large (6 feet to 12 feet) and extra-large (8 feet to 16 feet).
The Contoured Masonry Blade, Compass Saw Guide and Pivot Point — together referred to as the Arcus Cutting System — provide decorative concrete artisans with a wide range of circular design options, hassle-free.
Got more questions about your project?