There's a lot to admire in the seat-of-the-pants way many of the concrete industry's leading decorative concrete pros have learned the art by picking up a book or looking over someone's shoulder, then convincing trusting family and friends to give them enough work to serve as a basis for a portfolio.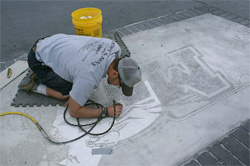 But there's also much to be said for a four-year, industry-supported multidisciplinary university program that teaches decorative concrete as part of a hands-on, degree-driven course of studies emphasizing the technology, artistry and business of concrete.
That's the appeal of the Concrete Industry Management (CIM) Program sponsored by the industry and currently offered through five universities in America. Under the CIM Program, schools offer bachelor's degrees from their schools of engineering along with minors in business administration from the business schools. The business degree includes coursework in accounting, project management, marketing and related subjects.
Two of the schools – California State University, Chico (CSU Chico) and Middle Tennessee State University (MTSU) – include decorative concrete as an elective to core courses that provide grounding in concrete contracting, engineering, sales, project and production management and new technologies.
"We've had great success in the five years we've been with the program, " says Dr. Tanya Komas, director of the CIM Program at Chico State. "We graduated 14 students last year and all of them are employed. "
That claim is particularly noteworthy in this economy, and a trend in which Clark Branum takes special pride. Branum, a nationally known decorative concrete expert, is a visiting lecturer for the Chico State program. "We're an aging breed, so to speak, " he says. "When you bring in young people and train them properly, it's a major advantage to the industry. "
A decorative concrete course
MTSU was the pioneering school within the CIM Program, having started in 1996. But it's more recently, within only the last three years, that decorative concrete has been offered as an elective to students within the program, and initially only at Chico State.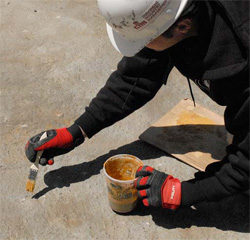 "That's a great example of how key leaders were able to see an emerging market and a need within the industry and build a curriculum and craft a program that responds to those needs and opportunities, " states Brian Gallagher, a national steering committee member of CIM and chairman of the CIM marketing committee. "They were also able to tap into local contractors and other industry resources to get their expertise into the classroom. "
As decorative concrete tends to be an entrepreneurial, self-starting kind of a career choice, that's exactly how the Chico State team put their course together. "The students wanted it, so we we engaged a number of top industry professionals and learned it together, " says Komas. "I worked with Clark, the real expert in this area, to see what a university-based decorative concrete curriculum would look like, how the flow of the lectures and accompanying hands-on lab exercises should work. "
The course's first "textbook " was – and still is, for now – basically a collection of lesson plans, a manual that's grown as the class has taken shape on the bones of what's worked so far.
Dr. Heather Brown, Komas' counterpart at MTSU, picked up the decorative concrete class after that first year at Chico. As at the California school, MTSU students learn by doing.
"The students love being able to roll up their sleeves and learn concrete hands-on. They request fieldwork experiences to gain better insight into all aspects of construction, " Brown says.
Partnering with industry
The decorative concrete course is a 15-week semester-long program that involves classroom instruction and hands-on lab exercises every week on such topics as stamping, staining, texturing, project planning, sustainable aspects of decorative concrete, specialty applications and other pertinent subject areas.
Outside experts are brought in to present the material first – then the students put into practice what they've learned in the classroom.
During the class, students get to take their lessons into the real world and see the creative, technical and business aspects of the decorative concrete industry. "One student made a concrete guitar stand, another did work in fiber optics, " says Brown.
Branum sees the benefits of the program from an industry perspective. "The hardest part of hiring is finding young people you don't have to train from the ground up, " he observes.
To the decorative concrete industry, that's the number one reason to embrace the CIM Program.
Universities offering CIM degrees
Arizona State University | ww.cimasu.org
California State University, Chico | www.csuchico.edu/cim
Middle Tennessee State University | www.mtsu.edu/~concrete
New Jersey Institute of Technology | engineeringtech.njit.edu/academics/cim.php
Texas State University, San Marcos | www.txstate.edu
Concrete Industry Management Program Home Page | www.concretedegree.com
Got more questions about your project?