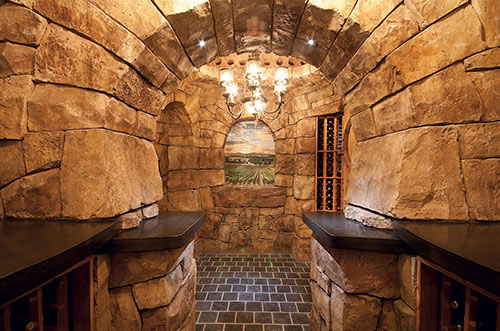 For high-end homebuilders, the inclusion of a private wine cellar in the blueprints is not exactly a groundbreaking idea. But while most cellars consist of pretty straightforward temperature control and wine-racking systems, Nathan Giffin, owner of Creative Rock Forming and the creative powerhouse behind a recent wine cellar project in Naperville, Ill., has rather a different idea of what a private wine cellar can be.
Based near Chicago, Giffin is an expert at carved vertical concrete installations, and lately he's specialized in immersive hand-sculpted concrete wine cellars. Although Giffin didn't start out doing cellars, he's found them to be a very healthy market for his work. "When people realize it's within their grasp to create something that's truly fascinating and fantastic, where you can just lose yourself from the modern world," says Giffin, "they just find themselves enamored with it."
Dynamic duo
One such person is Ray Haniacek, owner of Chicagoland custom homebuilding firm Mancari & Associates. Haniacek had a client come to him four years ago who wanted one of Giffin's wine cellars installed in his house. Ever since that first project Haniacek has not only included a Giffin wine cellar in the majority of his new homes, but he also started a separate company, Genuwine Grottos, to focus exclusively on the wine cellar market.
You might think Haniacek would be a cellar enthusiast himself, but he says if it weren't for Giffin's vertical concrete work, he wouldn't even bother with ordinary wine cellars. "They're a dime a dozen," he says. "Anybody can do racking and glue half-bricks on the walls." But Haniacek and Giffin have discovered that with the former's general expertise — "he's got all the knowledge for the cooling, HVAC, carpentry, plumbing," says Giffin — and the latter's concrete sculpting abilities, they can create wine cellars that are well-built, aesthetically stunning and far from run-of-the-mill. Handily enough, those three qualities were just what one homeowner was after for his basement renovation.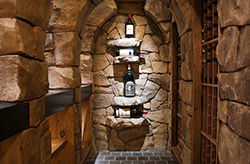 Solving the elevator problem
The client came to Haniacek looking to install a wine cellar in two rooms, a 10-by-12-foot card room and 12-by-14-foot gaming room (complete with pinball and Pac-Man machines). There was only one problem: Between the two rooms was an elevator shaft and a mechanical room for the elevator's hydraulics.
"They asked me if I could just take out the elevator, but I said no, that it would really be too costly," Giffin says. "That's when Ray came up with the idea of moving all the hydraulics." By moving all the elevator's power and hydraulic systems into a much smaller space on the opposite side of the shaft, Giffin was able to create a hallway that joins the two rooms.
Now that the space was defined, it was a matter of determining how to make the best use of it. "I wanted people to basically lose themselves in a new experience," says Giffin, so he designed an elaborate cellar that immediately transports visitors to a subterranean tasting room beneath the hillsides of a centuries-old Italian vineyard.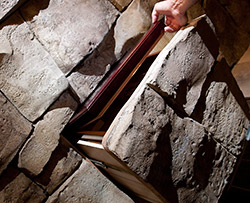 Masters of illusion
The cellar space starts out in the basement's hallway, with an elaborate glass and wrought iron door set in a beautiful faux-finished wall. The technique is a new one, of Giffin's invention. Using molds he's designed, Giffin precasts a grouted-stone facade and then mounts it on the wall. Then a coat of limestone plaster goes down over the stones, which stick out from the wall at varying depths. When the wall is complete, "it is a dead ringer for a Tuscan exposed-stone plaster look," he says.
Once you're in the door, the old-world ambience only intensifies. Giffin's hand-carved concrete stonework covers the walls and ceilings throughout the cellar, transforming the space into a vaulted catacomb, complete with arched wall sconces and arrow-slit windows.
The thing that really sets a hand-carved finish like this apart from a stamped vertical surface, says Giffin, is the level of detail. If a cellar like this were done with stamps, the repetition would rapidly become apparent, and the wall wouldn't hold your attention, he says. If each stone is unique, says Giffin, "it holds you. Your mind is constantly absorbing new information, and it just never gets tired of it.
"A lot of time and thought goes into making nice rocks for good eye candy."
Not willing to settle for an ordinary corridor, Giffin added a series of red oak risers and raised the floor of the narrow passage into the next room. As you traverse the passage, you catch glimpses of the main cellar room ahead of you through small pass-through alcoves. "Once you get in there, you kind of lose your bearings," says Giffin. "After you make a couple of turns you don't know where you are. You're thinking you're in another level of the basement." But after that moment's disorientation, you find yourself stepping down into the main cellar room, where the stonework is even more stunning than before.
In addition to Giffin's faux dry-stacked stone walls, the design also incorporates several theme walls. One features a mural of a sun-drenched vineyard. Another conceals several compartment stones, completely indistinguishable from any other stone when closed, perfect for storing particularly prized bottles.
The last theme wall was a blank slate. Giffin went to the client and said, "'This wall can be anything that you want it to be.'" The client asked if stones could jut out from the wall so bottles could be displayed on them. "'Not a problem,'" Giffin replied, and that's exactly what he delivered.
It's that creativity and possibility that Haniacek likes best about working with Giffin. "You cannot match what can be done with concrete and a talented person like Nathan," Haniacek says. "We can do anything with it."
Not surprisingly, it's Giffin's favorite part, as well. "Our clients expect originals, so that's what we do. I literally sit down and get to dream up stuff that's never been done before," he says. "That's the thing that makes it really exciting."
Project at a Glance
Client: Homeowner with a substantial wine collection
Vertical Concrete Artisan: Nathan Giffin, Creative Rock Forming, Hickory Hills, Ill. | www.creativerockforming.com
Vertical Concrete Crew: Morne Durant, Luke Case
General Contractor: Ray Haniacek, Mancari & Associates and Genuwine Grottos, Frankfort, Ill.
Scope of project: 300-square-foot hand-sculpted decorative concrete wine cellar designed to mimic an old-world catacomb.
Duration of project: July-September 2011
Products Used: SpiderLath, Concrete Earth's Speccrete Wallbase and Vertifaux Vertical Carving Mortar, Walttool's Tru-Tex Complete Contractor's Kit for Vertical Concrete, ArcusPlaster from ArcusStone, a variety of coloring systems from Concrete Earth, Walttools and Smith Paints.
Got more questions about your project?