Pete Johnson, who founded the U.K. division of the stone-effect coating system manufacturer StoneCoat, traveled to Sin City from his home in Manchester, England, last November for a project inspired by the natural stone colors found in Nevada.
Texas-based StoneCoat invited Johnson to Las Vegas to teach an installation team at CLM Developments, a new StoneCoat distributor, how to apply the company's spray-on, limestone-based product. Instead of practicing the process on a CLM Developments customer, the team used its own office building as a guinea pig, applying approximately 900 square feet of coatings to the outside of the company's headquarters near the Strip over a two-day period.
Powder pigments can be added to StoneCoat's all-in-one mix prior to application, and for this project, Johnson chose to create brown, red, gold and pink stones against grey mortar lines — a nod to the similar-hued rocks of the desert region.
"I was taken for a ride around town to determine the best local rock style," Johnson says. "Having seen the red rocks that surround Vegas when I flew in a few days before, I was happy to see the pink-red used in the city. I took a few pictures and used them to choose the colors, patterns and mortar line colors."
StoneCoat's formula is designed to delay the product's drying process, which gives installers the time they need to carve the surface before it hardens completely, Johnson says. The team began the job by wetting the building's existing substrate and spraying on StoneCoat in a grey color as a base that would later become the wall's mortar lines.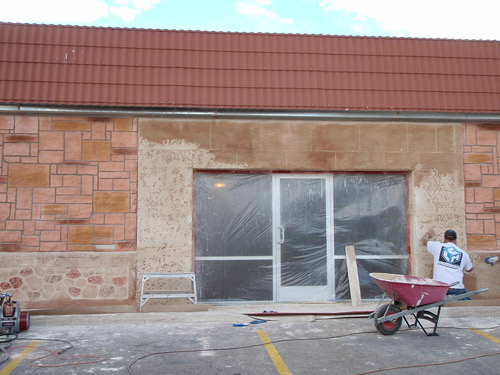 Then they applied a second layer of the product in pink, followed by random patches in brown, red and gold. To create individual stones, they carved square and rectangle shapes into the wall, revealing the original layer of grey-pigmented StoneCoat, Johnson explains.
Johnson says the arid Las Vegas weather — a far cry from what he's used to in England — sped up StoneCoat's drying process, requiring him and his trainees to apply and carve individual sections within specific time frames.
"Due to the unique heat and wind conditions in Vegas, each coverage area had to be regulated to a space we could blow and carve within the drying time limits," Johnson says. "In the U.K., of course, we have the opposite problem of long drying times due to wet, humid and cool days during most of the year."
www.stonecoat.com
Got more questions about your project?