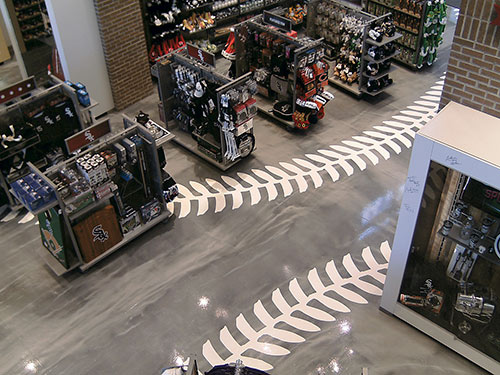 A Chicago sports lover's paradise opened in January 2012: the Chicago Sports Depot, a two-story, 12,000-square-foot retail facility located adjacent to U.S. Cellular Field (home of the Chicago White Sox baseball team) that offers fans an extensive collection of White Sox, Bulls, Bears, Blackhawks and Cubs merchandise, autographed memorabilia and custom printed jerseys.
But it's perhaps the decor, not the shopping selection, that makes the Chicago Sports Depot, developed and run by hospitality management company Delaware North, a true destination. Large murals depict current and former star players, memorable championship game scenes, front-page newspaper article clippings and White Sox logos. Sporting events play on 75 video monitors, and a staircase equipped with 15,000 LED lights displays sports team-related video clips on its steps.
Enhancing the store's interior design further are its epoxy-coated concrete floors, which were installed in White Sox team colors by a crew from decorative concrete floor design and installation company CCI Flooring Inc. The floors feature a baseball stitching design, which installers brought to life by applying white epoxy material onto vinyl stenciling. The stitching design flows outside of the interior space and continues on the building's exterior brickwork, adding drama.
Retail design and branding firm RGLA Solutions Inc. was responsible for the flooring's look as well as the overall store design, including the exterior concept and environmental branding. RGLA Solutions director of brand marketing Ivelisse Ruiz says the stenciled stitching not only reflects the store's overriding theme, but also directs customers through the retail space.
"The baseball stitching on the flooring is an integral part of the design that literally grounds the space with a ballpark feel," Ruiz says. "It was also used to lead customers through the different team shops as well as define categories of merchandise, reinforce aisles and move customers through the space using a dramatic, graphic approach." The design team developed the store's custom floor plans with input from CCI Flooring.
Ruiz says the floor's marbled look, which installers achieved by mixing BDC Decorative Concrete Supply's Shimmer pigment into epoxy material, adds texture and depth to the surface. According to CCI Flooring president Bob Bauer, Shimmer is a pigment powder that performs similarly to most metallic pigments on the market but blends better and allows for more natural color enhancement.
The artisan's contribution
Bauer says he first learned of the project when the general contractor, Chicago-based James McHugh Construction, asked him to offer a quote for the job. Once he reviewed the contractor's original plans for the flooring materials and application methods, Bauer decided some changes had to be made.
"The product they wanted to use produced a look that was similar to ours, but the thickness on our product was greater," Bauer says. "The cost of our product was also lower, so we gave them more floor at a lower cost. They also wanted to leave the vinyl stencil on the floor and coat epoxy material on top of it, but I was against that."
Project managers agreed with Bauer's choice — Dur-A-Flex's Dur-A-Glaze #4 Water Clear epoxy mixed with Shimmer pigment in Titanium — which promised a glistening, marbled coating in shades of silver and white. For the baseball stitching, installers would apply Dur-A-Flex's Dur-A-Gard solid-color epoxy coating in Bright White through vinyl stencils, also supplied by BDC Decorative Concrete Supply.
Workers completed the floor coating installation in two eight-day phases in October 2011, beginning with the store's upper level and ending with its lower level. (Construction of the entire Chicago Sports Depot structure took place over a seven-month period from April to November.) CCI Flooring job supervisor Mike Bauer (Bob's younger brother) explains that the crew began the job by prepping the existing concrete surface on each level using shotblasting, grinding and vacuuming tools and smoothing out cracks with a joint filler.
They originally planned on applying Dur-A-Glaze #4 WB Primer as the primer coat, but after discovering the slab's moisture levels were too high for it, they switched to Dur-A-Flex's Dur-A-Glaze MVP moisture mitigation primer.
Then they began installing their decorative coat, the pigmented #4 Water Clear epoxy. To get the marbled look, workers ran 18-inch rollers across the surfaces in zigzags instead of in straight lines.
Once the base and stenciled epoxy materials were in place, installers finished each floor's level with a coat of Dur-A-Flex's Armor Top urethane.
Bob Bauer notes that selecting products from a single supplier was an important part of the project's success.
"In today's market, it's important that you find a single-source supplier for all products, including, in this case, the moisture mitigation primer," he says. "This willallow you the confidence that the installed products are a solid system. When you mix and match products, there is always the potential risk for incompatibility, which will lead to job failure."
Mike says coordinating his crew's tasks with those of other workers, such as exterior wall painters, was the most difficult part of the installation.
"The biggest challenge was coordinating what we were doing with what was going on outside of the building," he says. "The stitching design travels out of a window and up the wall on the outside, and lining that up was a challenge. But it was also the coolest part — it looks like an actual baseball."
The chosen epoxy materials are intended for high-traffic surfaces, which gives the client peace of mind that the Chicago Sports Depot floors will hold up against excessive abuse. "Given the anticipated high traffic volume during baseball season, the epoxy was chosen for its durability and the fact that it's easy to clean," Ruiz says.
Mike says the Chicago Sports Depot project stood out to him for its unique design, adding that the project has helped CCI Flooring earn recognition and paved the way for future sports-related floor coating projects.
"The pigment itself is unique, and the stenciling adds character to the floor," he says. "It's definitely a custom floor for the Chicago White Sox, and it will last because we prepared it that way."
Project at a Glance
Client: Delaware North Cos., Buffalo, N.Y.
Decorative Concrete Contractor: CCI Flooring Inc., Chicago and Crest Hill, Ill. | www.ccifloors.com
Project Designer/Interior Architect: RGLA Solutions Inc., Schiller Park, Ill. | www.rgla.com
General Contractor: James McHugh Construction Co., Chicago, Ill. | www.mchughconstruction.com
Scope of project: 12,206 square feet of epoxy-coated concrete flooring (a 5,362-square-foot upper level and a 6,844-square-foot lower level)
Duration of project: 16 days (eight days for each level)
Materials Suppliers: BDC Decorative Concrete Supply, Crest Hill, Ill.; Dur-A-Flex, East Hartford, Conn.
Materials Used: Shimmer pigment in Titanium and Kool Koncepts Specialty Stencils from BDC Decorative Concrete Supply; Dur-A-Glaze MVP moisture mitigation primer, Dur-A-Glaze #4 Water Clear epoxy, Dur-A-Gard epoxy in Bright White and Armor Top urethane from Dur-A-Flex
Got more questions about your project?