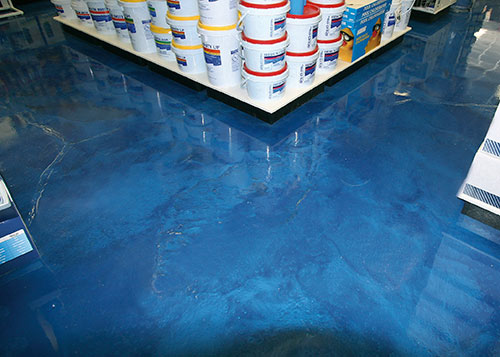 For years, the owners of Phoenix, Ariz.-based retail chain Leslie's Swimming Pool Supplies hired various contractors to work on their floors, hoping to see blue water-like effects beneath their customers' feet. Their wish was granted when they met Troy Lewis, owner of Orlando, Fla.-based Exquisite Flooring of West Orange.
Lewis heard about a potential job with the pool supply company through the chain's general contractor, Mallard Construction Inc., of Clermont, Fla. To get his foot in the door with Leslie's, Lewis agreed to install a VCT (vinyl-composition tile) floor at one of the locations, and the store's owners were pleased with the outcome.
"I ended up backpedaling into VCT, which is something I didn't want to do anymore," Lewis says. "They told me it looked great, and then they said, 'Too bad you don't do decorative concrete.' But it turned out I did."
So the pool supply chain's owners asked Lewis to install a blue polished concrete floor at another location. Again, they were happy with the results.
However, they still faced a problem — color in polished concrete can be less than perfectly stable, and where the floor endured exposure to UV rays or a liquid chlorine product spill, the blue faded. So Lewis offered a new solution.
"I told them I had an epoxy product that would make the floors look like the water in the Bahamas as well as hold up to chemicals and UV rays," Lewis says.
Starting with the Leslie's Swimming Pool Supplies location in Davie, Fla., Lewis and a small crew layered on several coats of Seal-Krete's Epoxy-Shell 1000, a 100-percent epoxy material, with a blue pigment mixed in. They finished with Seal-Krete's Poly-Shell 7000 topcoat, bringing his Bahamas water vision to life.
Lewis repeated the application at three other Leslie's Swimming Pool Supplies locations in Port St. Lucie, Fort Lauderdale and Bradenton, Fla., seeing improved, more realistic results each time. After completing the floor at the Bradenton store — the floor Lewis says he's most proud of — executives from the retail chain's corporate office came in to take a look.
"When I told them it would look like the water in the Bahamas, they didn't believe me at first, so it was like a challenge to me," he says. "But they agreed that the color was absolutely awesome. We get compliments on the fact that it does look like water."
Lewis says he's secretive about his application technique, which took him a lot of time to perfect.
"We use one color of blue, but you can mix it differently to make it lighter and darker in different areas, and we have it down to a formula now," he says. "It's partially in the technique and how we apply it. It's kind of like baking a cake. You have to do it a few times before it turns out right. We're really proud of it. We played around for a while before we got it right."
Now, he's scheduled to install his "water" floors at all of the retail chain's locations in the Southeast and more, beginning with 20 in Florida and 15 in Texas. He's currently training two new crews on the process and acquiring new equipment for the upcoming jobs. "I thank the store's owners for allowing us to have the creativity to play around with it," he says.
Project at a Glance
Client: Leslie's Swimming Pool Supplies, Phoenix, Ariz.
Decorative Concrete Contractor: Troy Lewis, Exquisite Flooring of West Orange, Orlando, Fla. | www.myexquisitefloors.com
General Contractor: Mallard Construction Inc., Clermont, Fla. | www.mallardconstruction.com
Scope of project: Four 2,500- to 3,000-square-foot epoxy floors that mimic water
Duration of project: Four three-day projects over a two-month period
Materials Supplier: Seal-Krete
Materials Used: Seal-Krete's Epoxy-Shell 1000 system and Poly-Shell 7000 topcoat
Got more questions about your project?