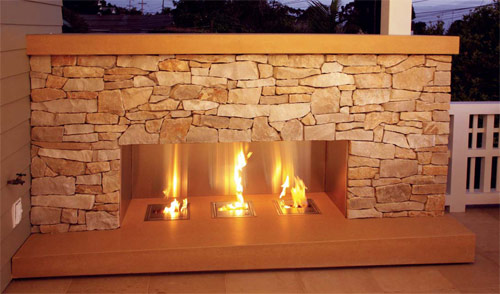 "You're missing the boat if a lot of your paycheck isn't coming from fireplaces," says Ben Ashby, owner of Utah-based Concrete Encounters.
Ashby is one of many decorative craftsmen who have come to rely on concrete fireplace surrounds for a healthy percentage of their business. Not only do fireplace surrounds require little (in terms of materials and equipment) that a countertop contractor doesn't already have, but they often present a welcome design challenge.
"The first, most challenging part of a fireplace surround is the design," says Bayard Fox, owner of Cement Elegance in Bend, Ore. That assessment was echoed by virtually every contractor Concrete Decor spoke with for this article.
The first step in designing a fireplace surround – as with most decorative concrete projects – is to educate your client. Starting the design process can be very difficult, says Mike Wellman of Concast Studios in Oceano, Calif., "due to the fact that there's a million zillion things you can do with concrete." Because of this, Wellman says that his first step is to get the client to look at some examples of what can be done. Whether it's your company's portfolio, online photo galleries, or a certain decorative concrete magazine that falls to hand, it's very important to get your clients thinking realistically (and creatively) about what their options are.
One of the most exciting things about fireplace surrounds – both for the contractor and for the client – is that they offer a lot in the way of design freedom. "Countertops are a pretty cut-and-dried thing," says Ashby, "and you only have so much leeway. Fireplaces are just the opposite."
Tommy Cook's fireplaces are certainly a testament to that. Cook's company, Absolute ConcreteWorks LLC, recently completed a fireplace for a family of avid musicians. Their great room featured a classic baby grand piano, which provided the basis for their design. "They wanted the fireplace to mimic the baby grand," says Cook, and so it does. The mantle is supported by two columns with detail work to match the piano legs, and the entire piece is glossy, jet-black concrete.
And Cook's piano surround is just one example among, as Wellman might say, zillions. Ashby has a fireplace project coming up that is big enough to stand in, with a mantle supported by two standing concrete bears. Zachary Alan, owner of Pourfolio Custom Concrete in San Diego, Calif., recently suspended a concrete surround in the middle of a wall made entirely of windows. The list goes on.
Those examples are, of course, on the more fanciful end of the spectrum, but even with more down-to-earth designs, fireplace surrounds are always more about form than function.
"We're trying to create somewhat of a statement piece, a conversation piece," says Alan.
Wellman agrees. "It's about getting the client to look at it as a work of art."
Cost and strategy
As with any work of art, price point is a key consideration for fireplace surrounds. Carl Finney, of Sonoma Cast Stone, based in Petaluma, Calif., says it's about balancing the cost against the complexity of the design. "The designing of various complex molded edges and balanced curves needs to take into account not only aesthetics, but also cost versus practicality as well," he says. "One needs to look at the design in negative image to see how the mold can be made up of available shapes, rather than having material sculpted and shaped by hand or machine to make the mold." As Wellman puts it, "mold-making equals time," which, as they say, is money.
Once the client has a clear image of what she wants in her fireplace as well as what she'll be paying, it's time to talk logistics. After design, says Ashby, the next most important thing when it comes to fireplace surrounds is having a grasp on the basic engineering that goes into them.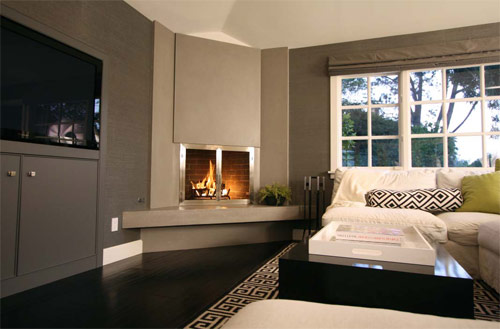 And the construction considerations for fireplace surrounds differ significantly from those of countertop projects. When mounting a countertop, you have a row of cabinets or another base designed specifically to support a large flat surface parallel to the ground. That's not true with vertical pieces and floors. "The vertical wall is never, ever, ever going to be nice and on one plane," says Wellman, "but you're not going to go yell at the drywall and framing guys." In other words, unlike with countertop supports, there's nothing you can do about an off-square wall.
And that's not the only concern. Fireplace surrounds deal with a lot more planes and angles than countertops, and all of them need to be taken into careful consideration. "The fact that you're dealing with two planes – if you have jacked-up drywall or a messed-up floor plane … There are lots of pitfalls and whatnot to deal with there from a construction standpoint," Wellman says.
With all those factors taken into consideration, the construction challenge essentially boils down to attachment – basically, says Wellman, "How do you get a big, cool-looking fireplace to stay on a big vertical wall?" And not only that, how do you get it to stay on a vertical wall without any visible means of support? "It is commonly desired to have the hearth, and sometimes the mantle, to appear floating, with no visual supports," says Fox, at Cement Elegance.
Ashby says his standard practice is to put about 90 percent of the structural weight on the wall. Alan at Pourfolio typically uses a French cleat to suspend his pieces from the wall, but every project is different. Remember the fireplace in the wall of windows? Alan says they had to cast channels for steel plates that ran floor to ceiling. It all depends on the room and the piece and the interaction between them.
Weighty considerations
Of course, the other central consideration when devising a method of attachment is weight, determined largely by your choice of concrete mix. Cook, for example, primarily uses glass-fiber reinforced concrete for his surrounds because he says it lets him accomplish his design goals with fewer, lighter pieces. Fox also relies on GFRC, especially when it comes to big, monolithic designs. One recent project – an 18-foot long, 20-inch deep hearth – would have been considerably trickier without GFRC. "If this piece was made with the solid wet-cast technique, it would have weighed approximately 2,700 pounds and would have had to be craned into the house prior to the roof install," he says. (Seams weren't an option – the client wanted a single piece.) "Instead we used the GFRC method to create the appearance of a solid piece, but the walls were 3/4-inch thick, and it was carried into the house with three guys," Fox says. The whole piece weighed about 400 pounds.
This doesn't mean that GFRC is the only way to go. Other contractors, like Alan and Ashby, prefer wet-cast concrete for aesthetic reasons. Ashby, in the area of Utah where he operates, does almost exclusively traditional designs, a look he says is easier to accomplish with wet-cast concrete. "I think GFRC is a great product – sometimes," he says. But he feels it "lends itself to a very contemporary feel," which isn't what his clientele wants. Alan for his part is "unapologetically on the contemporary side," which serves him very well in San Diego. But he also stays away from GFRC, preferring instead the "stacked aggregate look" he gets by pouring his pieces facedown into the mold atop a vibrating table.
In order to mitigate the weight issues with wet-cast concrete, Ashby uses a high-strength mix by TXI Maximizer that, he says, results in pieces that are two-thirds the weight of normal concrete. Alan also employs hollow spaces in his designs as often as possible to cut down on weight.
Don't sweat the heat
With all these special considerations that go into putting together a fireplace surround, it may come as a surprise that heat – something pretty closely associated with fire – is not really a big concern.
"We have never had any issues with heat exposure on our surrounds," says Finney, at Sonoma Cast Stone. "Concrete is inherently fireproof, and we make sure that no heat-sensitive coatings are used."
Decorative concrete artisan Buddy Rhodes also has never seen any heat-related problems. "Since the fireplace surround is on the outside of the firebox, heat isn't much of a problem," he says. "Concrete does not like direct flame, but other than that it should be fine."
Doug Bannister, of Oklahoma City's The Stamp Store, says the mixes they recommend for fireplace surrounds – their standard countertop mix and their lightweight vertical mix – are both heat-resistant, and he also says most sealers are good up to 350 degrees. To be on the safe side, though, Wellman recommends doing your own heat tests on your sealers, since not all sealer manufacturers rate their products for heat resistance.
Fireplace surrounds certainly pose some unique challenges, but they also offer a chance to really get those creative juices flowing and deliver a piece of unforgettable concrete artistry.
Got more questions about your project?