In the United States, decorative concrete is advanced at a level that it is not at anywhere else. When you're overseas, be prepared to educate.
Here at Moderne Methode in France, we have brought in some American stars from time to time to do workshops. Often they assume we have the same products and tools they are used to. They get frustrated and look at me with this "Are you in the Stone Age?" look. It is not backward here, it is just different. I had one guest trainer from the States doing a countertop class with me who nearly boiled over when we did not have a product that he said was available all over the States. Look — it's not the States anywhere but in the States.
When doing decorative concrete business overseas, there is a small list of things to consider before packing your bags. Do your homework in advance, and don't forget to learn about the culture you're visiting. Knowing a little about where you are going will help.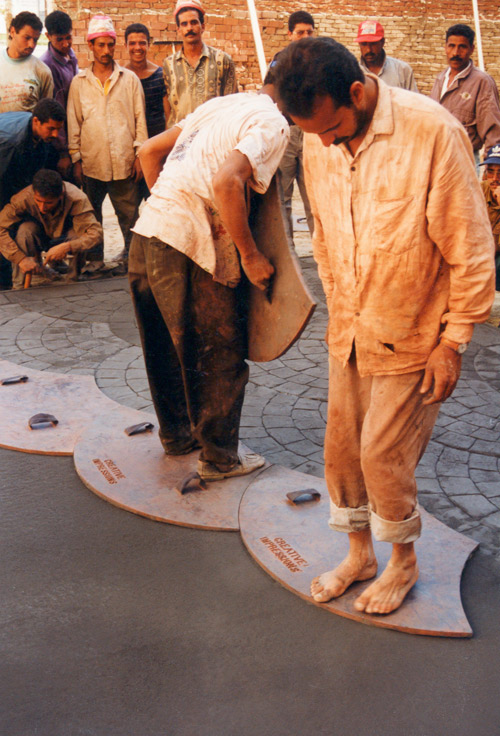 Some of these guys work barefoot in concrete all day long. As a trainer you want to say something about following correct procedures, such as protecting your feet. But I've learned that as an American we are perceived as telling others to be more like Americans. I learned to accept the differences, concentrate on good concrete practices and get along as one of them. However, I never went barefoot in the concrete myself.
A few more tips
Translation of American documents can often be incorrect. In 1991, one project for Euro Disney that took up a lot of my time was the Lake Promenade, a large paving project surrounding a small lake near Disneyland Paris. When I arrived work had already commenced. I noticed quickly they were using foam isolation material in a keyway joint. When looking over the specs, I saw that a bond breaker was called for. They had translated this as "foam." The result was voids that were freeways for mice.
Another time, I was doing a big placement and stamping job at the presidential palace in Alexandria, Egypt. Things went well. The guys were putting down 1,000 to 1,500 square feet of good-looking work per day right out of the gate.
The crew now well out in front, it was time to wash, detail and seal. With no buffer or pressure washer available, my only choice to get off the excess release agent was using a mild acid solution the way I and my crews in Texas had done many times. Muriatic acid does not exist in Alexandria, so the search was on to find something, and something was eventually found at a pharmacy. It came in an unlabeled blue-looking wine bottle with a cork in it. Well experienced with acid, I put a very small amount in a bucket, and it went into convulsions like a volcano, spewing fumes and mist from the bucket. I was lucky I was afraid already and was standing as far back as I could. I could have been burned very badly. The stuff must have been 90 percent hydrochloric acid. Wow.
Acid is packaged differently in Europe too, and it's available at DIY stores and supermarkets. There are two types and two strengths. Some manufacturers are helpful and put a photo of a swimming pool on the label — this would be equivalent to muriatic acid. The other strength has a picture of a toilet for decalcifying. This one has a much higher percentage of acid. Be careful!
Lumber — wood in general — will disappoint all Americans. American wood has a quality and price only to be found in America. Here in Europe it is all rough-cut. Running an edger is a pain in the butt because of all the splinters. If you can find milled lumber, prepare to pay an arm and a leg. We at Moderne Methode carry Metal Form Corp. plastic forms and lately find it difficult to keep enough in stock.
Working with ready-mix concrete companies in Europe is a nightmare. If they know about stamped concrete it will be because of Bomanite's tremendous presence all over Europe. However that was at its peak many years ago, just coming out of the cookie-cutter stamp days, where three-eighths pea gravel was used. Many plants have this old mix design that is difficult to get changed.
When you order concrete you basically get a menu. You have to choose from the menu. Getting the mix design you want takes an act of Congress. Ask a plant guy what's in the mix design and you would think you have asked what color underwear his wife wears. They will tell you some of the mix design but not all. Each company has what they call proprietary mix designs that are so-called special and secret. And they charge a little more just because they name it a stamp mix or an exposed aggregate mix.
Smaller independent plants are much easier to work with. With the big boys, they are all afraid that some one will share or divulge what is in their mix design. I am not popular among these people knowing what most American concrete contractors know about mix design. This threatens most of them.
In the States ready-mix companies are way more cooperative and work together going after the cast-in-place market. Here, no. There have been exceptions, but few.
Here in France most drivers are independent, a horrible system. I do not know how a ready-mix company can guarantee concrete when drivers will roll down the road with their mixing bowls not turning to save on diesel. Or they will go to lunch with a fully loaded truck in the parking lot. You don't need to wonder why your concrete set up too fast.
I was once on a job in Paris where the driver saw wheelbarrows, told the Portuguese boss he would not take the time to pour into wheelbarrows and drove off. They make money per load. Frequently, extra concrete that remains in the mixer is sold. It is called béton noir, "black concrete." When my wife's father built his house, the whole floor and foundation was béton noir and he paid practically nothing. A little cash in the hand is all it took. Who knows how old the concrete was?
The United Kingdom is not a part of this mess and they are far more cooperative. The Mideast is cooperative as well.
Finally, be careful bringing over equipment that may need accessories, fuel or parts. It is best to have machines that are marked for European Union units of measurement. If they're EU-marked, you will have an easier time looking for what is compatible with your machine. For example, we bought a 2,500-rpm propane burnisher not marked for the EU because the company had never worked outside the U.S. We had a heck of a time getting it converted to the French system.
www.moderne-methode.com
Got more questions about your project?